Why Noodles & Company Stock Dropped 25% in November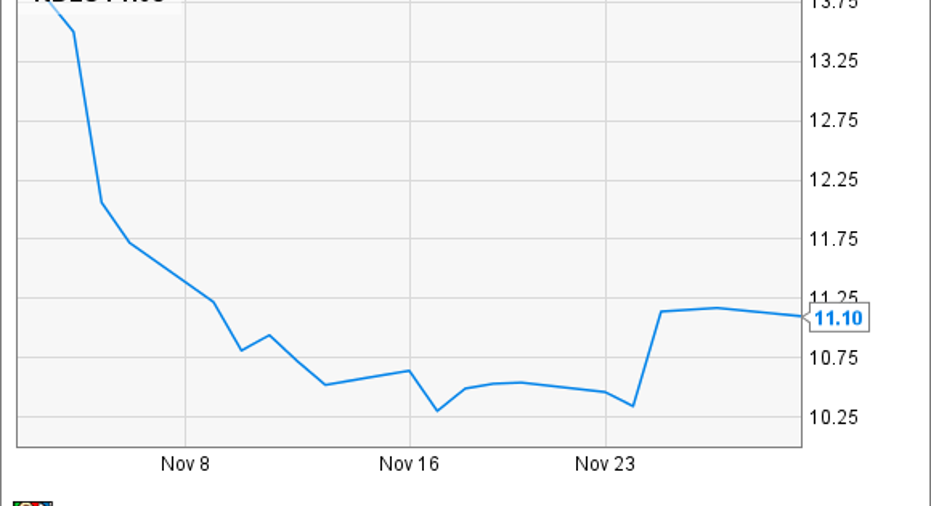 What:Shares ofNoodles & Company were getting tossed aside by investors last month, falling 25%, according to data from S&P Capital IQ. Another weak earnings report was the culprit as the stock dove sharply after its Q3 release.
So what:The fast casual chain's woes continued in the summer quarter as the company posted breakeven adjusted earnings, or a loss of $0.35 per share before adjustments. Analysts had expected a profit of $0.06, and it was the company's fourth straight miss on the bottom line. While overall revenue grew 10.5% in the quarter, comparable sales fell 0.9%, a sign that demand for new restaurants may not be as strong as the company had anticipated. Also concerning was that restaurant-level operating margin fell 320 basis points to 15.2% in the quarter.
CEO Kevin Reddy defended the company, saying that a marketing campaign launched at the beginning of the fourth quarter and a new Kids Meal should help rejuvenate sales growth. Though Reddy argued that the company was seeing positive results from those moves, comparable sales were still down 1.5% in the fourth quarter as of the report.
Now what:Rising labor costs are having an impact on quick-service restaurants across the board and Noodles & Company is no different. Labor costs, the company's biggest expense item, are up nearly 20% this year, and should continue to grow at an outsized pace as more states and municipalities raise the minimum wage. Other expenses are also growing faster than revenue, leading to a margin crunch. Management will have to find a way to drive positive comparable sales, or margins will keep falling under rising labor costs, food inflation, and other expense pressures.
Adding to the negative news was that this was the fourth consecutive quarter that comparable sales growth has slowed and it appears to be trending that way in the current quarter. Noodles sunk to all-time lows following the report, and this stock has been nothing but bad news since its 2013 IPO. Several restaurant stocks likePotbelly andEl Pollo Loco have tumbled since their market debut as the sector seems to be overvalued. Demand for Noodles & Company may simply not be as strong as the company had projected as fast-food pasta on a national scale is an unproven concept. If comps and margins continue to fizzle, expansion may need to slow down so management can find a formula that works as growth without profits is worthless.
The article Why Noodles & Company Stock Dropped 25% in November originally appeared on Fool.com.
Jeremy Bowman has no position in any stocks mentioned. The Motley Fool has no position in any of the stocks mentioned. Try any of our Foolish newsletter services free for 30 days. We Fools may not all hold the same opinions, but we all believe that considering a diverse range of insights makes us better investors. The Motley Fool has a disclosure policy.
Copyright 1995 - 2015 The Motley Fool, LLC. All rights reserved. The Motley Fool has a disclosure policy.