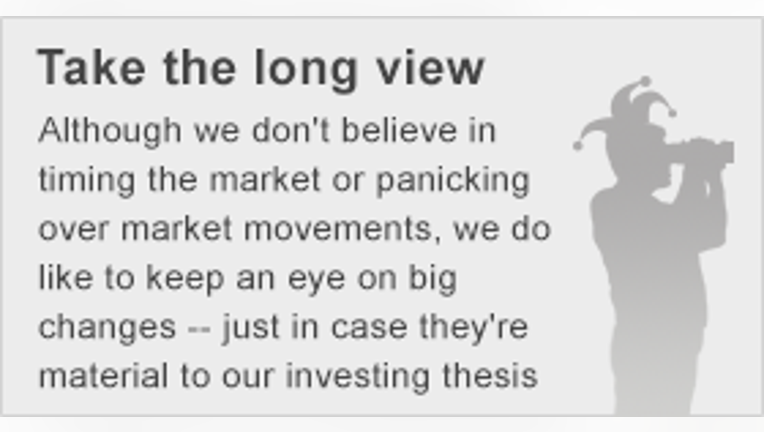 What: Momenta Pharmaceuticals was up as much as much as 11.7% today, eventually finishing up 6.8% after announcing a deal with Mylan to develop six biosimilar products.
So what: Momenta Pharmaceuticals had said it was looking for a new partner after Baxter dropped out of their 2011 deal. It was one of those it's-not-you-it's-me breakups -- Baxter reorganized, including a subsequent spinoff of its biotech business into Baxalta, which retained the biosimilar that Baxter had already committed to -- so it wasn't a big surprise that Momenta eventually found a home for the rest of its biosimilar program.
Mylan is paying $45 million upfront to gain access to Momenta's biosimilar version of Orencia, an anti-inflammatory drug made by Bristol-Myers Squibb, and five other undisclosed biosimilars. Momenta could also get up to another $200 million in milestone payments tied to the drugs meeting predefined milestones.
Momenta doesn't waste any time updating its pipeline figure on its website.Image source: Momenta Pharmaceuticals.
Both companies will share in the cost of developing the biosimilars and reap the rewards equally. That's the kind of deal structure Momenta had said it was looking for -- and one of the reasons it raised about $150 million in a secondary offering last May. Add in the $45 million, and Momenta has quite a bit of cash to pay for its half of the program and the rest of its pipeline.
Now what: Mylan should be a good partner given its vast experience marketing generic drugs. Biosimilars are going to be a new animal since they won't be readily substituted like small-molecule generics and will likely require some marketing. Mylan has some other biosimilars through a partnership with Biocon, an Indian biotechnology company, so hopefully many of the kinks will be worked out before Momenta's drugs hit the market.
The article Why Momenta Pharmaceuticals, Inc. Was Up Today originally appeared on Fool.com.
Brian Orelli has no position in any stocks mentioned. The Motley Fool recommends Baxter International, Momenta Pharmaceuticals, and Mylan. Try any of our Foolish newsletter services free for 30 days. We Fools may not all hold the same opinions, but we all believe that considering a diverse range of insights makes us better investors. The Motley Fool has a disclosure policy.
Copyright 1995 - 2016 The Motley Fool, LLC. All rights reserved. The Motley Fool has a disclosure policy.