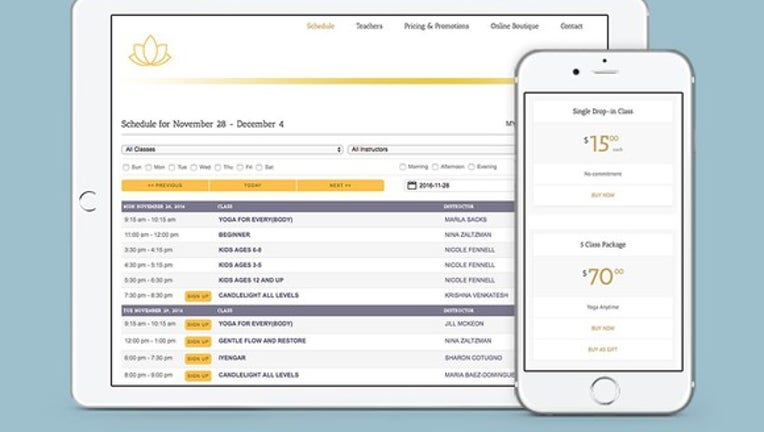 What happened
Mindbody Inc. (NASDAQ: MB), the company behind the online platform and mobile app by the same name that allows users to book fitness classes across various studios, saw its stock drop about 10% Friday after the market balked at the company's Q1 earnings.
So what
For the first quarter, Mindbody reported sales of $42 million, up 32% year over year. That sales growth came from a rise in subscribers, which now totals just under 60,000, as well as higher average monthly revenue per subscriber. The company still reported a loss of $0.10 per share, though that was expected due to its aggressive investment and growth strategy. As for the stock's drop on Friday, it seems that the market is just giving back some of the company's high valuation that has grown extensively in recent quarters.
Image source: Mindbody, Inc.
Now what
Mindbody has certainly been growing impressively in the last year, including new partnerships that have expanded its reach such as the deal announced in October that linked the Mindbody service intoUnder Armour'sMyFitnessPal app, the more recent integration with Alphabet'sGoogle that allows users to book easily after searching nearby studios, and the acquisition of the mobile technologies company Lymber.Mindbody co-founder and CEORick Stollmeyer said in the earnings release:
Even after Friday's drop, shares are up around 78% over the last year. The company is still reporting net losses while it invests in continued growth, but it seems to be firing on all cylinders as it anticipates revenue growth of around 30% for full year 2017 year over year -- meaning that Friday's drop could be just a small speed bump in an otherwise impressive growth story.
10 stocks we like better than MindbodyWhen investing geniuses David and Tom Gardner have a stock tip, it can pay to listen. After all, the newsletter they have run for over a decade, Motley Fool Stock Advisor, has tripled the market.*
David and Tom just revealed what they believe are the 10 best stocks for investors to buy right now... and Mindbody wasn't one of them! That's right -- they think these 10 stocks are even better buys.
Click here to learn about these picks!
*Stock Advisor returns as of May 1, 2017
Suzanne Frey, an executive at Alphabet, is a member of The Motley Fool's board of directors. Seth McNew owns shares of Under Armour (A Shares) and Under Armour (C Shares). The Motley Fool owns shares of and recommends Alphabet (A shares), Alphabet (C shares), Under Armour (A Shares), and Under Armour (C Shares). The Motley Fool recommends Mindbody. The Motley Fool has a disclosure policy.