Why Micron Technology, Inc. Gained 55% in 2016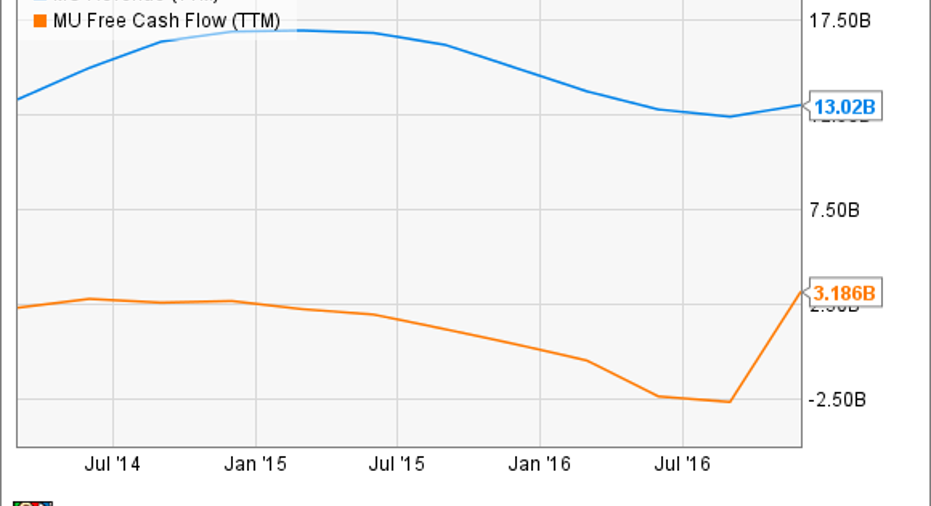 Image source: Getty Images.
What happened
Shares of Micron Technology (NASDAQ: MU) rose 54.8% in 2016 according to data from S&P Global Market Intelligence. The memory chip price wars of 2015 came to a drastic end, and Micron's finances took a commensurate turn for the better.
So what
The memory chip industry is known for its brutal price wars, often lasting several years at a time. The end-user demand for memory products can take wild swings for many reasons, and the chip producers are not always ready for these shifting market sands. So Micron and its peers are sometimes left with a huge imbalance between supply and demand, typically in the direction of oversupply and plunging unit prices.
That was the case in 2015. Micron's operating margins started that year north of 22%, but Samsung (NASDAQOTH: SSNLF) flooded the market with cheap DRAM and NAND memory chips and Micron's operating margins turned negative in early 2016.
Then Samsung reduced its memory production, while chips saw strong demand thanks to NAND-based solid-state storage devices, the steady surge of the Internet of Things, and more. Average selling prices not only firmed up, but started to rise. In the recently reported first quarter of fiscal year 2017, Micron's adjusted operating margin was a healthy 14%.
Share prices followed suit as Micron's financial results improved.
MU Revenue (TTM) data by YCharts
Now what
Both Micron's management and independent memory market analysts agree that selling prices should remain stable for at least a couple more quarters. I would go one step further and say that the era of painful price wars may be largely behind Micron at this point. The weak hands have been shaken out in the previous periods of drastic oversupply, leaving just a handful of memory suppliers with much better control of the day-to-day supply and demand balance.
In 2017, I see Micron shares continuing their recent climb with another surge of as much as another 60%. The downside risk is limited.
Long story short, I'm a happy Micron shareholder today whether I'm looking in the rearview mirror or straight ahead.
10 stocks we like better than Micron Technology When investing geniuses David and Tom Gardner have a stock tip, it can pay to listen. After all, the newsletter they have run for over a decade, Motley Fool Stock Advisor, has tripled the market.*
David and Tom just revealed what they believe are the 10 best stocks for investors to buy right now... and Micron Technology wasn't one of them! That's right -- they think these 10 stocks are even better buys.
Click here to learn about these picks!
*Stock Advisor returns as of Nov. 7, 2016
Anders Bylund owns shares of Micron Technology. The Motley Fool has no position in any of the stocks mentioned. The Motley Fool has a disclosure policy.