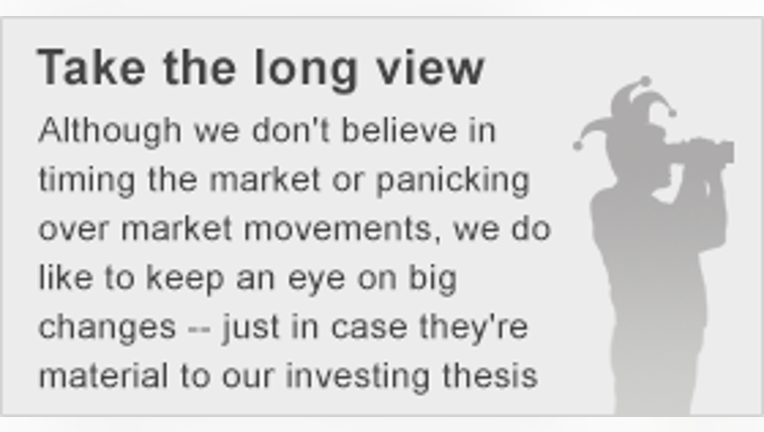 What: Shares of Micron Technology fell 59.6% in 2015, according to data from S&P Capital IQ. That's a sharp reversal from the 61% gains the memory chip giant posted in 2014. Altogether, the stock fell 35% across the last two years.
So what: The markets for NAND flash and DRAM memory chips had been stabilizing in recent years, but that trend reversed in 2015. Micron is back to fighting price wars with Samsung and SK Hynix as torrential chip supplies once again drown out meek end-market demand for these products.
In 2015, fellow memory specialist Hynix's shares plunged 35% on the Seoul exchange. Samsung fared better, falling just 7% as the electronics giant's broad diversity insulated it from the memory division's struggles.
Now what: Looking ahead, Micron is ramping up brand-new technologies that should reduce the manufacturing costs for both NAND and DRAM products. Moreover, the recently announced reorganization of Micron's Inotera partnership should add some $1.4 billion per year to Micron's operating cash flows.
Memory demand has been weak due to a struggling PC industry and slowing growth for mobile computing products. That can't last forever. In particular, mobile memory demand should balloon in the next five years as the Internet of Things continues to take off and cars become increasingly computerized.
Analysts overwhelmingly see the memory weakness bottoming out in the next two quarters, just as Micron's next-generation products become ready for commercial use and the Inotera deal starts paying off.
Meanwhile, Micron shares are trading at a historically low 3.4 times trailing free cash flows. That's an insanely low cash flow ratio, less than half the ratio of stocks generally seen as big value plays.
In other words, Micron's share price could double from here and the stock would still look cheap -- even before the expected market and manufacturing improvements of 2016 kick in.
Let's just say that I'm happy to own the stock today, despite the rough waters in the rearview mirror.
The article Why Micron Technology, Inc. Fell 60% in 2015 originally appeared on Fool.com.
Anders Bylund owns shares of Micron Technology. The Motley Fool has no position in any of the stocks mentioned. Try any of our Foolish newsletter services free for 30 days. We Fools may not all hold the same opinions, but we all believe that considering a diverse range of insights makes us better investors. The Motley Fool has a disclosure policy.
Copyright 1995 - 2016 The Motley Fool, LLC. All rights reserved. The Motley Fool has a disclosure policy.