Why Michael Kors Holdings Ltd. Stock Unraveled Today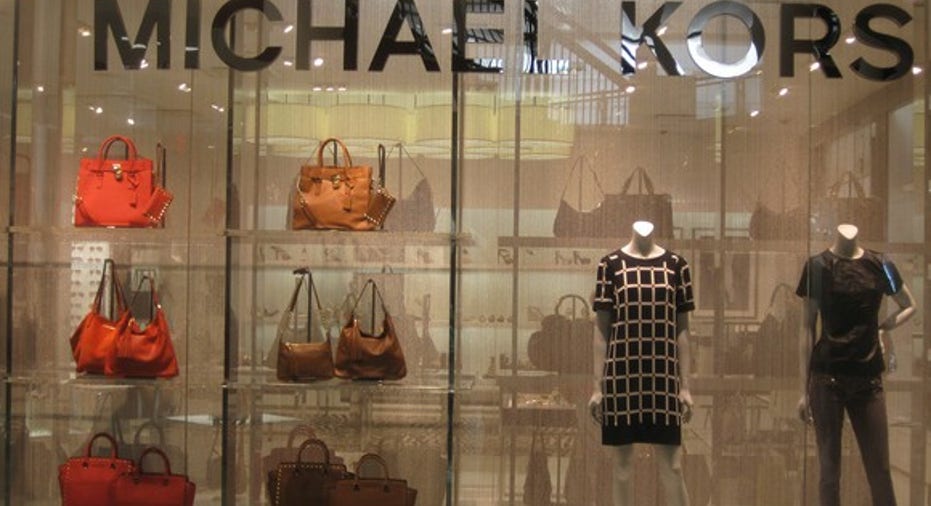 What happened
Shares ofMichael Kors Holdings Ltd.(NYSE: KORS) were falling apart today after the fashion label reported disappointing third-quarter earnings. As of 10:53 a.m. EST, the stock was down 13.1%.
So what
Like much of the apparel retail sector, Michael Kors had a rough holiday season. Comparable sales continue to slide, falling 6.9% in the quarter, worse than the 4.9% decline analysts had expected. Management blamed a highly promotional environment during the season as the company is struggling with lower mall traffic and demands from retail partners like Macy'sto discount its items to bring in more customers and clear inventory.
Image source: The Motley Fool.
Overall revenue slipped 3.2% to $1.35 billion, which was slightly below expectations at $1.36 billion. Despite a drop in net income, earnings per share rose from $1.59 to $1.64 due to aggressive share buybacks, beating the analyst consensus by a penny.
CEO John Idol said results were "in line with expectations," but also said the company "was disappointed by North American and European comparable sales performance." He added, "We believe that headwinds in these markets will continue throughout the Spring season as we face reduced traffic trends in shopping malls, currency fluctuation, uncertainty surrounding certain political changes in European countries and the implementation of our reduced promotional cadence inNorth America."
Now what
The handbag maker's guidance may have been the worst part of the report as its fourth-quarter forecast was well below expectations. Management sees revenue of $1.035 billion-$1.055 billion for the current quarter, about 10%-11.5% from a year before, and worse than the Wall Street view at $1.11 billion. Comparable sales are expected to decline in the low teens. Meanwhile, on the bottom line, earnings per share are projected to come it at $0.68-$0.72, down from $0.98 a year ago and much worse than estimates at $0.93.
Like peers includingCoachandKate Spade, Michael Kors is struggling to regain its image as a premium brand after overexpanding its store base and offering discount wares in department stores. Despite's management's reassurance that it can deliver "meaningful long-term growth," it won't be easy, especially as retail traffic continues to fizzle.
The stock is cheap at a P/E around 8, but with profits falling, it remains a high-risk bet.
10 stocks we like better than Michael Kors HoldingsWhen investing geniuses David and Tom Gardner have a stock tip, it can pay to listen. After all, the newsletter they have run for over a decade, Motley Fool Stock Advisor, has tripled the market.*
David and Tom just revealed what they believe are the 10 best stocks for investors to buy right now... and Michael Kors Holdings wasn't one of them! That's right -- they think these 10 stocks are even better buys.
Click here to learn about these picks!
*Stock Advisor returns as of February 6, 2017
Jeremy Bowman has no position in any stocks mentioned. The Motley Fool owns shares of and recommends Coach. The Motley Fool owns shares of Michael Kors Holdings. The Motley Fool has a disclosure policy.