Why Michael Kors Holdings Limited Stock Fell 17.3% in May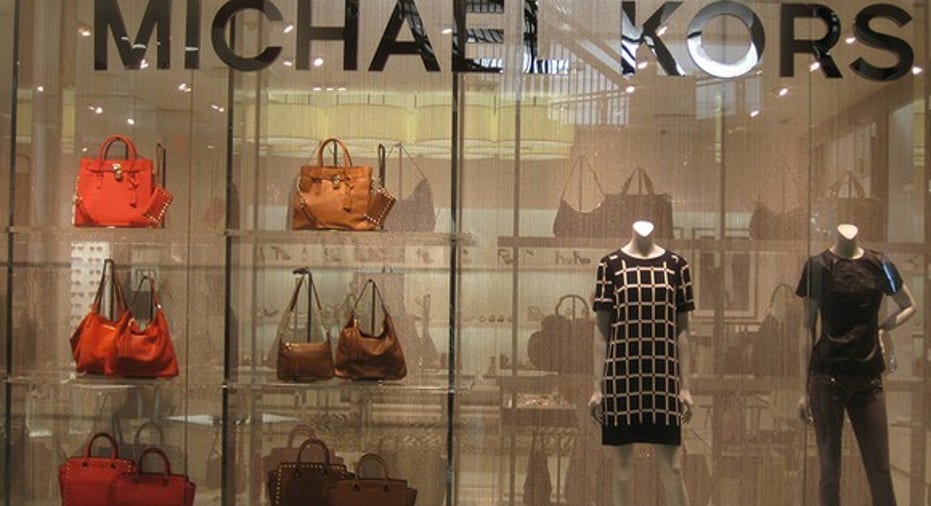 Image source: Michael Kors Holdings Limited.
What:Shares ofMichael Kors Holdings Limited fell 17.3% in the month of May,according to data provided byS&PGlobal Market Intelligence, driven primarily by a worrisome quarterly report from fellow fashion and accessories specialist Fossil Group .
So what:Fossil shares plunged more than 30% on May 11, 2016, after the watch maker not only revealed that quarterly revenue fell 9% year over year, but also issued disappointing guidance for current-quarter revenue to post a similar decline. At the time, Fossil management blamed "persistent headwinds pressuring the traditional watch category and the challenging retail environment," which in turn cultivated concerns for whether Fossil's peers -- notably including Michael Kors -- would suffer similar weakness.
Michael Kors shareholders were found guilty by association that day, with their stock falling nearly 12% in response:
Now what:If Michael Kors' encouraging quarterly resultsreleased Wednesday morning are any indication, it seems those concerns were largely misplaced. Michael Kors' quarterly revenue climbed a healthy 11% year over year, to $1.2 billion, including a modest 0.3% increase in comps (its first positive result there in over a year) and well above the market's expectation for 6% growth. And though net income fell 3% year over year, to $177 million, aggressive share repurchases over the past year helped earnings per share climb 8.9%, to $0.98, a penny per share higher than analysts' consensus estimates predicted.
More importantly, Michael Kors CEO John Idol noted that his company "delivered continued growth across regions despite the challenging retail environment," thanks in part to a positive response from consumers to both its elevated product offerings and refreshed marketing campaigns.
As of this writing, Michael Kors shares have rebounded nearly 11% since Tuesday's close. Assuming Michael Kors Holdings can sustain this momentum in the face of today's difficult retail environment, it should emerge even stronger for it once those headwinds abate, and it will be well positioned to drive market-beating returns from here.
The article Why Michael Kors Holdings Limited Stock Fell 17.3% in May originally appeared on Fool.com.
Steve Symington has no position in any stocks mentioned. The Motley Fool owns shares of Michael Kors Holdings. The Motley Fool recommends Fossil. Try any of our Foolish newsletter services free for 30 days. We Fools may not all hold the same opinions, but we all believe that considering a diverse range of insights makes us better investors. The Motley Fool has a disclosure policy.
Copyright 1995 - 2016 The Motley Fool, LLC. All rights reserved. The Motley Fool has a disclosure policy.