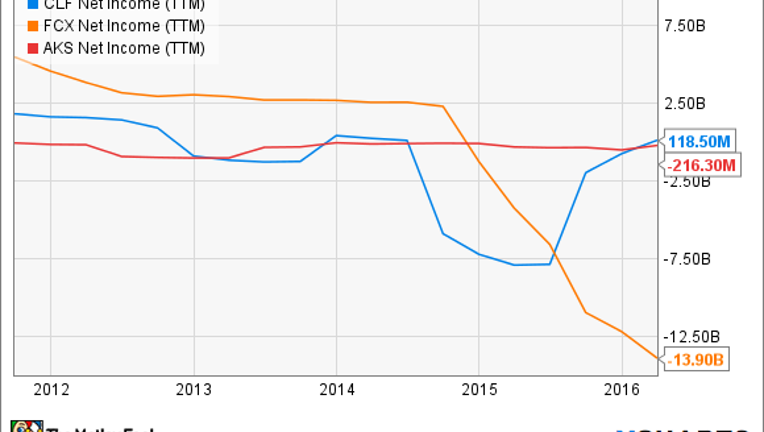 Image source: Getty Images.
What: Shares of materials and metals stocks surged higher Tuesday as prices for commodities took a step higher. Cliffs Natural Resources Inc , Freeport-McMoRan Inc , and AK Steel Holding Corporation were up 10%, 10.6%, and 9.7%, respectively, at 3:20 p.m. EDT after all of them rose double-digits throughout most of the afternoon.
So what: Iron ore and steel stocks were driven higher by a rally in China's steel prices. That was driven by government officials in Tangshan city in Hebei province ordering steel mills to reduce output ahead of the Great Tangshan earthquake memorial on July 28. The region wants clean air for the memorial, and one way to do that is reduce industrial activity. This comes as inventories in the area have shrunk to a six-year low, so short-term prices are rising as a result.
Iron ore prices are following the steel move as well as it often trades in unison with steel prices. This is partially driven by China cutting back iron ore production as the industry deals with oversupply.
Freeport-McMoRan is being helped by a 3% rise in copper prices today. Copper is another commodity that's had a volatile year, but a big rise like we saw today can send stocks significantly higher.
Now what: Day-to-day, miners and metal producers can swing wildly on the movement of commodity prices because their operations are so heavily leveraged to those prices. They incur a lot of fixed costs to run their businesses, so when prices rise, it's a lot of upside for the bottom line.
The problem is that nearly all minerals and metals have suffered from oversupply recently as China pumps out more product than the world needs, and demand in the U.S. and overseas remains tepid. It's that dynamic I think investors should be concerned about, because Cliffs Natural Resources, Freeport-McMoRan, and AK Steel have all lost money over the past two years.
CLF Net Income (TTM) data by YCharts.
Long term, I don't see materials or metals prices making a sustainable move higher, and until they do, these stocks remain too speculative for long-term investors to be betting on them, especially based on a single day's move in the volatile commodity market.
The article Why Metals Stocks Traded Sharply Higher Today originally appeared on Fool.com.
Travis Hoium has no position in any stocks mentioned. The Motley Fool owns shares of Cliffs Natural Resources and Freeport-McMoRan Copper and Gold. Try any of our Foolish newsletter services free for 30 days. We Fools may not all hold the same opinions, but we all believe that considering a diverse range of insights makes us better investors. The Motley Fool has a disclosure policy.
Copyright 1995 - 2016 The Motley Fool, LLC. All rights reserved. The Motley Fool has a disclosure policy.