Why Merrimack Pharmaceuticals Stock Is Roaring Higher Today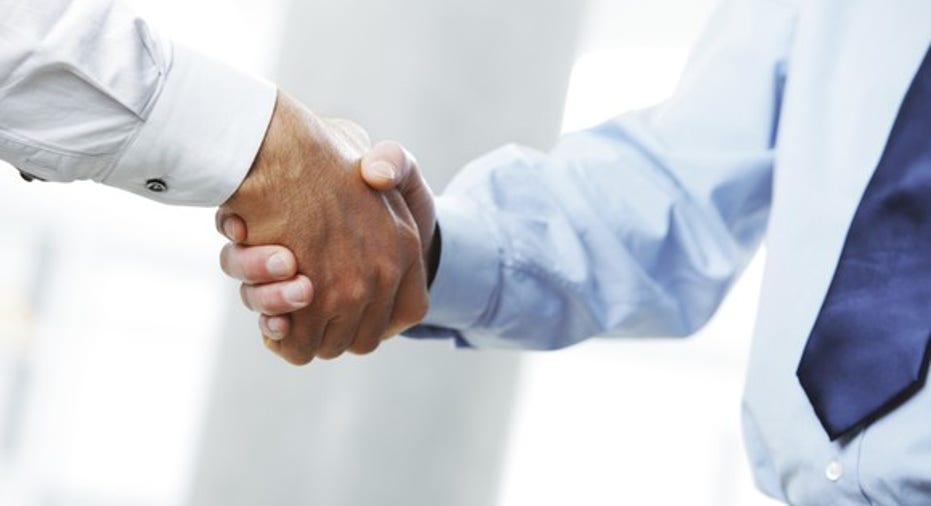 What happened
Merrimack Pharmaceuticals (NASDAQ: MACK), a small-cap biotech company, saw its shares gain as much as 35% in early trading today, though the spike has shrunk down to 8% as of 10:45 a.m. EST. Shares took flight as a result of the biotech's decision to sell both the pancreatic-cancer drug Onivyde and the generic version of the anti-cancer medicine Doxil totheFrench drugmaker Ipsen SA in a deal worth as much as$1.025 billion.
According to the press release, Ipsen will reportedly fork over $575 million once the deal closes at the end of the first quarter of 2017. Merrimack will then be eligible for up to $450 million in additional milestone payments, depending on Onivyde's regulatory progress in the United States.
So what
Image source: Getty Images.
Merrimack's stock turned in an incredibly bad year in 2016 due to the political angst toward pharma stocks, combined with mid-stage failure of its experimental breast-cancer drug MM-302 last month. Because of these setbacks, management apparently deemed it necessary to refocus the company's efforts on the clinical pipeline of anti-cancer agents such as MM-121, MM-141 and MM-310, and pivot away from the mediocre commercial launch of its first FDA-approved product, Onivyde.
Now what
This asset divestiture is part of Merrimack's broader restructuring process designed to lower operating costs and double down on a streamlined oncology pipeline as the main path for value creation moving forward. In particular, the company plans on reducing its workforce by a staggering 80% by the end of the first quarter, and paying off$175 millionin outstanding senior secured notes in order to strengthen its balance sheet.
The bottom line is that it's never great news when a commercial biotech decides to turn back the clock by reverting to being a developmental-stage company. After all, experimental medicines -- especially cancer drug candidates -- more often than not fail to reach the market. So Merrimack's shareholders should probably brace themselves for some serious volatility in the coming weeks as the market attempts to revalue this company following this bold move.
10 stocks we like better thanWal-MartWhen investing geniuses David and TomGardner have a stock tip, it can pay to listen. After all, the newsletter theyhave run for over a decade, the Motley Fool Stock Advisor, has tripled the market.*
David and Tomjust revealed what they believe are theten best stocksfor investors to buy right now... and Wal-Mart wasn't one of them! That's right -- theythink these 10 stocks are even better buys.
Click hereto learn about these picks!
*StockAdvisor returns as of December 12, 2016The author(s) may have a position in any stocks mentioned.
George Budwell has no position in any stocks mentioned. The Motley Fool has no position in any of the stocks mentioned. The Motley Fool has a disclosure policy.