Why MercadoLibre, Inc. Stock Soared 25% in November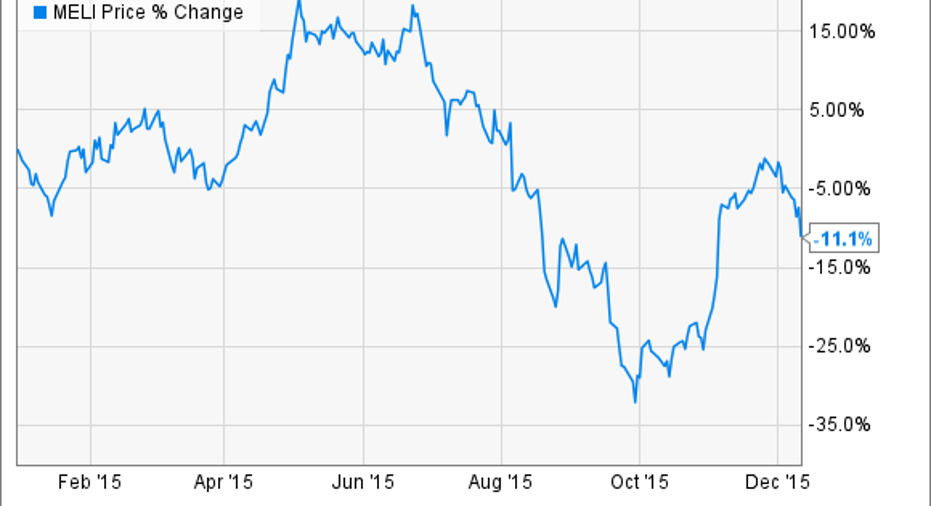 What: MercadoLibre, stock appreciated 25.3% during the month of November, according toS&P Capital I.Q.data.
So what:The Latin American e-commerce giant reported vigorous third-quarter 2015 earnings on Nov. 4, causing the stock to appreciate nearly 9% in the subsequent trading session. MercadoLibre shares continued to post steady gains throughout the rest of the month.
The "MELI" ticker has endured a volatile year, as concerns over the company's revenue concentration in high inflation economies such as Brazil, Argentina, and Venezuela caused investors to rethink their admiration for the Internet retailer over the summer:
Yet the third quarter allayed some of these concerns, as the company reported brisk sales in both dollar and local currency terms. MercadoLibre generated $168.6 million in net revenue -- a 14% increase when denominated in U.S. dollars, and a 68% increase in local currencies.
With some relief, MercadoLibre saw dollar pressure ease a just a bit in Q3. The company's 27% operating income margin marked a decline of 5% from the prior year, with foreign currency translation responsible for nearly all of the margin compression. But this is actually somewhat encouraging, as during the last sequential quarter (Q2 2015), Mercado's operating margin declined 10.7%, of which 7% was attributed to foreign currency impacts.
The inference is that in Q3 2015, MercadoLibre ran operations more efficiently, while enjoying a slight relaxing of currency headwinds. The company ended the quarter with a net profit of $45.6 million, a 35% increase. This proved a more than pleasant surprise to shareholders, after Q2's 39% decline in net income versus the prior year.
Now what:In this last quarter of 2015, investors can entertain a promising narrative regarding MercadoLibre. That is, the continued rapid growth of Gross Merchandise Volume (or "GMV," a measure of all transactions MercadoLibre facilitates) will offer some protection from the erosion of Latin American currencies vis-a-vis the mighty dollar. Last quarter, GMV rose an an enormous 77% in local currency terms, to $1.84 billion.
Additionally, over the long term, MercadoLibre's maintenance of a market-leading e-commerce position in Latin America should return an unanticipated dividend for patient investors. Major currencies tend to move in years-long trends. At some point, it will be time for the dollar to reverse course and weaken against emerging market currencies. Such a period will provide welcome revenue and earnings boosts to MercadoLibre shareholders.
The article Why MercadoLibre, Inc. Stock Soared 25% in November originally appeared on Fool.com.
Asit Sharma has no position in any stocks mentioned. The Motley Fool owns shares of and recommends MercadoLibre. Try any of our Foolish newsletter services free for 30 days. We Fools may not all hold the same opinions, but we all believe that considering a diverse range of insights makes us better investors. The Motley Fool has a disclosure policy.
Copyright 1995 - 2015 The Motley Fool, LLC. All rights reserved. The Motley Fool has a disclosure policy.