Why Mazor Robotics Soared 25% Higher Today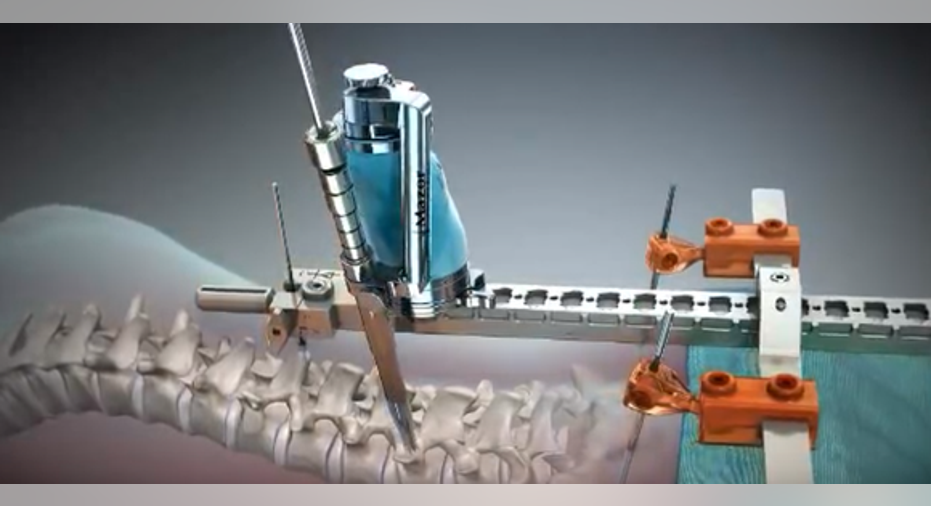 Image source: Mazor Robotics Ltd.
What:Shares ofMazor Robotics Ltd.skyrocketed 24.9% today after the companydisclosed that it has entered into a marketing collaboration with Medtronic plcthat includes Medtronic making an equity investment in Mazor Robotics.
So what:Mazor Robotics' Renaissance guidance system enables surgeons to perform spine and brain procedures more precisely, thereby reducing complications and resulting in lower post-operative pain. The system is used by spine surgeons to conduct minimally invasive surgery that addresses a variety of spine indications, including scoliosis, degenerative disc disease, and disc herniation.
Today, global medtech giant Medtronic inked two deals with Mazor Robotics. The first agreement is for the co-promotion and co-development of Mazor Robotics products. The second agreement is for an equity investment in Mazor Robotics by Medtronic.
The marketing deal includes an initial U.S. co-promotion phase. Assuming that goes well, then the companies will expand their relationship in 2018 so that Medtronic takes over full responsibility for global sales of Mazor Robotics products. In this expanded phase, Medtronic has agreed to annual quotas that potentially total hundreds of Mazor Robotics systems over a four-year period.
As for the equity investment, Medtronic is buying newly issued shares in the company that represent a 4% stake. The price Medtronic is paying for those shares is based on Mazor Robotics' trailing 20-day volume-weighted share price. In total, Medtronic's initial investment is $11.9 million.
Medtronic has the option to purchase additional shares representing 6% of Mazor Robotics if Mazor Robotics achieves specific milestones. If exercised, that option would increase Medtronic's stake in the company to 10%. Medtronic can also buy up to another 5% in Mazor Robotics, at Mazor Robotics' discretion.
Now what:This news is potentially transformative for the small-cap robotics maker. Last quarter, Mazor Robotics' total revenue was just $6.4 million.In Q1, the company got orders for five Renaissance systems, four of which were in the United States. By comparison, the company recorded just one order in the U.S. in the same quarter a year ago.
If Medtronic can leverage its global sales force to drive system sales, then Mazor Robotics could begin generating significant recurring revenue as procedure volume climbs. That razor-and-blade model has been effective for Intuitive Surgical, a company that markets minimally invasive robotic systems used in indications such as urology. Over the past 12 months, Intuitive Surgical has racked up sales of more $2.4 billion.
Given that Medtronic is a medtech titan and is putting its money where its mouth is via an equity stake, Mazor Robotics shares are worth considering. Investors, however, should remember that Mazor Robotics is a long way from profitability, and there's no guarantee that Medtronic will succeed in its efforts to build momentum for its systems.
The article Why Mazor Robotics Soared 25% Higher Today originally appeared on Fool.com.
Todd Campbell has no position in any stocks mentioned.Todd owns E.B. Capital Markets, LLC. E.B. Capital's clients may have positions in the companies mentioned. Like this article? Follow him onTwitter where he goes by the handle@ebcapitalto see more articles like this.The Motley Fool owns shares of and recommends Intuitive Surgical. The Motley Fool owns shares of Medtronic. Try any of our Foolish newsletter services free for 30 days. We Fools may not all hold the same opinions, but we all believe that considering a diverse range of insights makes us better investors. The Motley Fool has a disclosure policy.
Copyright 1995 - 2016 The Motley Fool, LLC. All rights reserved. The Motley Fool has a disclosure policy.