Why Match Group Inc Stock Jumped 26% Last Year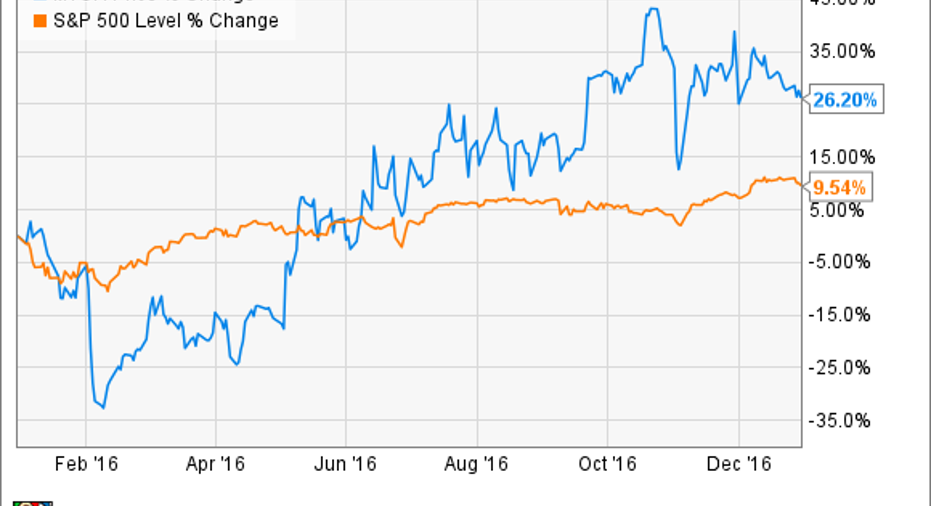 In its first full year as a publicly traded company, online dating conglomerateMatch Group (NASDAQ: MTCH) surged past expectations, climbing 26%.
A number of factors led to its standout performance, including blockbuster growth from Tinder, strong operating leverage, and consistently beaten earnings estimates. Let's take a closer look at how things played out in 2016.
Data by YCharts.
A year in review
As the chart above shows, Match Group stock actually plummeted sharply to start the year. Its earnings report from February sent the stock down 20% in two days, even as the company beat earnings estimates. The market instead focused on revenue growth, which increased just 12% to $267.5 million, short of estimates of $272 million. Despite topping earnings estimates, adjusted net income actually fell 2% as well, causing some investors to question the company's business model.
However, dating revenue adjusted for deferments from acquisitions and foreign exchange was up 22%. The drop following that report set up an excellent entry point as the stock fell below $9, a steal considering that Match was still solidly profitable and on track to deliver near $0.75 in earnings per share this year.
As the market bounced back, so did Match shares, and the company delivered better numbers in its next report as the stock spiked 16%. Revenue growth accelerated to 21%, and average paid member count jumped 36% to 5.1 million, due to explosive growth at Tinder as the company introduced a la carte features like "superlikes" to the swipe-based app. Adjusted net income also jumped 30% as the company easily beat earnings estimates again.
The stock chugged higher over the subsequent months but slipped again after its second quarter earnings report in July, falling 6%, even though the company put up another solid quarter. Revenue grew 21% again, but operating income surged 82% as the strength of Match Group's business model started to become apparent. As with other subscription services, incremental sales go almost directly to the bottom line, as there is little additional cost to them. Investors sold the stock, however, as paid member growth of 30% was slower than expected.
Finally, the stock peaked in October at over $19 but then plunged on its third quarter earnings report (despite another strong quarter), as investors thought earnings growth would slow in 2017 based on management comments about investments. The stock slipped 12% on the news.
Source: Getty Images.
What we learned
The market has maintained high expectations for Match Group, which seem to explain why the stock has so often fallen after its quarterly reports. However, the stock is a rarity for a tech IPO: It is not only fast-growing but also profitable, trading at a modest price-to-earnings ratio of just 25 times.
Tinder's growth has skyrocketed as paid users nearly tripled in the past year to 1.5 million, which allows more opportunities for the company to monetize its users. For example, the recently added Tinder Boost allows users to pay $2 to "cut the line" for 30 minutes and get up to ten times as many matches.
Match Group's operating leverage was also impressive, as the company was able to grow revenue by more than 20% with only modest increases in SG&A (selling, general, and administrative) costs. For the first three quarters of the year, operating income grew 55%, showing that the company can continue strong profit growth even when revenue growth slows.
Management has signaled that it will increase investments next year, meaning profit growth will likely slow, but it's important for the company to continue to develop new products. The online dating industry changes quickly and Match, even with its dominant position, is surrounded by competition.
We should get a full view of what management expects for 2017, including guidance, when the company reports fourth-quarter earnings on Feb. 1. But Match's streak of earnings beats and modest valuation bode well for it to outperform the market again this year.
10 stocks we like better than Match Group When investing geniuses David and Tom Gardner have a stock tip, it can pay to listen. After all, the newsletter they have run for over a decade, Motley Fool Stock Advisor, has tripled the market.*
David and Tom just revealed what they believe are the 10 best stocks for investors to buy right now... and Match Group wasn't one of them! That's right -- they think these 10 stocks are even better buys.
Click here to learn about these picks!
*Stock Advisor returns as of January 4, 2017
Jeremy Bowman owns shares of Match Group. The Motley Fool recommends Match Group. The Motley Fool has a disclosure policy.