Why Marvell Technology Stock Can Run Higher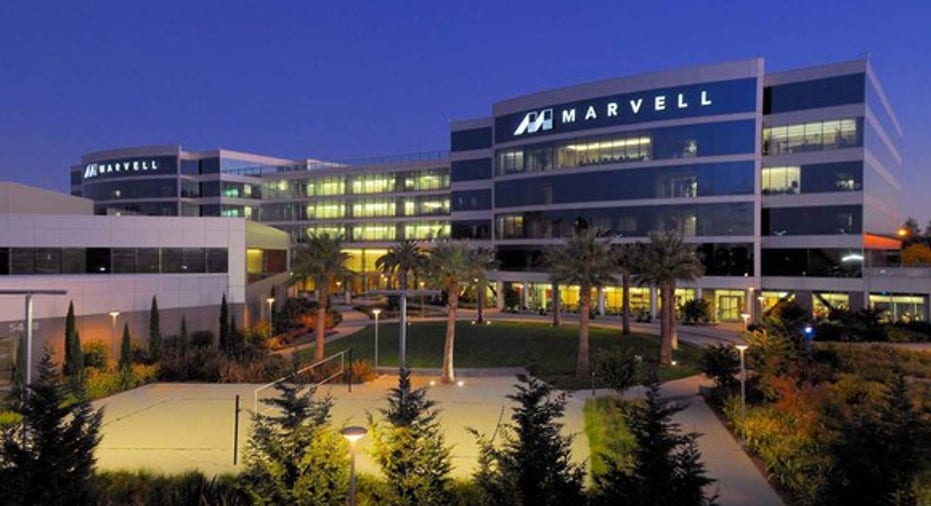 Marvell Technology Group (NASDAQ: MRVL) stock is trading near 52-week highs thanks to the company's terrific performance in the fiscal fourth quarter. Marvell beat Wall Street's expectations on both revenue and earnings, while its guidance for the first quarter of fiscal 2018 has set a positive tone that should allow it to sustain its momentum for the rest of the year.
Marvell's earnings expected to grow rapidly this year
Marvell expects $0.21 per share in earnings -- at the midpoint -- on revenue of $570 million in the first quarter, better than consensus estimates that called for $545 million in revenue and $0.17 in earnings per share. The solid outlook is driven by an aggressive restructuring that involves cutting down the company's smartphone presence to focus on the cloud and data center markets.
In fact, Marvell management is moving ahead of schedule on the restructuring. The company projects a 59% gross margin for the current (first) quarter, which ends at the end of April, as compared to the earlier expectation of hitting 58% to 60% in the second half of the fiscal year. More importantly, Marvell's focus on moving swiftly toward higher-margin products in the cloud and data center space, along with lower operating costs, should lead to impressive earnings growth this year.
Image source: Marvell Technology.
Marvell expects to slash its non-GAAP operating costs by 21% from last year to $222 million (at the midpoint) in the first quarter. Maintaining this run rate for the full year would mean that its operating expenses will fall below $900 million, well below last year's outlay of almost $977 million.
Not surprisingly, analysts raised Marvell's fiscal year 2018 earnings projections to $1.01 per share from $0.90 per share a month ago. This signals earnings growth of 60% over last year thanks to potentially stronger revenue from the cloud and data center markets.
Setting up for long-term growth
As Marvell dials down its presence in lower-margin businesses and ramps up sales of products with higher margins, it expects to achieve a 60%-plus gross margin in the long run.
Image source: Marvell Technology.
Marvell plans to get half of its revenue from the cloud infrastructure business in the long run, from the current contribution of 33%, to drive margin expansion. One of the ways the company can tap into the booming cloud infrastructure is by expanding its data center offerings.
Crehan Research pins the size of the data center switch market at $1.5 billion with an even split between mainstream and high-end data centers. Mainstream data centers have port speeds of 10 Gbps while the same in high-end data centers exceeds 25 Gbps, and Marvell is looking to cover both these segments with its latest product family.
Earlier this month, Marvell launched its Prestera PX Passive Intelligent Port Extender (PIPE) family that gives data centers a modular option to scale up port speeds. The company claims that this new product family will allow data centers to bridge the gap between the existing and the next-generation port speeds without breaking the bank.
Currently, a data center needs to overhaul the entire port configuration when upgrading its port speed. Marvell's solution, on the other hand, eliminates the need for revamping the entire port configuration as its product attaches to the existing switches, allowing the data center to achieve lower costs.
Marvell claims that its modular solution can be deployed at half the cost of a traditional Ethernet switch and also consumes 50% less power. This is a smart marketing ploy, as the serviceable addressable market (SAM) in Ethernet infrastructure is growing at an annual pace of 6% to 7%. Additionally, Research and Markets estimates that global data center construction will grow at over 9% until 2019, creating robust demand for Marvell's customizable switching components.
Marvell Technology investors, therefore, can expect the good times to roll on as the company trains its sights firmly on the cloud and data center markets and continues cutting down low-margin businesses.
10 stocks we like better than Marvell Technology GroupWhen investing geniuses David and Tom Gardner have a stock tip, it can pay to listen. After all, the newsletter they have run for over a decade, Motley Fool Stock Advisor, has tripled the market.*
David and Tom just revealed what they believe are the 10 best stocks for investors to buy right now... and Marvell Technology Group wasn't one of them! That's right -- they think these 10 stocks are even better buys.
Click here to learn about these picks!
*Stock Advisor returns as of February 6, 2017
Harsh Chauhan has no position in any stocks mentioned. The Motley Fool has no position in any of the stocks mentioned. The Motley Fool has a disclosure policy.