Why Macy's Stock Dropped 10% Last Month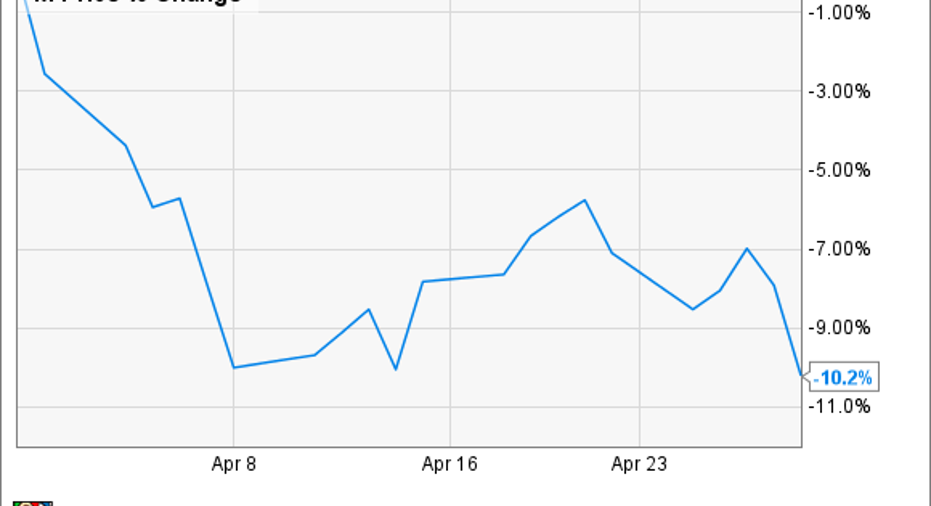 What:Shares ofMacy's tracked with a downward trend in the department-store industry last month, falling 10% according to data from S&P Global Market Intelligence on persistent negativity and demands from activists to explore a REIT conversion. As the chart below shows, the bulk of the stock's drop came in the beginning of the month.
So what:The venerable department-store chain may still be reeling from a weak holiday-quarter earnings report, as same-store sales plummeted during the key holiday period.
In response to demands from activist investors, Macy's hired an executive vice president for real estate, Doug Sesler, who will work on joint ventures and other partnerships to unlock value from the company's real estate. The company recently sold the top floors of its Brooklyn location for $270 million.
Rivals includingNordstromandJ.C. Penney also fell by double digits last month as department-store chain continue to deal with challenges including e-commerce and an excess of retail space.
Now what:Macy's stock may continue to languish until the company changes the narrative, which is currently a business in retreat. The retailer will report earnings later this month, with analysts are expecting another ugly report with earnings per share down from $0.56 to $0.38 and revenue down 4%. With the bar set so low, Macy's may be able to top expectations -- but without a savvy real estate strategy or the ability to grow sales and profits, one shouldn't expect a turnaround soon.
The article Why Macy's Stock Dropped 10% Last Month originally appeared on Fool.com.
Jeremy Bowman has no position in any stocks mentioned. The Motley Fool recommends Nordstrom. Try any of our Foolish newsletter services free for 30 days. We Fools may not all hold the same opinions, but we all believe that considering a diverse range of insights makes us better investors. The Motley Fool has a disclosure policy.
Copyright 1995 - 2016 The Motley Fool, LLC. All rights reserved. The Motley Fool has a disclosure policy.