Why Lions Gate Entertainment Corp. Gained 15% in November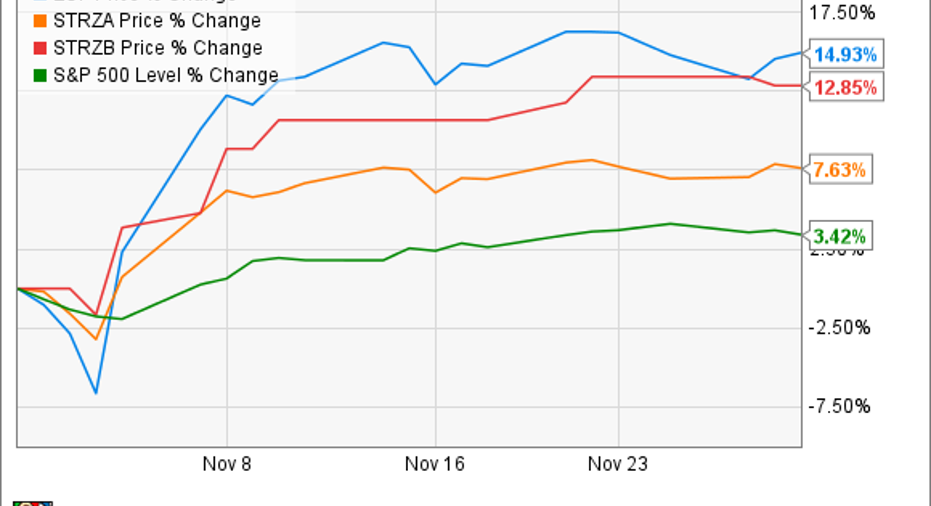 Image source: Getty Images.
What happened
Shares of Lions Gate Entertainment (NYSE: LGF) rose 14.9% in November 2016, according to data from S&P Global Market Intelligence. A solid second-quarter report provided all the rocket fuel needed for this boost.
So what
In the second quarter, Lions Gate grew its sales by 34% year over year, while turning the year-ago period's net loss into a respectable profit. The final tally showed adjusted earnings of $0.11 per share on $640 million in top-line revenue. Analysts would have settled for a $0.25 loss per share on sales of just $554 million. It wasn't even close.
As investors absorbed the results and analysts weighed in with updated analyses, Lions Gate shares rose 20% over the next three market days.
Now what
This jump rested on 56% higher international movie revenues and 43% stronger sales of TV content. That being said, analyzing Lions Gate in the light of recent quarters doesn't make a whole lot of sense, because there's a game-changing merger on the table.
Management hopes to close its $4.4 billion merger-of-equals with Starz (NASDAQ: STRZA) (NASDAQ: STRZB) during the current quarter.
Being tied by the hip to Lions Gate, Starz also posted decent gains in November: Starz's A shares closed the month 7.9% higher while the Class B stock climbed all the way to 12.8%.
When the merger happens, the new Lions Gate will rely far less on movie releases and more on TV shows. The company also gains new distribution channels through Starz and its multinational network of premium cable channels.
Investors on both sides of this deal should get ready to update their expectations for the new two-headed beast.
10 stocks we like better than Lions Gate Entertainment When investing geniuses David and Tom Gardner have a stock tip, it can pay to listen. After all, the newsletter they have run for over a decade, Motley Fool Stock Advisor, has tripled the market.*
David and Tom just revealed what they believe are the 10 best stocks for investors to buy right now... and Lions Gate Entertainment wasn't one of them! That's right -- they think these 10 stocks are even better buys.
Click here to learn about these picks!
*Stock Advisor returns as of Nov. 7, 2016
Anders Bylund has no position in any stocks mentioned. The Motley Fool owns shares of and recommends Lions Gate Entertainment. The Motley Fool also recommends Starz. Try any of our Foolish newsletter services free for 30 days.
We Fools may not all hold the same opinions, but we all believe that considering a diverse range of insights makes us better investors. The Motley Fool has a disclosure policy.