Why Lindsay Corporation, Extreme Networks, and Universal Display Jumped Today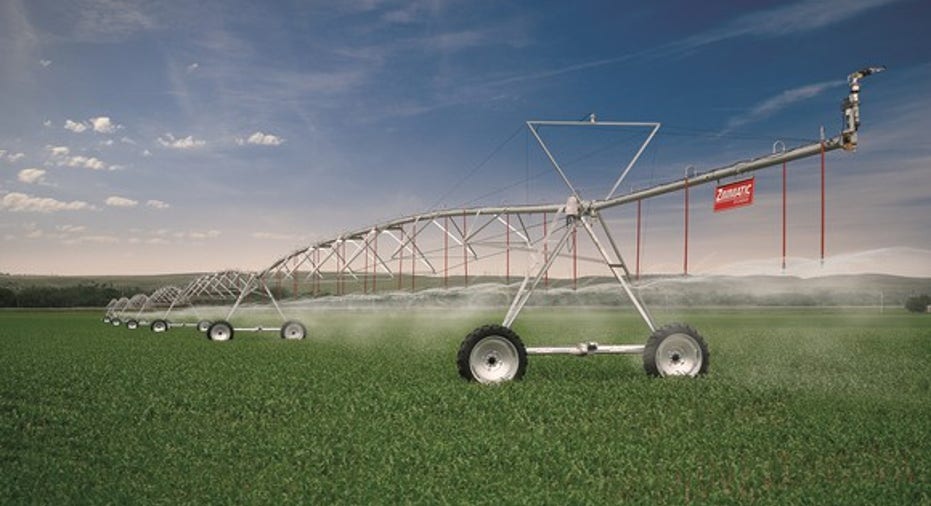 The stock market climbed on Thursday as investors mulled encouraging economic data. According to the Commerce Department, U.S. gross domestic product increased at an annualized 2.1% in the fourth quarter. That's above its previously reported 1.9% jump, but also a notable deceleration from the 3.5% GDP growth realized in the third quarter.When all was said and done,the Dow Jones Industrial Average, S&P 500, and Nasdaq indexes each climbed around 0.3%.
But several individual stocks enjoyed more pronounced gains today, including Lindsay Corporation (NYSE: LNN), Extreme Networks (NASDAQ: EXTR), and Universal Display Corporation (NASDAQ: OLED). Read on to learn what drove these unusually positive moves.
Image source: Lindsay Corporation.
Lindsay Corporation cultivates a earnings beat
Shares of Lindsay Corporation climbed 7.9% after the irrigation systems and infrastructure products company announced stronger-than-expected fiscal second-quarter 2017 results. Quarterly revenue rose 2.9% year over year, to $124.1 million -- above the $119.1 million investors were expecting -- helped by 46% growth in international irrigation revenue to $44.7 million. Meanwhile, U.S. irrigation revenue declined 15%, to $61.5 million, and infrastructure segment revenue rose 2%, to $17.9 million, thanks to higher demand for road safety products and Road Zipper system sales. On the bottom line, that translated to earnings of $5 million, or $0.47 per share, beating expectations by $0.08 per share.
Linsday CEO Rick Parod noted the company is currently navigating the primary selling season for irrigation equipment in North America, where market conditions are being impacted by a combination of lower commodity prices and farm incomes.
"I am encouraged by the improving activity levels we are seeing in the international irrigation and infrastructure markets," Parod added. "The longer-term drivers for our markets of population growth, expanded food production and efficient water use, and infrastructure upgrades and expansion support our expectations for growth."
Extreme Networks makes a smart acquisition
Extreme Networks stock popped 14.2% after the company agreed to acquire Brocade Communication Systems' data center technology business for $55 million in cash. The purchase should close within 60 days of Brocade's acquisition by Broadcom, which was announced in November and is expected to close before the end of its fiscal quarter ending July 30, 2017. At that time, Extreme Networks will pay $35 million, followed by $20 million in deferred payments as well as potential performance-based payments to Broadcom over the next five years.
Perhaps most intriguing for investors, Extreme Networks anticipates the purchase will be accretive to cash flow and earnings for its 2018 fiscal year, and expects the acquired assets will generate more than $230 million in annualized revenue going forward.
Extreme Networks CEO Ed Meyercord stated, "The addition of Brocade's data center networking business significantly strengthens our position in the expanding high-end data center market and reinforces our strategy of delivering software-driven networking solutions focused on enterprise customers."
Universal Display lights up
Finally, shares of OLED technologist Universal Display climbed as much as 6.3% early today to briefly touch a fresh all-time high, then settled to close up around 2.4% after Samsung unveiled its new Galaxy S8 and Galaxy S8+ smartphones.
For perspective, Samsung affiliate Samsung Display is Universal Display's single largest customer, comprising more than 60% of its total sales last year via long-term IP license and OLED material supply agreements between the two companies. And both new smartphones feature massive new "Infinity" displays (5.8 inches on the Galaxy S8, and 6.2 inches on the S8+) enabled by Universal Display's flagship OLED technology.
What's more, in addition to the incremental OLED materials Universal Display should sell for these larger screens, the company noted last quarter that its customers have begun adopting its next-generation OLED emitter materials in newer devices. This means higher selling prices and, consequently, improved margins from its materials business going forward.
Offer from The Motley Fool: The 10 best stocks to buy nowMotley Fool co-founders Tom and David Gardner have spent more than a decade beating the market. In fact, the newsletter they run, Motley Fool Stock Advisor, has tripled the S&P 500!*
Tom and David just revealed their ten top stock picks for investors to buy right now.
Click here to get access to the full list!
*Stock Advisor returns as of 3/24/2017.
Steve Symington owns shares of Universal Display. The Motley Fool owns shares of and recommends Universal Display. The Motley Fool has a disclosure policy.