Why LifeLock Shares Soared 67% in 2016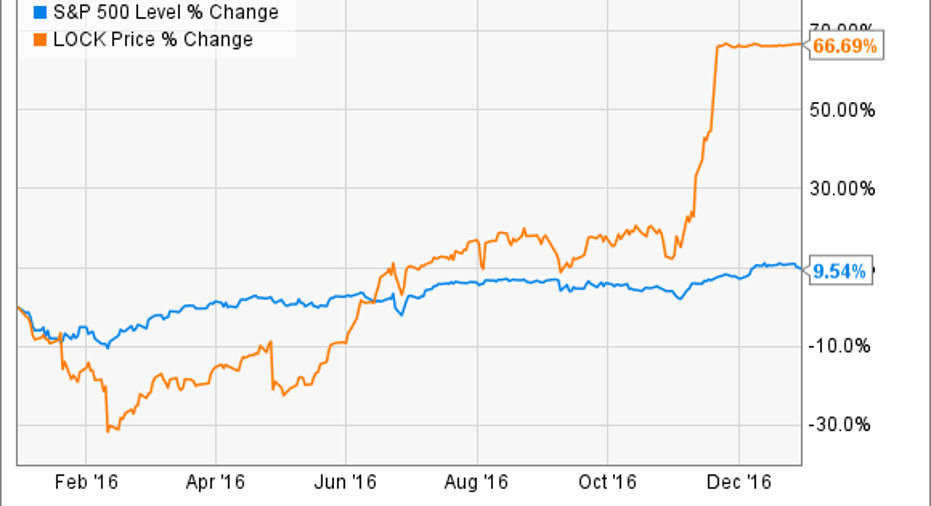 Image source: Getty Images.
What happened
Identity-theft protection provider LifeLock (NYSE: LOCK) posted market-thumping gains of 67% last year, according to data provided by S&P Global Market Intelligence.
The stock had kept pace with the S&P 500 for most of the year following a sharp decline in 2015. However, a late-year spike ensured significant calendar-year gains for investors.
So what
The rally was sparked by news that Symantec (NASDAQ: SYMC) would be purchasing LifeLock for $2.3 billion, or $24 per share. Unlike many other cybersecurity stocks, Symantec posted improving sales growth trends last year in part because of its aggressive acquisition strategy. By purchasing LifeLock, the company aims to shore up its consumer-facing division even as it blows past its expansion targets on the enterprise side. "With the combination of Norton and LifeLock," Symantec CEO Greg Clark told investors in November, "we will be able to deliver comprehensive cyber defense for consumers."
"This acquisition marks the transformation of the consumer security industry from malware protection to the broader category of digital safety for consumers," he continued. LifeLock executives see the combination as a valuable one, too. "We are very pleased to have reached an outcome that serves the best interests of all LifeLock stakeholders," CEO Hilary Schneider said in a press release.
Now what
Symantec will be funding the transaction mostly with cash on hand, but also with the help of $750 million of new debt. The deal likely won't be material to Symantec's fiscal year earnings, as the company still expects to earn revenue of about $4.1 billion and non-GAAP earnings of $1.15 per share.
With LifeLock's stock valued at just below the acquisition price, investors are expecting the deal to pass regulatory hurdles and close right on target sometime in the first few months of 2017, ending a volatile 4-year run on the public markets for LifeLock.
10 stocks we like better than LifeLock When investing geniuses David and Tom Gardner have a stock tip, it can pay to listen. After all, the newsletter they have run for over a decade, Motley Fool Stock Advisor, has tripled the market.*
David and Tom just revealed what they believe are the 10 best stocks for investors to buy right now... and LifeLock wasn't one of them! That's right -- they think these 10 stocks are even better buys.
Click here to learn about these picks!
*Stock Advisor returns as of January 4, 2017
Demitrios Kalogeropoulos has no position in any stocks mentioned. The Motley Fool has no position in any of the stocks mentioned. The Motley Fool has a disclosure policy.