Why Las Vegas Sands, Horizon Pharma, and IDT Slumped Today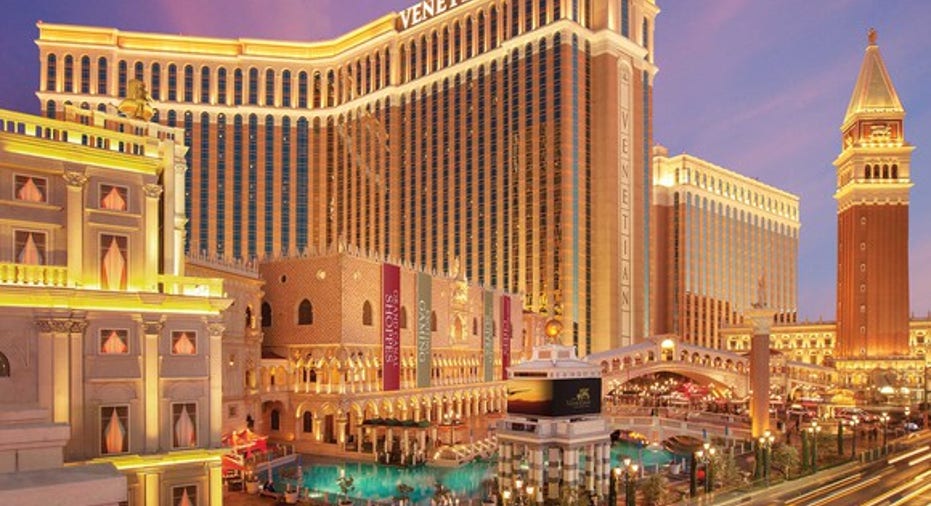 Thursday was another strong day for the stock market, as the Dow, S&P 500, and Nasdaq Composite all set new record highs during the session. Investors are growing increasingly confident about the future, and even the prospect of an interest rate hike from the Federal Reserve at its Federal Open Market Committee meeting next week doesn't seem to be fazing market participants. Despite the general giddiness, though, some stocks didn't participate in the rally, and Las Vegas Sands (NYSE: LVS), Horizon Pharma (NASDAQ: HZNP), and IDT (NYSE: IDT) were among the worst performers on the day. Below, we'll look more closely at these stocks to tell you why they did so poorly.
Image source: Las Vegas Sands.
Macau deals a cash crunch to Las Vegas Sands' customers
Las Vegas Sands dropped 13% after news that has huge implications for the Macau gaming market. The Chinese government is reportedly planning to limit the ability of those who use China UnionPay bank cards to withdraw cash from ATMs. Daily withdrawal limits will be cut in half, to 5,000 patacas, or about $625 in U.S. currency at current exchange rates. Macau's business had started to regain its footing after a tough couple of years, but investors clearly fear that new intervention from government officials could put further pressure on Las Vegas Sands and its rivals in the former Portuguese territory. Given Sands' importance in the market, it's not surprising to see it falling more dramatically than some of the other players in Macau despite its diversification across the globe.
Horizon deals with a failure
Horizon Pharma plunged 22% in the wake of bad news on a clinical trial. The company announced Thursday morning the top-line results from its phase 3 study of its Actimmune interferon gamma-1b prospective treatment for Friedreich's ataxia, saying the treatment failed to meet primary or secondary endpoints. Actimmune didn't produce a statistically significant change from the baseline in a rating scale specific to the disease compared to the control placebo, and as a result of the negative findings, Horizon decided it will discontinue the Friedreich's ataxia development program. Actimmune is already approved by the FDA for treatment of two other conditions, but the news is a setback for Horizon, which has hoped to broaden its use in an effort to stoke greater overall growth.
IDT sees sales fall
Finally, IDT declined 11%. The telecommunications and payment services provider reported its fiscal first-quarter results Wednesday afternoon, and several key financial metrics fell from year-ago levels. Sales were down 5.5%, and income from operations fell by about a third from the fiscal first quarter of last year. Adjusted earnings per share climbed, but a big part of the problem for IDT is that its payment services businesses isn't growing fast enough to offset the declines in its retail and wholesale communications services businesses. Declines of about 12% in quarterly minutes of use among customers pointed to a potential source of weakness going forward. IDT will need to find ways to remedy the current situation if it wants to regain the ground it lost today.
10 stocks we like better than Las Vegas Sands When investing geniuses David and Tom Gardner have a stock tip, it can pay to listen. After all, the newsletter they have run for over a decade, Motley Fool Stock Advisor, has tripled the market.*
David and Tom just revealed what they believe are the 10 best stocks for investors to buy right now...and Las Vegas Sands wasn't one of them! That's right -- they think these 10 stocks are even better buys.
Click here to learn about these picks!
*Stock Advisor returns as of Nov. 7, 2016.
Dan Caplinger has no position in any stocks mentioned. The Motley Fool has no position in any of the stocks mentioned. Try any of our Foolish newsletter services free for 30 days. We Fools may not all hold the same opinions, but we all believe that considering a diverse range of insights makes us better investors. The Motley Fool has a disclosure policy.