Why Kite Pharma's Shares Took Flight in November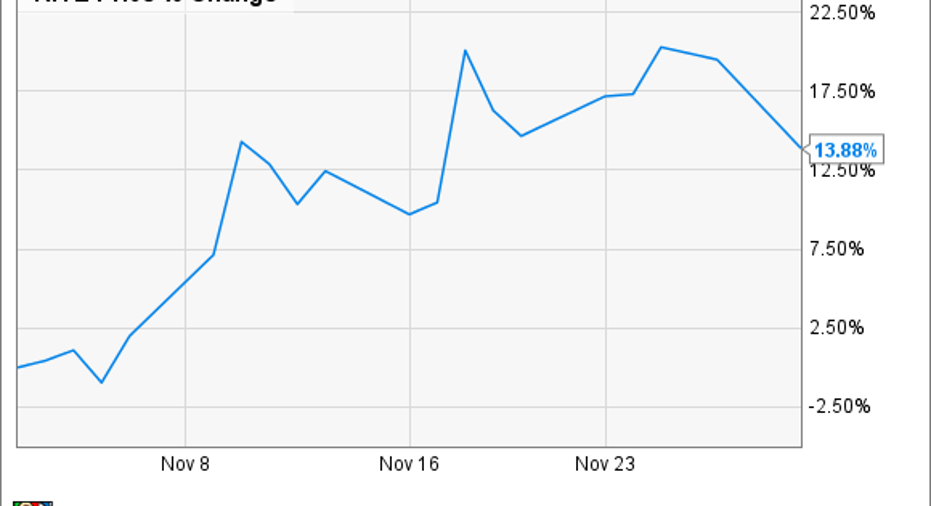 What: Shares of Kite Pharma , a clinical-stage cancer immunotherapy company, gained nearly 14% in November, according to data provided by S&P Capital IQ. This double-digit monthly gain appears to reflect the market's renewed optimism for the biopharma after management took the opportunity to provide investors with a broad clinical update during the company's third-quarter earnings report.
So what: Developmental-stage biopharmas in general, and cancer immunotherapy companies in particular, ran into serious headwinds during the third quarter, as investors seemingly lost their appetite for risk. The good news is that the volatility surrounding Kite hasn't had much to do with the company's rapidly progressing clinical program that features two midstage studies for lead experimental product candidateKTE-C19. Specifically, KTE-C19 is currently in ongoing midstage studies for non-Hodgkin's lymphoma andmantle-cell lymphoma that could lead to regulatory filings for these indications -- depending on their respective outcomes.
Now what: Kite is locked into a fierce race with Juno Therapeutics to be among the first to bring one of these so-called next-generation T-cell therapies to market. Kite and Juno are both presenting the latest data from their rival therapies at the 57th annual American Society of Hematology meeting in Orlando, Fla., this week. As such, investors might be able to get a better feel for which company truly has the inside track to this multibillion-dollar market moving forward. Stay tuned.
The article Why Kite Pharma's Shares Took Flight in November originally appeared on Fool.com.
George Budwell has no position in any stocks mentioned. The Motley Fool recommends Juno Therapeutics. Try any of our Foolish newsletter services free for 30 days. We Fools may not all hold the same opinions, but we all believe that considering a diverse range of insights makes us better investors. The Motley Fool has a disclosure policy.
Copyright 1995 - 2015 The Motley Fool, LLC. All rights reserved. The Motley Fool has a disclosure policy.