Why Juniper Networks Inc. Stock Plunged Today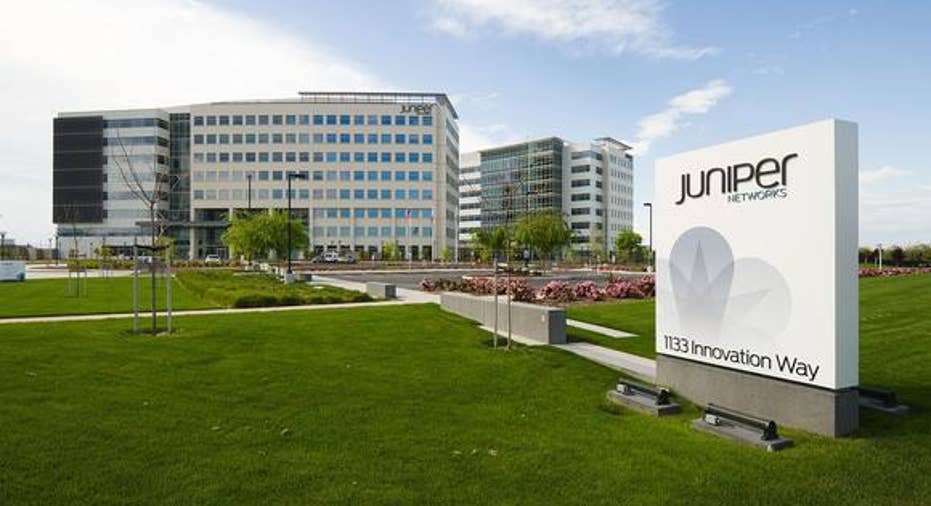 Image source: Juniper Networks.
What:Shares of Juniper Networks fell as much as 10% early Tuesday after the networking specialist issued disappointing preliminary first-quarter 2016 results.
So what:Juniper Networks now expects quarterly revenue of $1.09 billion to $1.10 billion, below its most recent guidance for revenue of $1.15 billion to $1.19 billion. Primarily to blame, Juniper Networks says, was weak demand from Enterprise and the timing of certain U.S. and EMEA Tier 1 Telecom deployments. As a result, Juniper also anticipates adjusted net income per diluted share of $0.35 to $0.37, below previous guidance for adjusted EPS of $0.42 to $0.46.
Analysts, on average, were modeling first-quarter revenue of $1.18 billion and adjusted earnings of $0.45 per share.
Now what: AsCEO Rami Rahim noted, "Although we expect results to be lower than our initial guidance for the first quarter, we remain constructive on fiscal 2016 and expect growth from new products to contribute to our top line, coupled with our ongoing focus on cost discipline to drive non-GAAP operating margin expansion for the full year."
With that in mind, Juniper Networks' stock could prove a bargain for investors willing to snap it up after today's pullback, especially trading at a reasonable 14.4 times trailing-12-month earnings and just 10 times next year's estimates.
At the same time, those estimates could fall as analysts have time to full digest today's news. And given Juniper Networks' sluggish growth and underwhelming start to the year, it's hard to blame the market for bidding the stock down.
The article Why Juniper Networks Inc. Stock Plunged Today originally appeared on Fool.com.
Steve Symington has no position in any stocks mentioned. The Motley Fool has no position in any of the stocks mentioned. Try any of our Foolish newsletter services free for 30 days. We Fools may not all hold the same opinions, but we all believe that considering a diverse range of insights makes us better investors. The Motley Fool has a disclosure policy.
Copyright 1995 - 2016 The Motley Fool, LLC. All rights reserved. The Motley Fool has a disclosure policy.