Why Johnson & Johnson's New Wearable for Diabetics Should Be a Home Run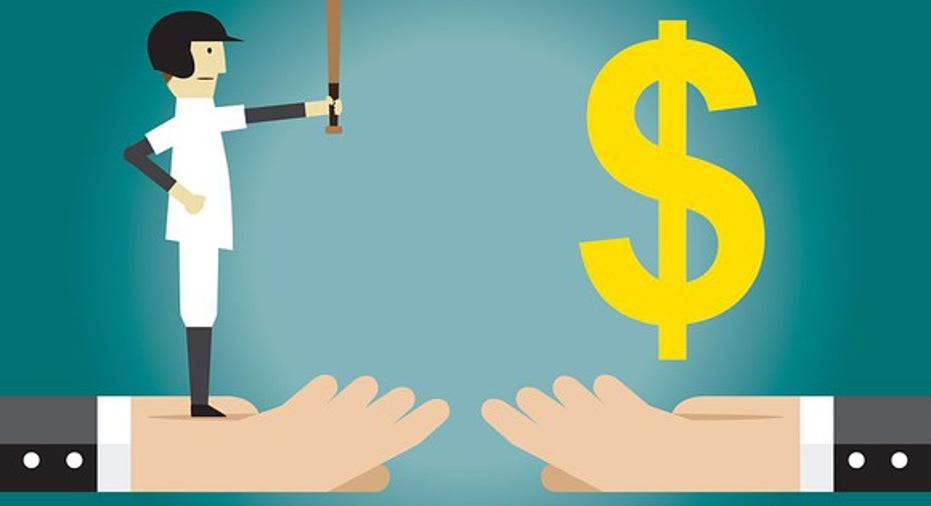 Image source: Getty Images.
Johnson & Johnson (NYSE: JNJ) has good news for the 29 million diabetics in the U.S., as well as the company's investors: The healthcare conglomerate's wearable insulin delivery device, OneTouch Via,is being submitted for final FDA approval and has an expected launch within the next twelve months.The device should make life easier for diabetics, since it makes supplemental insulin delivery painless and discrete. Also:since the wearablehas basicallyno competition--being the only on-demand insulin delivery device--it could well bring insales of $800-$1.3 billion for the company'slagging medical-devices division.
And thatshouldhaveJ&J investorscheering as well.
Here's how the new wearable could improve life for diabetics, as well as begin to restore J&J's cutting edge inmedical devices.
Diabetics now havea better option for taking insulin at mealtimes
OneTouch Via is an updated version of an earlier patch insulin injection wearable acquired when J&J bought Calibra Medical back in 2012. It is worn on the patient's abdomen, underneath clothing.It's not like thepatch pumps on the market from ??? , whichcontinuously deliver insulin. Instead, the OneTouch Viais inan entirely new category of on demand insulin delivery product that delivers mealtime doses only -simply by squeezing two buttons in its sides.The patch can be worn continuously for up to three days and provides injection-free insulin delivery whenever needed.
According to studies, most diabetics find the wearable a big improvement over pens and syringes. After 60 days, 86% of diabetics using the wearable said they were very satisfied with it. In another study, 75% of doctors said they would prescribe it, as it was a better solution than insulin pens. One hundred percent said it was an improvement over insulin syringes.
Image source: Johnson & Johnson.
The wearable also tackles the problem of diabetics who don't take needed insulin at mealtimes. Some 57% fail to do so, which can lead to serious problems such as heart disease, eye disease, and kidney failure long-term. Brian Levy, the chief medical officer of LifeScan, explained: "People with diabetes can often feel embarrassment or discomfort when they need to inject insulin at mealtimes or when snacking. In a social situation, they may choose to miss a dose so they don't have to take themselves out of the moment, but avoiding needed insulin doses may lead to serious health complications over time."
While OneTouch is designed to only deliver fast-acting insulin at meal times, that could change in the future. Multiple variations of the device, including a "smart" one with connectivity to a smartphone and a larger-capacity device, are being designed.
At the most recent American Diabetes Meetingnocompeting wearable was announced, but Medtronic(NYSE: MDT) showedprogress on the Holy Grail ofdiabetes management,an"artificial pancreas."J&J hasbeen working on its ownartificial pancreas project since 2010, aiming for a system that wouldautomateinsulin deliveryby detectingchanges in glucose levels.
While J&J has been mum on the status of thatdevice for quite some time, the FDA is currently reviewing Medtronic's hybrid closed loop system.The Medtronic deviceis a step closer to anartificial pancreas, but it will stillrequire patient input in the delivery of insulin.Medtronic's systemiscurrently under FDA review. Meanwhile,Insulet (NASDAQ: PODD), the maker of the tubeless insulin pump, announced a few days ago that it is beginning afeasibility study for its hybrid closed loop system.
J&J needs a big, healthy pipeline in all divisions
The diabetic wearable is exactly the type of innovative new device that could give a badly needed shot in the arm to J&J's lagging medical-devices unit. Medical devices account for around 36% of J&J's sales; last year, revenue totaled $6.4 billion. Meanwhile,the wearable's sales could eventually reach$800million just in the U.S.,with a potential $1.3 billion worldwide market. While that wouldn't move the needle much for J&J's overall revenue,it would clearly make it a significant contribution to medical-device revenues.
So how could OneTouch Viaachieve$0.8-$1.2 billionin revenue? Here's how, with the caveatthere's absolutely no guarantees it will even achieve final approval at this point.Around 350,000 people in the U.S. use insulin pumps.Of those,only around 30,000 have Type 2 diabetes. Thosedevices can cost around $5500 plus supplies.Assuming OneTouchVia achieves similar sales volume, which seems doable since it is aimed at the much larger Type 2 diabetes market, as well as Type 1 diabetes, and costs half ($2250) of the more complicated technology, it would achieve nearly $800 million in sales in the U.S. In addition, theU.S. market for insulin pumps is around 60% of the worldwide market, meaning that globalsales for this device could reach$1.3 billion.
However sales pan out in the future, the wearable is certainly innovative. It's alsoaimed at one of the fastest-growing markets in healthcare -- the exploding epidemic of diabetes. Today, nearly one adult in 10 in the U.S. lives with the disease, including 25% of seniors. By 2035, 600 million people in the world are projected to have diabetes. By 2050, at today's rate of growth, that will include a third of all Americans.
In the grand scheme of things, J&J's biopharmaceuticals division has become its revenue and profit growth driver, and it's also the division that tends to drive the stock up and down. For example, last quarter, when the company hit 4% revenue growth versus the year-ago quarter, the medical-device division grew a paltry 0.8%. Go back to full-year 2015, and medical-device sales were $25.1 billion, down 8.7% from the prior year.
But one of the key reasons investors buy J&J's stock is for its diversified revenue stream. So none of its three divisions -- biopharmaceuticals, consumer products, and medical devices -- can be ignored. In fact, last quarter, J&J's management renewed its pledge to revive itsmedical-device business by focusing on innovation and fast-growing market segments.
The good newsis that the healthcare conglomerate already appears to be fulfilling thatpromise.New innovations in medical devicesinclude arecent joint venture with Google into surgical robotics. Add that to OneTouch Via, and J&J looks set to keep putting more home runs on the scoreboard for investors for a long time to come.
A secret billion-dollar stock opportunity The world's biggest tech company forgot to show you something, but a few Wall Street analysts and the Fool didn't miss a beat: There's a small company that's powering their brand-new gadgets and the coming revolution in technology. And we think its stock price has nearly unlimited room to run for early in-the-know investors! To be one of them, just click here.
Cheryl Swanson owns shares of Johnson & Johnson. The Motley Fool owns shares of and recommends Johnson & Johnson. Try any of our Foolish newsletter services free for 30 days. We Fools may not all hold the same opinions, but we all believe that considering a diverse range of insights makes us better investors. The Motley Fool has a disclosure policy.