Why JetBlue Airways Corporation Stock Plunged 12.5% in January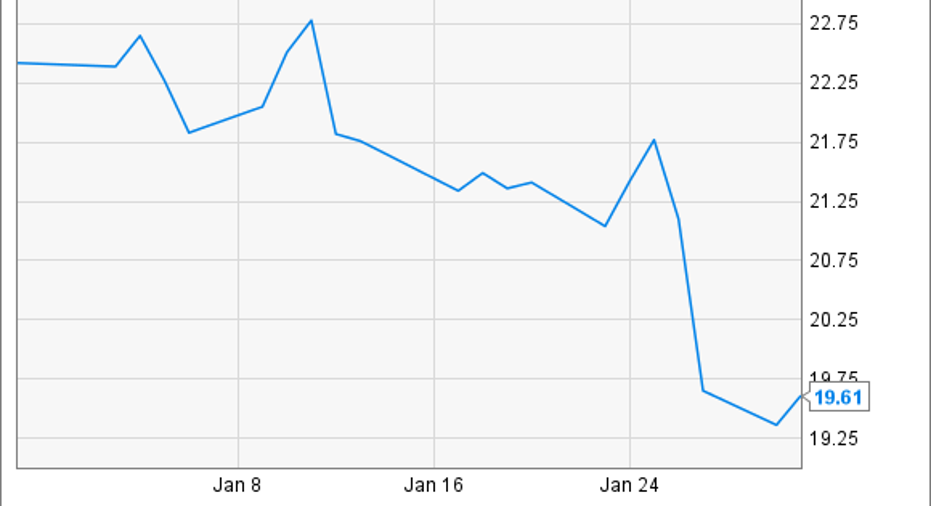 What happened
JetBlue Airways (NASDAQ: JBLU) shares more than tripled between early 2014 and late 2015, as the company benefited from falling fuel prices and above-average unit revenue trends.
However, the stock cooled off in 2016. Furthermore, JetBlue started 2017 on the wrong foot, offering weak unit revenue guidance for the first quarter (and particularly for January). As a result, JetBlue Airways stock slumped 12.5% last month, according to data from S&P Global Market Intelligence.
JetBlue Airways Corporation Stock January Performance. Data by YCharts.
So what
In late January, JetBlue posted solid results for the final quarter of 2016. Revenue per available seat mile (RASM) declined just 1.5% in Q4 -- compared to a 7.6% decline in the first half of the year -- giving investors hope that the carrier was close to returning to unit revenue growth.
JetBlue quickly dashed those hopes on the company's fourth-quarter earnings call. Management forecast that RASM would likely decline 8% to 9% in January, due to a sudden deterioration in fares for last-minute ticket purchases. The company also faces a weak revenue environment in Puerto Rico, one of its key markets.
JetBlue executives did note that trends are starting to improve. The company expects much better unit revenue results for the rest of the quarter, including a RASM increase during the February peak period. Still, investors were unnerved by the weak January performance and sent JetBlue stock crashing on the day of the Q4 earnings report.
Now what
During the earnings call last month, JetBlue's management hinted that the carrier would probably reduce capacity to address the recent bout of revenue weakness. Sure enough, JetBlue cut its plans for full-year capacity growth by 1 percentage point in early February.
JetBlue recently cut its planned capacity growth for 2017. Image source: JetBlue Airways.
Capacity cuts in Puerto Rico and easier comparisons should lead to better unit revenue trends there later this year. Meanwhile, the expansion of Mint, JetBlue's premium transcontinental service -- which will accelerate this fall -- represents a long-term unit revenue growth driver.
JetBlue is also in the midst of implementing several initiatives that will allow it to hold unit costs roughly flat from 2018 through 2020. With shares trading for just 10 times forward earnings, there is a ton of upside for investors if JetBlue can successfully execute its growth plan.
10 stocks we like better than JetBlue AirwaysWhen investing geniuses David and Tom Gardner have a stock tip, it can pay to listen. After all, the newsletter they have run for over a decade, Motley Fool Stock Advisor, has tripled the market.*
David and Tom just revealed what they believe are the 10 best stocks for investors to buy right now... and JetBlue Airways wasn't one of them! That's right -- they think these 10 stocks are even better buys.
Click here to learn about these picks!
*Stock Advisor returns as of February 6, 2017
Adam Levine-Weinberg owns shares of JetBlue Airways and is long January 2019 $10 calls on JetBlue Airways. The Motley Fool recommends JetBlue Airways. The Motley Fool has a disclosure policy.