Why It's the Perfect Time for Tesla Motors to Start Poaching Auto Veterans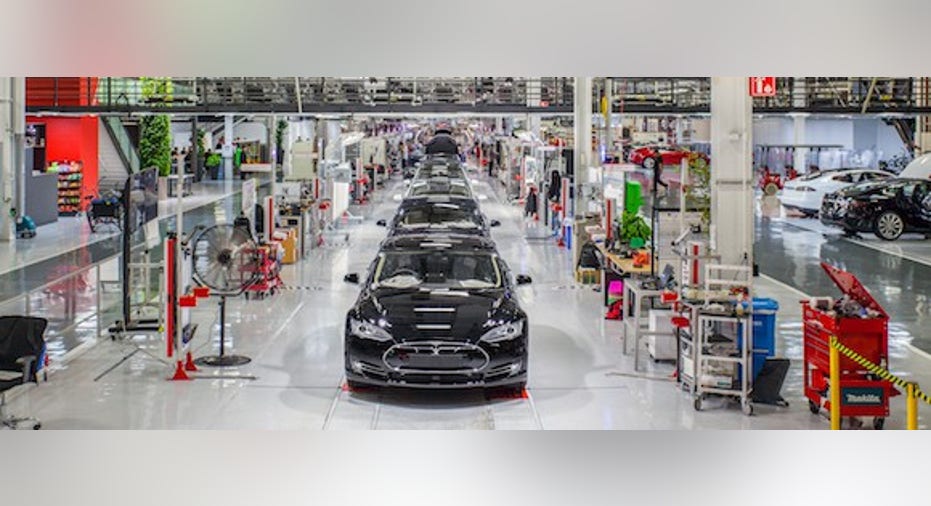 Image source: Tesla.
Throughout most of its history, Tesla Motors hasn't relied too much on poaching experienced auto industry veterans. Instead, the company has mostly tapped into your typical Silicon Valley talent like software engineers, while building its own team of auto engineers from scratch around electric propulsion.
Last week, Tesla announced that it had poached Peter Hochholdinger from Audi, with Hochholdinger joining as vice president of vehicle production. The news came shortly after two manufacturing executives left Tesla, a storyline that overshadowed the company's first-quarter earnings release. CEO Elon Musk told you this was coming.
Is 1 head better than 2?
On the first-quarter conference call, Musk called out to the "best manufacturing people in the world" and extended an open invite to join the company. At the same time, Musk added, "So I think we certainly can expect there will be announcements in the future about some great executives joining the ranks."
Hochholdinger was most recently in charge of A4, A5, and Q5 vehicle production at Volkswagen's luxury brand, including 14 different derivatives and trim levels. The executive has over two decades of experience within Audi's production chain, and was directly responsible for managing thousands of employees and producing upwards of 400,000 vehicles per year.
Make no mistake: This is a huge win for Tesla, particularly since Hochholdinger's experience includes vehicles that are very similar to Model 3 -- midsize luxury sedans priced around $35,000. But more broadly speaking, Tesla has reached a point where poaching experienced auto vets now makes perfect sense, especially when it comes to manufacturing and production.
The weakest link
Musk said that Tesla has done extremely well in designing and engineering its vehicles:
Implicitly, Musk is seemingly acknowledging that manufacturing has been Tesla's weakest link to date, and the area where it needs to improve the most in order to achieve mass-market volumes.
Lessons from Fisker
Fisker Automotive made plenty of mistakes that led to its 2013 bankruptcy. Chief among them was a failure to engineer a reliable electric drivetrain while allocating more time, energy, and resources into vehicle design. The Fisker Karma was an incredible looking car, but they constantly broke down had trouble manufacturing them.
That was despite having plenty of deep auto experience among numerous auto industry veterans including Tony Posawatz (previously a vehicle line director at General Motors), Thomas LaSorda (former CEO of Chrysler), and legendary Aston Martin designer Henrik Fisker, among others. Fisker Automotive is now coming back from the dead as Karma Automotive, under new CEO Tom Corcoran.
There's a time and a place to grab experienced auto vets, but the early stages of an EV start-up don't make as much sense when you need to be rethinking the underlying propulsion engineering as well as consider new distribution models. Those things come before volume manufacturing.
Now that Tesla has design, technology, and distribution down pat, it's the ideal time for it to begin aggressively poaching auto executives that have extensive manufacturing experience -- which is exactly what it's doing.
The article Why It's the Perfect Time for Tesla Motors to Start Poaching Auto Veterans originally appeared on Fool.com.
Evan Niu, CFA owns shares of Tesla Motors. Evan Niu, CFA has the following options: long January 2018 $180 calls on Tesla Motors. The Motley Fool owns shares of and recommends Tesla Motors. The Motley Fool recommends General Motors. Try any of our Foolish newsletter services free for 30 days. We Fools may not all hold the same opinions, but we all believe that considering a diverse range of insights makes us better investors. The Motley Fool has a disclosure policy.
Copyright 1995 - 2016 The Motley Fool, LLC. All rights reserved. The Motley Fool has a disclosure policy.