Why Is the U.S. Pentagon Selling $300 Million of Military Hardware to the Kurdish Army?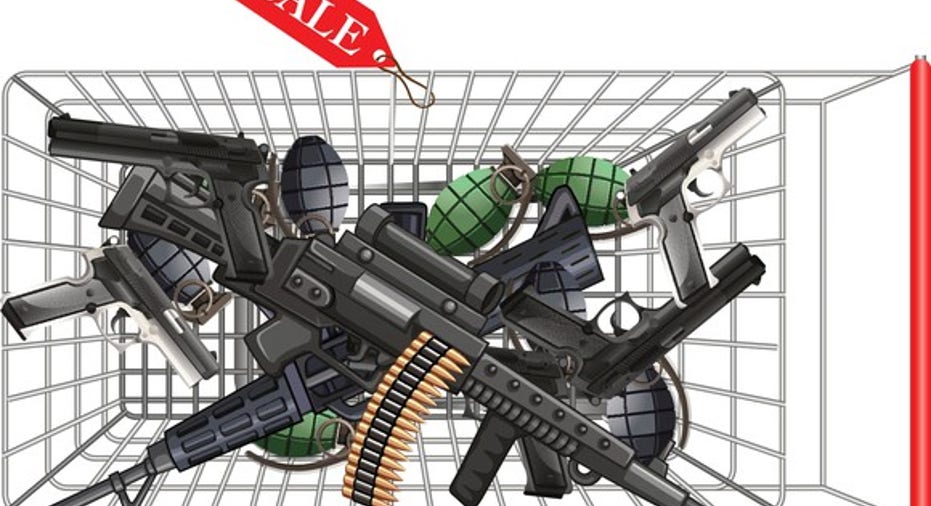 The members of the Peshmerga infantry of Kurdistan, Iraq, have been called "reliable allies"and "tough fighters"in the battle against ISIS. Some analysts go so far as to call them "the West's toughest and most reliable bulwark against ISIS in Iraq." And you know what they say -- when the going gets tough, the tough go shopping. (At least I think that's how the saying goes.)
This time, the Peshmerga are doing their shopping at the Pentagon.
Kurdistan went on a shopping spree at the Pentagon last week. Image source: Getty Images.
How much for the uparmored shopping cart?
Last week, in a little-noticed development,the Pentagon's Defense Security Cooperation Agency (DSCA) informed Congress of a planned sale of $295.6 million worth of military hardware to the Kurdish Peshmerga in Iraq. While Congress has yet to approve the sale, to date, there has never been an instance in which a pending foreign military sale, notified by the DSCA to Congress, has been rejected by the latter. Ever.
That bodes very well for the current arms deal for Kurdistan's chances of going through. And what will the Kurds be buying from us, you ask? Kurdistan has put together a pretty impressive shopping list for its Peshmerga. Here's a quick sampling:
4,400 M16A4 automatic rifles.
186 M240B light machine guns.
46 M2 50 caliber heavy machine guns.
36 refurbished M119A2 105mm howitzers.
36 M1151 HMMWVs ("Humvees").
77 M1151 up-armored Humvees.
An unspecified number of mine-resistant ambush protected vehicles (MRAPs), light and medium tactical vehicles, ambulances, and trucks.
Loads and loads of body armor, helmets, radios, mortars, and small arms.
Cui bono?
As you can see, that's a pretty long list of hardware -- and it's coming from a lot of different suppliers. DSCA didn't name any single company to act as principal contractor on this sale, but it did name a few of the suppliers that will fill the Peshmerga's order. Among them:
Privately held AM General -- the Army's sole supplier of Humvees.
Privately held Colt Corporation -- recently emerged from bankruptcy court, and raring to make rifles again.
Oshkosh (NYSE: OSK) -- a supplier of MRAPs and trucks.
Navistar (NYSE: NAV) -- also MRAPs.
Harris Corp. (NYSE: HRS) -- radios.
Cui... is paying?
As for the contractors' counterparty, DSCA notes that "the Republic of Iraq" will be the customer on this arms deal, but all of the equipment is going to Iraq's autonomous region of Kurdistan. There, the Kurds will use the hardware to "fully outfit two full Peshmerga Regional Brigades of light infantry, as well as ... two artillery battalions that will ultimately provide support to those regional brigades," and, hopefully, "to degrade and defeat the Islamic State."
This is the first time DSCA has ever notified Congress of such an arms deal, whereby the Iraqi government buys equipment specifically for the benefit of the Kurdish Peshmerga. But it may not be the last.
Kurdish infantry brigades number 5,000 troops at full strength. Times two brigades being outfitted, plus perhaps a couple of thousand men in the two artillery battalions, one would think this implies a need for at least 12,000 rifles, plus other equipment, to fully outfit the Peshmerga units described in the DSCA notification. Yet for example, only 4,400 M16s are included in this order.
The conclusion: Kurdistan may soon need to return to the Pentagon with another request for more weapons.And the longer the war against ISIS drags on, the more military hardware the U.S. defense contractors can expect to sell to the Peshmerga, and to Iraq.
With DSCA data already showing more than $8.8 billion worth of U.S. military hardware sold to Iraq from 2011 through 2015, the most recent year for which we have data, the arms business is still booming in the Middle East.
10 stocks we like better than Oshkosh CorporationWhen investing geniuses David and Tom Gardner have a stock tip, it can pay to listen. After all, the newsletter they have run for over a decade, Motley Fool Stock Advisor, has tripled the market.*
David and Tom just revealed what they believe are the 10 best stocks for investors to buy right now... and Oshkosh Corporation wasn't one of them! That's right -- they think these 10 stocks are even better buys.
Click here to learn about these picks!
*Stock Advisor returns as of April 3, 2017
Rich Smith has no position in any stocks mentioned. The Motley Fool has no position in any of the stocks mentioned. The Motley Fool has a disclosure policy.