Why Is Sturm, Ruger & Company Stock Surging?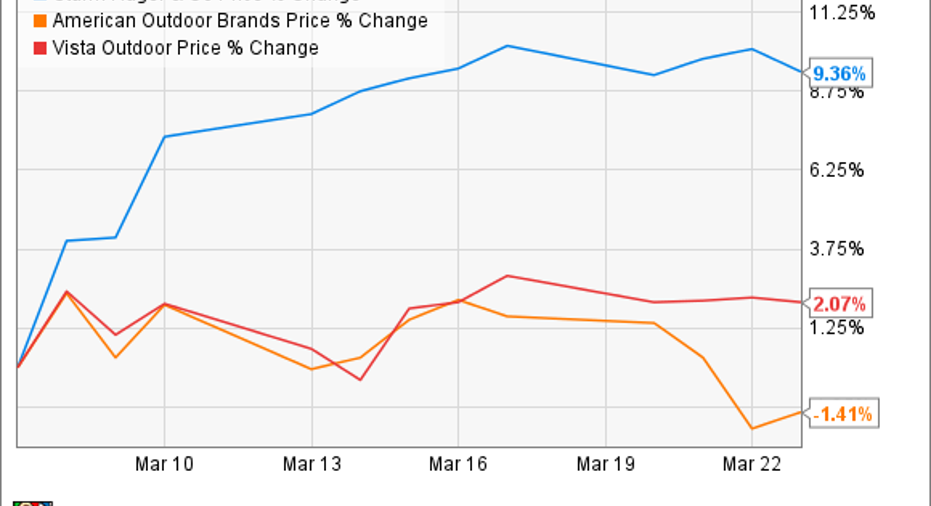 Don't look now, but shares of Sturm Ruger (NYSE: RGR) are on a hot streak. While short-term price swings are meaningless in the grand scheme of things, and investment decisions should never be made based on such activity, it is curious nonetheless that this gunmaker is on a tear while its major competitors suffer under a gun-friendly Trump administration.
Ruger stock began its climb on March 8 after approaching its 52-week low the day before, and in the two weeks since has climbed about 10%. Over that same period, shares of American Outdoor Brands (NASDAQ: AOBC)and Vista Outdoor have largely been flat.
Data by YCharts.
Zigging when the market is zagging
There seems little to account for this recent strength in Sturm Ruger shares. As plenty of analysts have noted, Donald Trump's election sucked the wind out of the gun industry's sails, and firearms demand, as represented by FBI background checks, is down 17% over the last three months.
Yet the start of this bullish run coincided with the release of February background check data from the FBI, which showed a 25% jump from January with 2.23 million investigations. The numbers were still down from the year-ago period, of course, confirming the normalization trend that American Outdoor Brands CEO James Denby previously said was coming.
Rebounding already?
In its monthly report, the FBI also breaks down the background check data by state and type of firearm.The law enforcement agency said that of the background checks it conducted last month, 717,930 were for handguns and 421,678 were for long guns, representing a 27% and a 15% increase, respectively, over January. However, compared to Feb. 2016, those figures were down 15% and 10%, respectively.
As we learned last month, Sturm Ruger retained its title as the biggest gun manufacturer in the country in 2015 (the most current data available), but it was American Outdoor Brands that led in handgun production.
Smith & Wesson churned out 1.26 million pistols and revolvers that year, while Ruger made a little over 1 million handguns. As such, it was Ruger's long gun production that earned it the top spot:
Data source: Bureau of Alcohol, Tobacco, Firearms, & Explosives.
It's possible that the upturn in background checks from January to February, coupled with the lower year-over-year decline in long guns, could be part of the reason Ruger shares are performing so well. However, investors should also know that Remington Outdoors, the country's biggest rifle and shotgun manufacturer, recently announced it was laying off some 14% of its workforce at its Ilion, New York plant, as well as dozens more at its facilities in Kentucky and Alabama.
Shortest route is best
Still, any gun market rebound should lift the industry equally, and as we noted, American Outdoor Brands and Vista Outdoor have traded relatively flat. Instead, it may just have more to do with the fact that short interest in Sturm Ruger's stock spiked 14% in the two-week period ending February 28, hitting 5.37 million shares, or almost 31% of its float, for an equivalent of 12 days to cover short interest (anything over seven days is considered a lot).
For American Outdoor, it's up less than 4%, or nine days to cover, while for Vista Outdoor it's up 5.6%, which amounts to just two days to cover.Vista stock is down 44% year to date.
Data source: The Wall Street Journal.
What we're likely seeing is a bit of a short squeeze, where short-sellers are racing to cover their positions, thus fueling a cycle of additional buying that pushes the stock even higher. While true squeezes tend to send stocks soaring, it may be enough to account for the differences in gun company trading when all else is about equal.
Still a good value
Whatever the cause, Sturm Ruger is riding a hot hand at the moment. It might be in an industry that is cooling off, but it's still one that remains at historically high levels. Even if FBI background checks end the year down 20%, it would still be the third best year for gun sales since the agency began tracking the data.
With the valuations of Sturm Ruger and American Outdoor Brands remaining significantly discounted at the moment, this just might be the time investors should consider taking a stake in the industry and reaping the rewards that will come when the cycle turns again.
10 stocks we like better than Sturm, Ruger and CompanyWhen investing geniuses David and Tom Gardner have a stock tip, it can pay to listen. After all, the newsletter they have run for over a decade, Motley Fool Stock Advisor, has tripled the market.*
David and Tom just revealed what they believe are the 10 best stocks for investors to buy right now... and Sturm, Ruger and Company wasn't one of them! That's right -- they think these 10 stocks are even better buys.
Click here to learn about these picks!
*Stock Advisor returns as of February 6, 2017
Rich Duprey has no position in any stocks mentioned. The Motley Fool has no position in any of the stocks mentioned. The Motley Fool has a disclosure policy.