Why Is Everyone Suing Orbital ATK?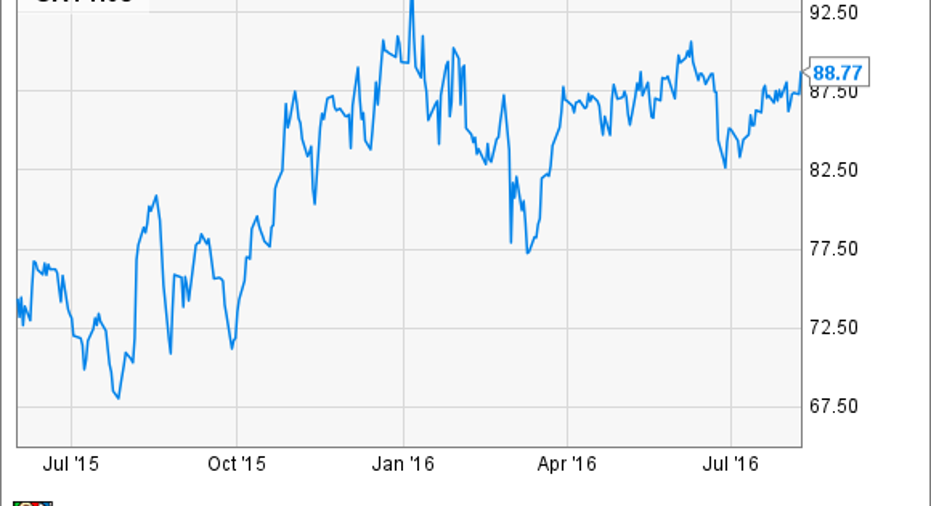 Revealing losses on a big military ammunition contract, Orbital ATK kind of shot itself in the foot. Image source: Getty Images.
It's been a little over two weeks since Orbital ATK (NYSE: OA) announced its second-quarter 2016 financial results. In that time, no fewer than 33 separate law firms have announced they are either "investigating" the possibility of filing shareholder class actions against the rocket maker, or have already filed lawsuits.
The names of the law firms filing suit run the gamut from the ordinary ("Johnson & Weaver") to the familiar (serial company-suer "Pomerantz") to the Star Trek-ian "Khang & Khang." But they all have one thing in common: They're suing Orbital ATK for restating its financials.
Origin of a fire sale
Announcing earnings earlier this month, Orbital informed investors that an "ongoing review of accounting matters related to a Defense Systems Group contract" is going to delay its ability to file its quarterly 10-Q report with the SEC. The problem: Orbital has identified "misstatements" relating to a 10-year, $2.3 billion contract to manufacture small-caliber ammunition for the U.S. Army.
Orbital signed the contract in question in September 2012, agreeing to operate the Lake City Army Ammunition Plant in Independence, Mo., and there produce 5.56mm, 7.62mm, .50-caliber, and 20mm ammunition for the U.S. Army through 2022. In so doing, it beat out rival munitions giants BAE Systems (NASDAQOTH: BAESY) and Olin Corp (NYSE: OLN), which had bid to run the plant through their U.S. Munitions LLC joint venture.
While Orbital initially thought it was making money off the Lake City contract, that turned out not to be the case. In fact, over the 10-year term of the contract, Orbital is now pretty sure it'll end up booking a net loss. And "under generally accepted accounting principles, the company is required to record the entire anticipated forward loss provision for a contract in the period in which the loss becomes evident."
Lots of bang, few bucks
How big of a loss? Orbital needs to go back through its records to be sure. But it currently believes it will need to subtract "approximately $400 million to $450 million" from its pre-tax profits, and "approximately $250 million to $280 million" from its after-tax profits across the course of the 10-year contract. It also believes it will need to reduce its stated revenues by "$100 million to $150 million, primarily in fiscal 2015." Complicating matters, Orbital may have to tweak its numbers for periods prior to fiscal 2015, as well, and even track down problems with "the quarterly period ended July 3, 2016."
If all that sounds like it's going to be a big mess, well, it will be. Meanwhile, the lawyers are circling, and demanding compensation for the clients they hope to recruit.
What the lawyers want
Most of the lawyers' complaints basically allege that Orbital "lacked effective control over financial reporting," that this was "evident" to Orbital as early as 2015 but the company failed to disclose this fact, and that it proceeded to file "materially false and misleading" financial statements anyway. And of course, once Orbital did disclose its goof, "shares of Orbital decreased in value, causing investors harm."
June 1 appears to be the date that the lawyers have picked for the time when Orbital should have disclosed its error, and August 9, the day before disclosure took place, the last date at which it was at fault for failure to disclose. Accordingly, the lawsuits generally invite anyone who bought shares between June 1, 2015 and August 9, 2016 to join their class actions and sue Orbital for damages.
Those damages could be substantial. During the period in question, Orbital shares grew from a low of about $73 to a high of as much as $89. But the stock has fallen significantly since Orbital announced its restatement, and now sits just over $75 a share. Result: From about October 2015 onwards, investors who bought into Orbital ATK, relying on its published financials, have suffered losses of as much as $14 per share.
The lawyers will be demanding that Orbital ATK compensate these shareholders for their losses -- and any money used to satisfy or settle those claims will come out of the pockets of existing Orbital ATK shareholders.
How bad is this for Orbital?
It's hard to say for sure. At the maximum, a decline in share price of $89 to $75 -- $14 total -- times Orbital ATK's 58.6 million shares outstanding implies that these class action lawsuits have a total potential value of perhaps $820 million. Should a lawsuit settle at, say, 35% of such potential value ($287 million), it would eat up nearly one full-year's profits for Orbital ATK -- and that's on top of the losses from the munitions contract itself, which could amount to another $280 million.
On the other hand, the lawsuits could go nowhere, and Orbital could emerge unscathed -- legally speaking.
The more worrying prospect for investors, I think, is that the fear of large losses from the lawsuits will weigh on Orbital ATK's shares over time. These kinds of lawsuits can take years to resolve, and new press releases reminding investors of the lawsuits keep coming out daily. At the same time, investors may be loathe to buy the shares in reliance on historical financial data that they now know to be flawed, at least until the data gets restated.
Long story short? At a share price today that's just 14 times what analysts expect it to earn this year, Orbital ATK stock looks pretty cheap. Unfortunately, it could remain cheap for a very long time.
A secret billion-dollar stock opportunity The world's biggest tech company forgot to show you something, but a few Wall Street analysts and the Fool didn't miss a beat: There's a small company that's powering their brand-new gadgets and the coming revolution in technology. And we think its stock price has nearly unlimited room to run for early in-the-know investors! To be one of them, just click here.
Fool contributorRich Smithdoes not own shares of, nor is he short, any company named above. You can find him onMotley Fool CAPS, publicly pontificating under the handleTMFDitty, where he's currently ranked No. 301 out of more than 75,000 rated members.
The Motley Fool recommends Orbital ATK. Try any of our Foolish newsletter services free for 30 days. We Fools may not all hold the same opinions, but we all believe that considering a diverse range of insights makes us better investors. The Motley Fool has a disclosure policy.