Why Investors Shouldn't Overlook Ford Motor Company's Fiesta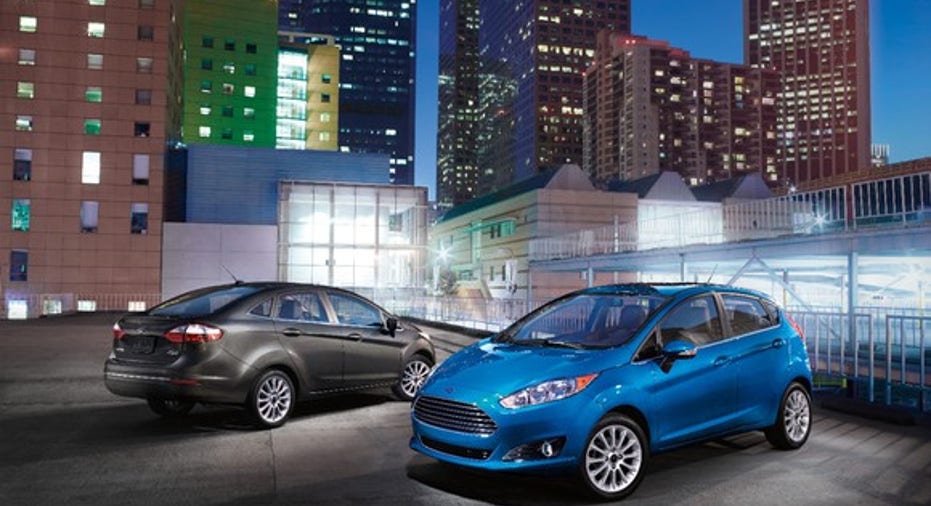 Ford's current Fiesta model. Image source: Ford Motor Company.
When you think of Ford Motor Company (NYSE: F), odds are you mostly think of its bread-and-butter F-150 trucks, or maybe its SUVs. You might not think of its small passenger cars -- after all, that's not what Detroit automakers are known for. Because of that, investors are likely to overlookFord's unveiling of the next-generation Fiesta tonight. Here are a few reasons you should pay attention.
Think globally
Auto investors know that the vast majority of Ford's profits are generated in the U.S., and mostly by trucks and SUVs. However, it's becoming more and more important that small cars generate better margins -- and that's partly why production of small cars is moving to Mexico. It's also critical for Ford's business in Europe and China that the Fiesta, and other small cars, remain fresh and high-quality.
Did you know that sales of the Fiesta have exceeded 18 million units in Europe over its lifetime? Or that the Fiesta has been the UK's best-selling car every month for the past seven years, and has even become its best-selling car of all time? Here's a glimpse at how ridiculously slanted Ford's sales in Europe are:
Data source: Ford Motor Company. Chart by author. "Euro 20" = Ford's core European market.
Performance matters
Another factor that many overlook is that the Fiesta is a big part of Ford's performance-vehicle story.Ford's performance lineup sales are up 73% in Europe through the first 10 months of 2016.
"For decades, we heard criticism from customers that Ford sold its best small cars only in Europe, yet in five short years we've built a reputation [in the U.S.] for making very serious but affordable performance cars with our Focus ST and Fiesta ST one-two punch," said Ford Focus brand manager Jessica Bishopin a recent press release. "Buyers now know Ford is committed to affordable performance."
The U.S. needs a fresh model
The Fiesta is produced all over the world -- Germany, India, Mexico, Taiwan, Thailand, Venezuela, and Vietnam-- and besides in Europe, it's also a big seller in South America and the increasingly important Chinese market.
But while the Fiesta's story is a global one, it's also important for Ford to right the ship in the U.S., and a next-generation model could help stoke the fire. Sales of the Fiesta are down 26.6% in the U.S. through October, the worst decline in Ford's passenger car lineup by 9.5 percentage points.
For starters, the new Fiesta will become more refined, with additional safety systems and a more premium interior and infotainment display. But the real story is that Ford is going to make the Fiesta more profitable by reducing complexity -- probably fewer "orderable combinations" and trim options.
Image source: Ford Motor Company's Investor Day slide deck.
While U.S. investors might overlook the Fiesta's unveiling Tuesday night, the small car's story is extremely important for Ford's market share and sales globally. A fresh U.S. model could help reduce the sales pain in the country at a time when consumers are trading in cars for SUVs, and help offset Brexit-related pain in the UK and Europe as a whole. The Fiesta is more important than most investors think -- but now you know.
10 stocks we like better than Ford When investing geniuses David and Tom Gardner have a stock tip, it can pay to listen. After all, the newsletter they have run for over a decade, Motley Fool Stock Advisor, has tripled the market.*
David and Tom just revealed what they believe are the 10 best stocks for investors to buy right now... and Ford wasn't one of them! That's right -- they think these 10 stocks are even better buys.
Click here to learn about these picks!
*Stock Advisor returns as of November 7, 2016
Daniel Miller owns shares of Ford. The Motley Fool owns shares of and recommends Ford. Try any of our Foolish newsletter services free for 30 days. We Fools may not all hold the same opinions, but we all believe that considering a diverse range of insights makes us better investors. The Motley Fool has a disclosure policy.