Why Investors Should Be Happy With Bank of America's Q4 Earnings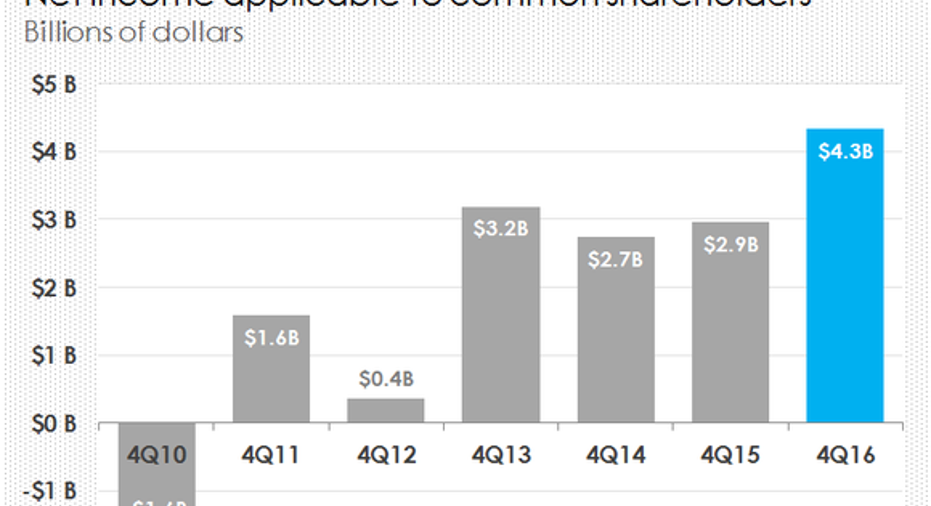 Bank of America still has a lot of ground to make up, but its latest earnings report confirms it's on the right track. Image source: iStock/Thinkstock.
Bank of America (NYSE: BAC) kicked off earnings season for banks on Friday by reporting its best fourth-quarter performance in years. The bank's net income applicable to common shareholders surged to $4.3 billion, after averaging $3 billion in each of the previous three years.
A tumultuous quarter
The last three months of 2016 was an auspicious time for banks. The presidential election in November caused their stocks to soar on the back of the incoming administration's vow to ease regulations in the industry and accelerate economic growth through tax cuts and infrastructure spending. The Federal Reserve's decision in December to raise the fed funds rate, the primary short-term interest rate benchmark in the United States, consolidated the gains, as banks earn more when rates rise.
Bank of America fourth-quarter earnings benefited from both. Its trading revenuesurged in the wake of the presidential election, as investors caught by surprise by the outcome were forced to reposition their portfolios. The day after the election was the busiest trading day of the year for banks, according to reports.
This boosted commissions and trading profits at Bank of America's investment bank, which makes markets for institutional investors. Total sales and trading revenue increased $376 million, or 15%. This was in line with forecasts made by the bank at an industry conference in December.
Data source: Bank of America. Chart by author.
Higher interest rates
Bank of America's revenue and earnings were also propelled by the surge in interest rates during the quarter. Long-term rates climbed immediately after the election, with the yield on 10-year Treasury bonds ascending from 1.8% at the time up to 2.4% today. The increase in short-term rates came later, in mid-December, but it too contributed to the growth in Bank of America's net interest income by $606 million, or 6.3%.
Higher rates are especially important for Bank of America, which has positioned its balance sheet to benefit more from a rise in rates than any other big bank. At the end of September, the North Carolina-based bank estimated that a 100-basis-point increase in short- and long-term rates would translate into an additional $5.3 billionin net interest income over the following 12 months.
Long-term rates got close to this, gaining 90 basis points since the effective date (Sept. 30) of Bank of America's estimate. However, although short-term rates did increase, the Fed hiked the fed funds rate by a mere 25 basis points. Furthermore, because rates didn't rise until later in the quarter, the full effect of the increase on Bank of America's profits is still to come.
"While the recent rise in interest rates came too late to impact fourth-quarter results, we expect to see a significant increase in net interest income in the first quarter of 2017," said Chief Financial Officer Paul M. Donofrio in prepared remarks.
Lower expenses
Bank of America also continues to whittle down its expenses, which fell by $841 million compared to the fourth quarter of 2015. CEO Brian Moynihan promised last year to reduce annual noninterest expenses to $53 billion by 2018. That's $3 billion less than its 2015 total, and it comes on top of $15 billion in core noninterest expense cuts that have taken place since Moynihan took over at the beginning of 2010.
As Moynihan observed in prepared remarks:
Still room for improvement
Just because Bank of America had a good quarter doesn't mean its shareholders shouldn't expect more from the bank in the quarters and years ahead. Its fundamental challenge remains to improve its profitability, which has been disappointing to say the least since the financial crisis.
A bank like Bank of America needs to return at least 1% on its assets and 10% on its equity to earn its cost of capital and thereby create value for shareholders, both of which are roughly in line with Bank of America's profitability targets. Yet, its return on assets in the fourth quarter was only 0.85% and its return on equity was only 6.9% -- though if you look at only tangible common equity the latter improves to 9.9%.
Higher interest rates are the main catalyst that will help Bank of America achieve its targets, as that will boost revenue and earnings. The nation's second biggest bank by assets will also gain more than most banks if the incoming administration's vow to reduce regulation in the bank industry comes to fruition. The reforms are likely to, among other things, decrease the Federal Reserve's tight grip over bank capital plans, which would clear the way for Bank of America to increase its dividend or buyback more stock, thereby purging its balance sheet of excess capital and, in turn, driving up its return on equity.
In sum, shareholders of Bank of America should be pleased with its performance last quarter. The continued improvement confirms that this is a bank that will some day ascend once again to the apex of the financial industry.
10 stocks we like better than Bank of America When investing geniuses David and Tom Gardner have a stock tip, it can pay to listen. After all, the newsletter they have run for over a decade, Motley Fool Stock Advisor, has tripled the market.*
David and Tom just revealed what they believe are the 10 best stocks for investors to buy right now... and Bank of America wasn't one of them! That's right -- they think these 10 stocks are even better buys.
Click here to learn about these picks!
*Stock Advisor returns as of January 4, 2017
John Maxfield owns shares of Bank of America. The Motley Fool has no position in any of the stocks mentioned. The Motley Fool has a disclosure policy.