Why Investors Can Sleep Soundly on This Bedding Industry Megamerger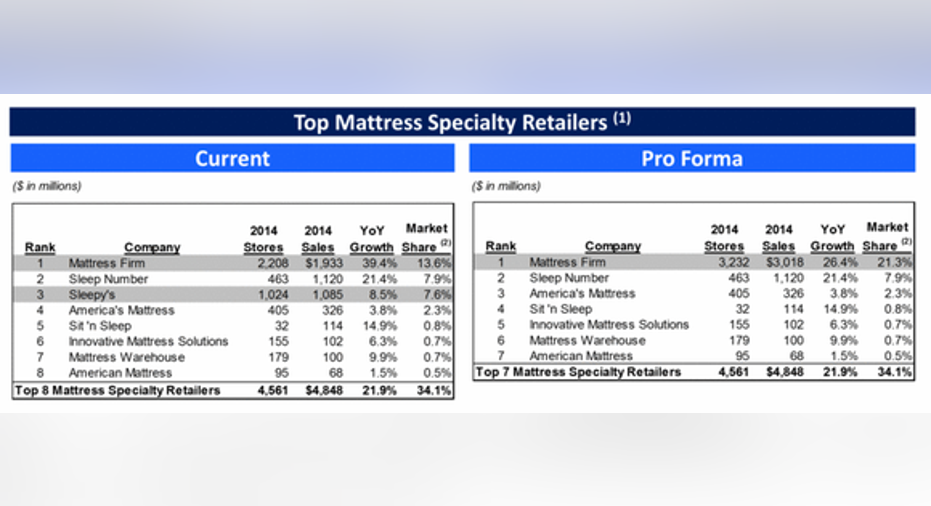 When Mattress Firm acquires Sleepy's, it's going to create a bedding retailer that will be bigger than the rest of the industry combined. Photo: Mike Mozart.
When leading bedding specialist Mattress Firm announced last month that it would be buying the second-biggest player, Sleepy's, for $780 million, creating a company that would dwarf the rest of the industry combined, there seemed to be a collective yawn that it would trigger a response from regulators.
Where antitrust regulators had just put the kibosh on the merger of Staplesand Office Depotand have promised to give close scrutiny toAnheuser-Busch InBev'sproposed merger with SABMiller, there seems to be a decided lack of interest in the making of a massive bedding behemoth.
Yet there are similarities in all three situations that might have some wondering why. In the case of the office-supply retailers, you have them proposing to join together to create the last remaining national retail chain, but the Justice Department just announced that it will sue Staples and Office Depot over the deal because of its potential anticompetitive effects.
In regard to the Big Beer tie-up, it aims to create a brewer that will own 90% of the U.S. beer market and significant percentages elsewhere around the globe, andthe mashup is currently subject to congressional hearings on its impact, with trade regulators promising to give it even closer scrutiny.
Yet that's not the vibe we're getting from Mattress Firm's buying Sleepy's parent company, HMK Mattress Holdings, and creating a specialty bedding beast with more than $3.6 billion in revenues generated through 3,500 stores in 48 states. By Mattress Firm's own calculations, the new, bigger company will be two-thirds as large as the rest of the industry combined.
Image: Mattress Firm presentation, Nov. 30, 2015.
And while the deal will be reviewed by the FTC and must still allow the mandatory antitrust waiting period to expire before the transaction closes, no one anticipates any problems. Is it that bedding is just, well, too sleepy of an industry to bother about?
Not really. While bedding is a low-profile business and there are many similarities in the coming industry concentration, there are important differences, too.
Tossing and turningStaples and Office Depot do face stiff competition for pens, paper clips, and printer ink from the likes of Amazon.com and Wal-Mart, as well as numerous small, regional office-supply retailers, and Anheuser-Busch and Miller must compete against literally thousands of small craft brewers, a segment that's growing while mass beer brewing is declining. But the regulators have other concerns, too.
It's not the office-supply stores themselves that worry regulators, but rather their control of the commercial contract market, for which there is significantly much less competition, and where both Staples and Office Depot realize about 40% of their revenues.
In the case of the brewers, the concern is how easily they can crowd out competition and thwart the emergence of rivals such as the burgeoning craft-beer market, which is why the two have proactively announced that they'll be divesting some important assets, such as the MillerCoors joint venture.
In the bedding industry, being the "largest, border-to-border and coast-to-coast, multi-brand retail stores and distribution network" is all relative, with the emphasis being on multi-brand. Select Comfort , which sells the Sleep Number bed, is a national retailer, but it only sells its specialized adjustable mattresses. Similarly, No. 3 America's Mattress is primarily a national network of bedding stores that sell the Serta brand, though it does also offer Tempur-Pedic memory-foam mattresses.
A wide fieldBedding, then, is a highly fragmented business, even after this acquisition, with most mattresses being sold in specialty stores, independent chains, and mom-and-pop outlets. They're also widely available in department stores and big-box warehouse clubs too. There's just not the same fear that Mattress Firm will be able to affect pricing or competition all that much. While the bedding leader will be orders of magnitude larger than Select Comfort, it will still control just 21% of the bedding market.
The mattress company has been on a growth-by-acquisition roll for several years, buying up a number of smaller players, including last year's $425 million acquisition of Sleep Train. Yet organic growth has been hard to come by, and Mattress Firm's stock is still almost 30% below the highs it hit a year ago, in part, no doubt, because buying bedding is typically a once-in-a-decade event.
But there is something to be said for buying into a sleepy, almost boring business, and while acquisitions like those Mattress Firm is making can cause sleepless nights as the vaunted synergies that are touted could fail to materialize, investors may very well end up counting profits instead of sheep by the creation of this national bedding retailer.
The article Why Investors Can Sleep Soundly on This Bedding Industry Megamerger originally appeared on Fool.com.
Rich Duprey has no position in any stocks mentioned. The Motley Fool owns shares of and recommends Amazon.com. The Motley Fool recommends Anheuser-Busch InBev NV. Try any of our Foolish newsletter services free for 30 days. We Fools may not all hold the same opinions, but we all believe that considering a diverse range of insights makes us better investors. The Motley Fool has a disclosure policy.
Copyright 1995 - 2015 The Motley Fool, LLC. All rights reserved. The Motley Fool has a disclosure policy.