Why InvenSense Inc. Stock Has Plunged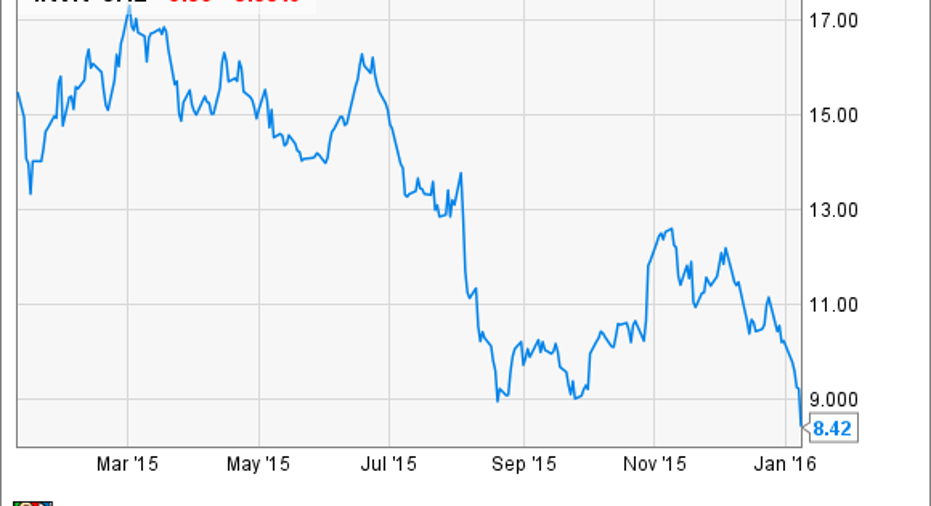 Shares of motion processor maker InvenSense have declined about 27% over the last month and now trade just a hair above 52-week lows. The decline comes as numerous reports that one of its largest clients, Apple , is cutting back component orders for its recently released flagship iPhones.
Although I have seen comments from at least one investor to the effect that this sell-off is "misinformed" as InvenSense's future is "not dependent on Apple," I wholeheartedly disagree. If Apple's iPhone builds will be weak over the next few quarters, then InvenSense is likely to feel the hurt. Here's why.
InvenSense is highly dependent on AppleLast quarter, InvenSense said that two of its customers represented 34% and 19% of its revenues during the quarter. It is widely believed that these customers are Apple and rival Samsung , respectively.
Although those percentages move around from quarter to quarter, there's little doubt that InvenSense's revenue and, ultimately, total gross profit dollars are extremely dependent on Apple. If Apple sees material order declines, InvenSense is sure to take a corresponding hit to its financials.
InvenSense is highly dependent on the smartphone marketInvenSense has spent a lot of time trying to convince investors that a substantial portion of its long-term growth will come from areas outside of the rapidly maturing smartphone market. However, once again, the reality of the situation is that the majority of the company's revenue comes from smartphones.
Not only that, InvenSense's exposure in the smartphone market seems to be in the high end, where the overall slowdown in smartphone sales may hurt the most.
Indeed, last quarter, InvenSense reported that a full 62% of its overall revenue came from smartphone-related sales. Additionally, 18% of the company's revenue came from sales of Optical Image Stabilization modules, of which I would expect a non-zero percentage goes into smartphones.
The remaining 20% of the company's revenue last quarter came from "all other" segments, which includes, among other things, the company's "Internet of Things"-related revenue.
A tough couple of quarters aheadAt this point, it's quite clear that InvenSense is going to have a tough couple of quarters ahead of it as a result of weaker-than-expected iPhone 6s/6s Plus sales. It might get a boost if Samsung's next-generation flagships prove to be successful, serving to at least partially offset the Apple-related weakness.
However, given that Samsung's recent preliminary earnings results were weaker than analysts had expected (and the year-over-year growth in profits may be due to its memory/logic foundry business, rather than its smartphone business), and given the company's "warning" that 2016 could be a tough one, Samsung may not ultimately prove to be InvenSense's savior.
Over the long-term, InvenSense may find significant business success outside of the smartphone market -- ultimately serving to desensitize the company's financial results and its stock price to volatility in the smartphone market.
I'm not buying the stock hereAlthough it is tempting to consider InvenSense at this point on the expectation that things get better for the company during the next iPhone product cycle, I'm not buying the stock here. Frankly, I would much rather buy shares of Apple than InvenSense to play the Apple rebound, as it is significantly cheaper, pays a solid dividend, and can protect its shareholders to some extent with aggressive share buybacks.
The article Why InvenSense Inc. Stock Has Plunged originally appeared on Fool.com.
Ashraf Eassa has no position in any stocks mentioned. The Motley Fool owns shares of and recommends Apple and InvenSense. Try any of our Foolish newsletter services free for 30 days. We Fools may not all hold the same opinions, but we all believe that considering a diverse range of insights makes us better investors. The Motley Fool has a disclosure policy.
Copyright 1995 - 2016 The Motley Fool, LLC. All rights reserved. The Motley Fool has a disclosure policy.