Why InterDigital, Inc. Fell 10% in February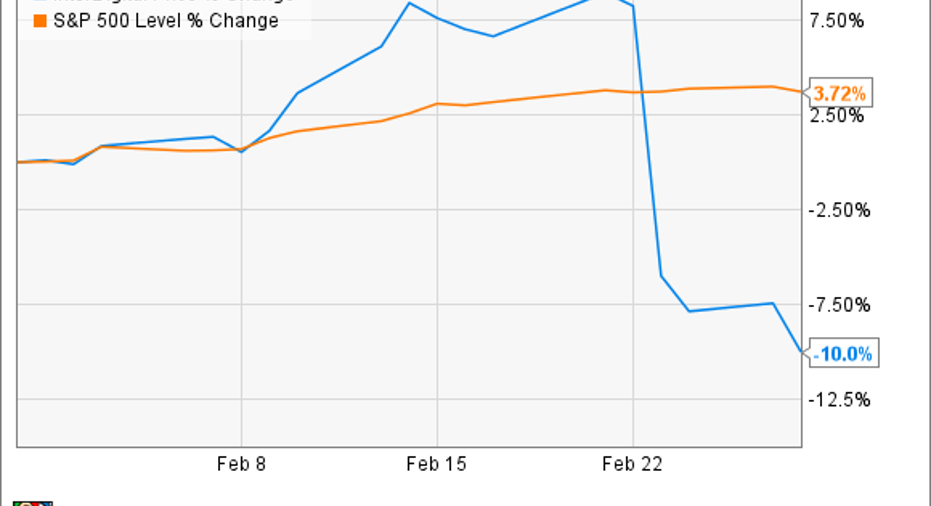 What happened
Shares of InterDigital, Inc. (NASDAQ: IDCC) fell 10% in February 2017, according to data from S&P Global Market Intelligence.
So what
The wireless-technology licensing hub reported strong fourth-quarter results late in the month, but the quarterly report was paired with disappointing guidance for the next quarter. Share prices plunged more than 13% on the news, taking the edge off a strong medium-term rise:
InterDigital share prices had more than doubled in 52 weeks prior to the report, and investors can still look back at a market-beating 60% one-year return today.
Now what
InterDigital is making most of its sales and profits from aging 3G and 4G technologies. That's good enough for now, but investors will need the company to stake a serious claim in the upcoming 5G market-share grab. From that perspective, I find it troubling that the company is spending only 10% of its annual revenues on the research and development that should be the lifeblood of any technology specialist worth its salt.
With share prices still sitting close to all-time highs, I'd think twice before buying into this unhealthy combination of market momentum and lackluster R&D efforts.
10 stocks we like better than InterDigital CommunicationsWhen investing geniuses David and Tom Gardner have a stock tip, it can pay to listen. After all, the newsletter they have run for over a decade, Motley Fool Stock Advisor, has tripled the market.*
David and Tom just revealed what they believe are the 10 best stocks for investors to buy right now... and InterDigital Communications wasn't one of them! That's right -- they think these 10 stocks are even better buys.
Click here to learn about these picks!
*Stock Advisor returns as of February 6, 2017
Anders Bylund has no position in any stocks mentioned. The Motley Fool has no position in any of the stocks mentioned. The Motley Fool has a disclosure policy.