Why Intel Is Teaming With Delphi and Mobileye on Self-Driving Cars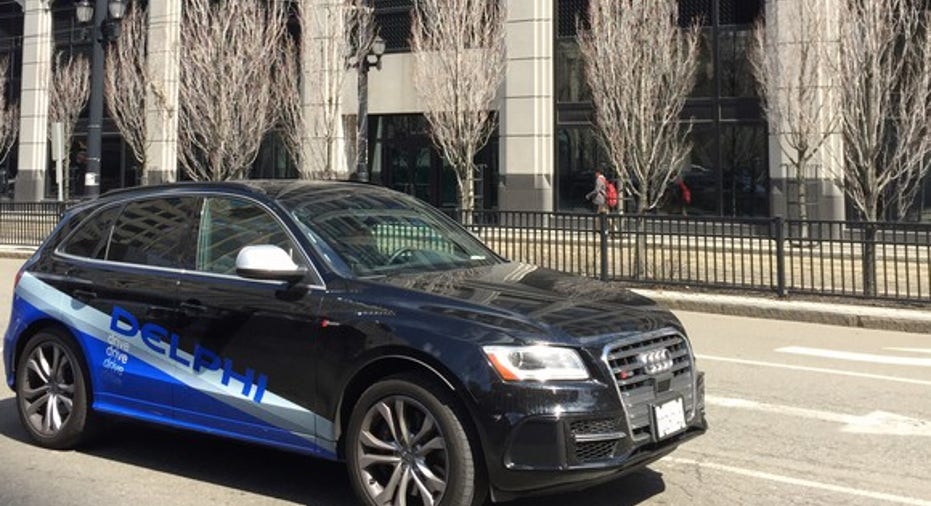 Delphi Automotive (NYSE: DLPH) and Mobileye (NYSE: MBLY) said on Tuesday that they are adding chip giant Intel (NASDAQ: INTC) to a partnership that intends to deliver a fully self-driving vehicle system by 2019.
What's the deal?
Intel is joining a project that is working to create a new system called the "Central Sensing Localization and Planning" platform, or CSLP. CSLP will be a specialized computer that can act as the brain of a car with a self-driving system.
The project, first announced by Delphi and Mobileye in August, intends to have a full-blown self-driving system available to any automaker by the end of 2019. It leverages the expertise in driver-behavior modeling developed by Ottomatica, a startup spun out of Carnegie Mellon University that was acquired by Delphi last year.
Delphi demonstrated an early prototype of its self-driving system with a mostly automated drive across the United States last year. It expects to have a commercial version available to automakers by the end of 2019. Image source: Delphi Automotive.
Why was Intel invited to join this deal?
Intel is already working with Mobileye and BMW on a project to create a self-driving system for the German automaker by 2021. In that deal, Intel's Atom and Xeon processors will be used to provide the computational horsepower needed to help the car's brain accurately drive in data-heavy environments (think cities).
Its role in this project is expected to be similar.
What does Intel get out of this?
Intel faces stiff competition in the Internet of Things market from NVIDIA (NASDAQ: NVDA), which has built on its longstanding expertise in graphics processing to become a player in driver-assist systems -- leaping ahead of Intel in this fast-growing and lucrative space.
NVIDIA bills its Drive PX 2 as an "in-car artificial intelligence supercomputer" that can process 24 trillion deep-learning operations every second, and says that more than 50 automakers, suppliers, developers, and research institutions are using its artificial-intelligence platforms.
NVIDIA said in September that it's teaming up with Chinese internet giant Baidu (NASDAQ: BIDU) to develop a technology platform for fully self-driving cars, an announcement that may have been spurred by the Delphi-Mobileye deal.
Intel wants its own presence in autos, not only for the (considerable) revenue opportunity but also to fend off suggestions that it has fallen behind NVIDIA. That's why this deal makes sense from the chip giant's perspective.
What's next for the partners?
Delphi and Mobileye (and Intel, presumably) will demonstrate their system at the Consumer Electronics Show in Las Vegas in January. The system isn't a final product, as both the software and the system's laser-imaging sensor (LIDAR) unit require further testing and refinement before production can start.
Delphi has said that it hopes to have self-driving test fleets operating in one or more cities sometime in 2017.
10 stocks we like better than Intel When investing geniuses David and Tom Gardner have a stock tip, it can pay to listen. After all, the newsletter they have run for over a decade, Motley Fool Stock Advisor, has tripled the market.*
David and Tom just revealed what they believe are the 10 best stocks for investors to buy right now and Intel wasn't one of them! That's right -- they think these 10 stocks are even better buys.
Click here to learn about these picks!
*Stock Advisor returns as of November 7, 2016
John Rosevear has no position in any stocks mentioned. The Motley Fool owns shares of and recommends Baidu and NVIDIA. The Motley Fool recommends BMW and Intel. Try any of our Foolish newsletter services free for 30 days. We Fools may not all hold the same opinions, but we all believe that considering a diverse range of insights makes us better investors. The Motley Fool has a disclosure policy.