Why Intel Corporation's Modem Won't Find Success Outside of Apple Inc.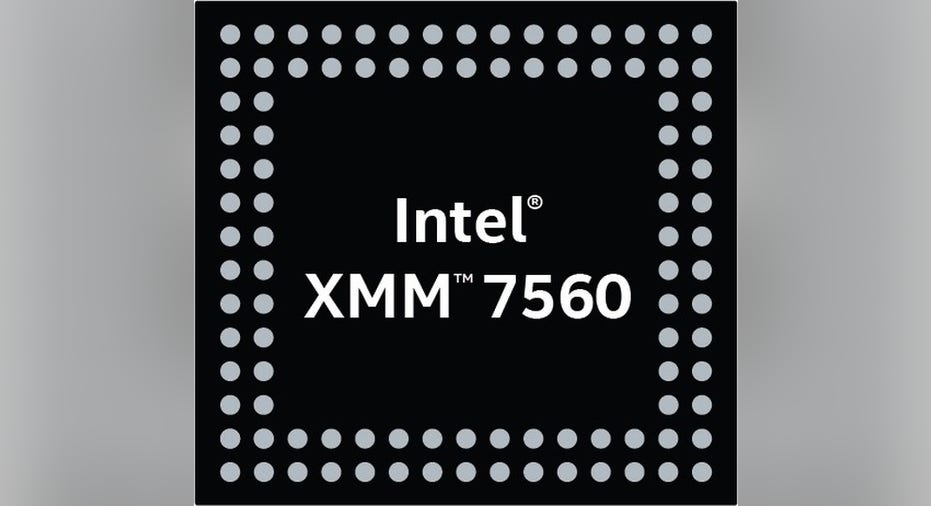 In a recent note from Susquehanna Financial Group (via Barron's), analyst Christopher Rolland said that he and his team were "optimistic" that Intel (NASDAQ: INTC) might be able to find business outside of Apple (NASDAQ: AAPL) for its stand-alone cellular modems but noted that "Chinese handset vendors did not share [Susquehanna's] enthusiasm."
Here's my take on why Intel just won't get any traction with its modems outside of Apple, no matter how good they are.
Image source: Intel.
Understanding the market
A smartphone maker can opt to equip a smartphone with a stand-alone applications processor paired with a stand-alone cellular baseband processor, or it can choose to use a single chip that integrates the applications processor with the cellular baseband processor.
In the early innings of the smartphone market, it wasn't uncommon to see both -- some smartphone makers would go with stand-alone baseband and applications processors, while others would pick the more integrated solutions.
Today, for cost and space reasons, integrated solutions dominate the market. It's virtually impossible today to market stand-alone smartphone applications processors, and there's only one high volume smartphone customer that uses stand-alone cellular baseband chips -- Apple.
Intel doesn't sell integrated solutions
In the past, Intel had indicated that it aimed to both sell integrated applications processor/baseband solutions alongside stand-alone modems. However, the company has slashed its investments in mobile technology over the last couple of years (Intel says its investment in this area is down 55% over the last two years) and hasn't said much publicly about trying again to build such integrated parts organically.
The chipmaker is attacking this market in a roundabout fashion by offering manufacturing services to companies like Spreadtrum, but it remains to be seen whether Intel can gain significant traction in the mass-market smartphone market (outside of Apple) this way.
Intel could conceivably try to field organically developed integrated solutions into this market at some point, but given that Intel already tried, failed spectacularly, and pulled the plug on its efforts here, it's hard to imagine that smartphone vendors would be in a hurry to bet their businesses on Intel's product road map and execution.
But the bottom line is that there's simply just not a market outside of Apple for stand-alone cellular modems, even if those modems are highly competent.
The next step for Intel
In the near to medium term, Intel's job will be to focus on trying to continue to build competent stand-alone modems to keep Apple happy. Apple buys enough chips, and Intel probably gets enough for each chip, that Intel could probably continue to justify modem development just with Apple's business.
At some point, though, Intel is going to want to expand the total addressable market that it can address with its modem technology.
Maybe another crack at the integrated smartphone applications processor market would be the right course of action, or perhaps it could partner with a third-party chipmaker to incorporate its modem technology into their own applications processors (a suggestion that's been thrown around about Apple, although I doubt that it would be interested in doing that).
The point is that if Intel can consistently deliver great cellular modem technology, and if that technology has been "battle tested" inside of multiple generations of Apple iPhone models, then it would be a shame for the chipmaker to not find a way to get it into other smartphones and profit from it.
10 stocks we like better than IntelWhen investing geniuses David and Tom Gardner have a stock tip, it can pay to listen. After all, the newsletter they have run for over a decade, Motley Fool Stock Advisor, has tripled the market.*
David and Tom just revealed what they believe are the 10 best stocks for investors to buy right now... and Intel wasn't one of them! That's right -- they think these 10 stocks are even better buys.
Click here to learn about these picks!
*Stock Advisor returns as of February 6, 2017
Ashraf Eassa owns shares of Intel. The Motley Fool owns shares of and recommends Apple. The Motley Fool has the following options: long January 2018 $90 calls on Apple and short January 2018 $95 calls on Apple. The Motley Fool recommends Intel. The Motley Fool has a disclosure policy.