Why Infinera Corp. Plunged More Than 50% Lower in 2016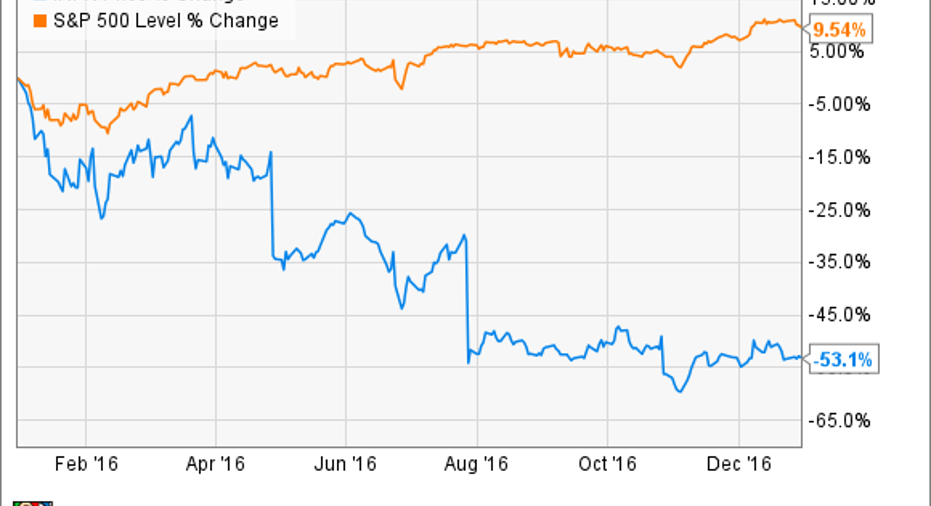 Image source: Getty Images.
What happened
Shares of Infinera (NASDAQ: INFN) fell 53.1% in 2016, according to data from S&P Global Market Intelligence. The optical-networking expert had no problem churning out positive earnings surprises throughout the year, but those good tidings were always paired with weak forward-looking projections.
So what
In April, Infinera delivered 31% year-over-year revenue growth and 19% higher first-quarter earnings, but set up a second-quarter sales target at $255 million, 6% below Wall Street's projections. The next day, share prices plunged 24% lower.
Three months later, the company edged out that low-key sales target by a mere 1.6%, stopping at $259 million before setting up third-quarter revenue guidance at $185 million. Shares fell another 30% the next day.
The same story played out again in October, with sales in line with management's gloomy guidance, and the next revenue target pointing even lower. Infinera shares took another 20% haircut over the next few days, though the stock bounced back quickly from this particular trough.
Now what
Infinera's management is keeping a stiff upper lip, describing the company's long-term prospects as solid despite a bundle of shorter-term challenges.
The market for long-haul networking tools is taking a pause, as several major customers have recently completed infrastructure-buildout projects. But CEO Tom Fallon, citing "industry analysts" in general, hopes to see an end to that softness by the middle of 2017. That's when the newly installed long-distance gear would start requiring maintenance, along with expansions in underserved areas.
"Longer-term, with unrelenting bandwidth growth and the ongoing evolution in network architectures, I believe Infinera has a massive opportunity, an opportunity I am confident that we will execute on," said Fallon, according to a conference call transcript by Seeking Alpha.
Fiber-optic networking is indeed standing on the threshold of another major growth spurt, thanks to several game-changing trends working together. If Infinera can deliver on Tom Fallon's promises, investors should see generous returns as the turnaround story plays out over the next couple of years. In my view, Infinera's terrifying share-price plunge in 2016 should be seen as an invitation to buy and hold for the long haul.
10 stocks we like better than Infinera When investing geniuses David and Tom Gardner have a stock tip, it can pay to listen. After all, the newsletter they have run for over a decade, Motley Fool Stock Advisor, has tripled the market.*
David and Tom just revealed what they believe are the 10 best stocks for investors to buy right now... and Infinera wasn't one of them! That's right -- they think these 10 stocks are even better buys.
Click here to learn about these picks!
*Stock Advisor returns as of Nov. 7, 2016
Anders Bylund has no position in any stocks mentioned. The Motley Fool owns shares of and recommends Infinera.
We Fools may not all hold the same opinions, but we all believe that considering a diverse range of insights makes us better investors. The Motley Fool has a disclosure policy.