Why IMAX Is Changing Its Business Model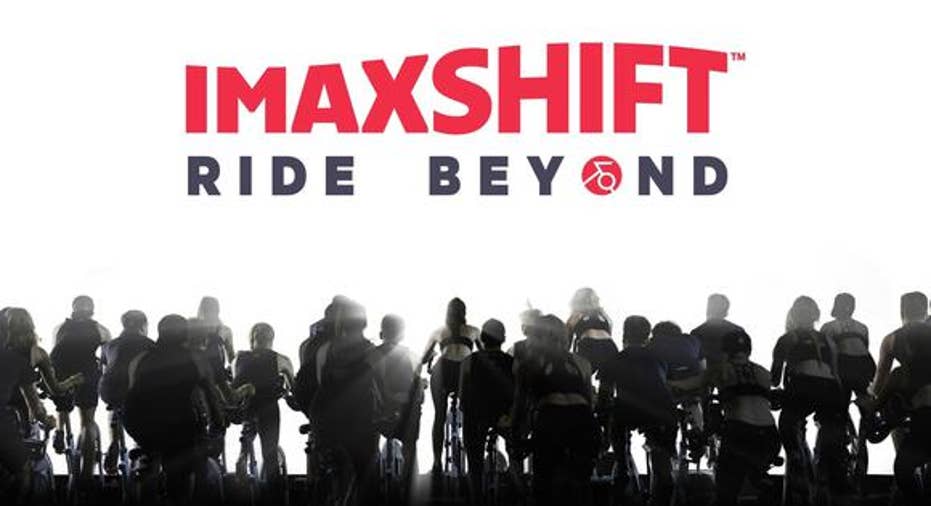 IMAX is bringing a new way of working out to theaters. Image source: PRNewswire.com.
Adding to an eclectic mix that's produced inconsistent growth over the years, IMAX this week unveiled plans to develop an immersive virtual cycling experience called IMAXShift.
Think of it like a theme park ride. Instead of riding in a simulator mounted on stilts that flails in tune with images projected on a screen in front of you, IMAXShift participants mount a stationary bicycle and then pedal to the images laser projected in-theater to an IMAX big screen. The company's first test studio is due to open in the DUMBO neighborhood of Brooklyn, New York, on April 28.
Taking a spin According to the press release announcing the trial, IMAXShift will accommodate up to 50 riders at a time in the new studio. Instructors will choreograph and guide workouts designed to best makes best use of what the company calls "patented theatre geometry" while pumping high-fidelity audio and "hyper-real" imagery on screen. The result, IMAX says, is a "full sensory workout."
Crucially, IMAXShift isn't aiming for a one-size-fits-all experience. Instead, the company commissioned a team of instructors that includes pros Jesse Alexander and Bree Branker. They'll be called on to choreograph a regular stream of new journeys to keep riders engaged. What will they be asked to pay in return? That's unclear at this point, but the typical gym costs members $40 to $50 monthly. IMAX seems confident it can compete at that level -- enough so that management is taking a closer look at the entire indoor fitness market.
"As we examined potential areas in which to extend The IMAX Experience, one of the opportunities we identified was the fitness space -- where there is a clear growing consumer demand for more engaging group experiences," said Robert D. Lister, IMAX Chief Business Development Officer, in a press release announcing IMAXShift. "We believe the pilot launch of IMAXShift has the potential to set the stage for a new movement in physical activity and offer participants a workout unlike anything they've experienced before."
Filling holes in the plot While the release doesn't say so specifically, IMAX appears to be footing the bill for the pilot studio. Further development could involve unnamed partners referred to in the announcement. Theater chain operators would be the easiest to convert and have the same need for optionality that IMAX does.
AMC Entertainment and Regal Cinemas have endured inconsistent revenue growth in each of the past three fiscal years while trying to implement premium experiences, including wider, pre-assigned seats, better food, and alcohol service. Transforming regular theaters into side-entered IMAX workout experiences could help add to each company's mix and improve margins, especially if "seats" could be sold as monthly, gym-like memberships. IMAX would profit from the installation and setup of each IMAXShift facility.
IMAX, too, could use the boost. Revenue soared 28.5% last year thanks to theatrical windfalls from the likes of Jurassic World and Star Wars: The Force Awakens. Banking on an endless stream of hits is dangerous. Look at 2014. Even with strong performances from genre properties such as Captain America: The Winter Soldier and Guardians of the Galaxy, the overall U.S. box office fell. IMAX revenue inched up just 1% in response, down from a 2% boost the year prior, S&P Capital IQ reports.
Maybe IMAXShfit will amount to nothing. So be it. At this point, it would be a lot worse for management to actually do nothing -- pinning investors' hopes on a future filled with domestic and international blockbusters that may never come to be. That the team is smarter than that is a good sign for the future of this business, and those invested in it.
The article Why IMAX Is Changing Its Business Model originally appeared on Fool.com.
Tim Beyers has no position in any stocks mentioned. The Motley Fool owns shares of and recommends Imax. Try any of our Foolish newsletter services free for 30 days. We Fools may not all hold the same opinions, but we all believe that considering a diverse range of insights makes us better investors. The Motley Fool has a disclosure policy.
Copyright 1995 - 2016 The Motley Fool, LLC. All rights reserved. The Motley Fool has a disclosure policy.