Why II-VI, Inc. Gained 23% in January 2017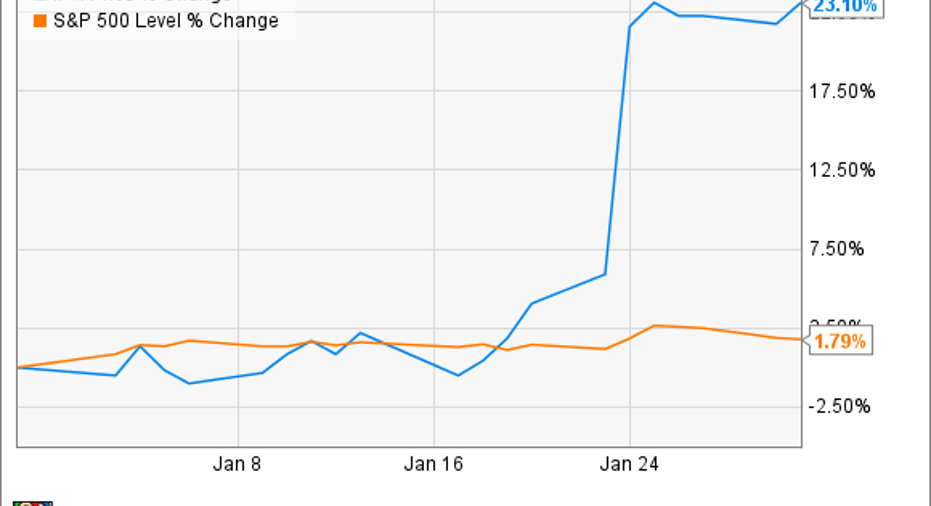 What happened
Shares of II-VI(NASDAQ: IIVI) rose 23.1% in January of 2017, according to data from S&P Global Market Intelligence.
So what
The maker of opto-electronic components and engineered materials reported second-quarter results near the end of January, sending share prices more than 12% higher overnight. As February rolled around, share prices had delivered a soaring 82%, 52-week performance.
Now what
Image source: Getty Images.
II-VI has delivered a consistent stream of earnings surprises since the summer of 2014, and the last three earnings beats were particularly impressive. The stock is exploring all-time highs these days, and management's comments on the second quarter pointed to even greater gains ahead.
"Our bookings in the communications end markets were unprecedented," said II-VI CEO Chuck Mattera, referring to a segment that produces about 45% of II-VI's total revenues. "Those bookings and ongoing customer inquiries further validate our differentiation, the important role we play in the industry ecosystem, and underpin our confidence in our ability to deliver a strong FY2017."
The company is also leaning back against a record-level order backlog. Nearly all of the year-over-year sales growth was organic, and II-VI is currently doing research and infrastructure improvements to tackle rising demand for 3D sensor solutions.
I'll note that the soaring stock price may have lifted II-VI out of a value investor's comfort zone, but it's also a highly volatile stock that lets you buy on temporary dips. Whatever your investing style, it's a good idea to keep an eye on this ticker.
10 stocks we like better than II-VIWhen investing geniuses David and Tom Gardner have a stock tip, it can pay to listen. After all, the newsletter they have run for over a decade, Motley Fool Stock Advisor, has tripled the market.*
David and Tom just revealed what they believe are the 10 best stocks for investors to buy right now... and II-VI wasn't one of them! That's right -- they think these 10 stocks are even better buys.
Click here to learn about these picks!
*Stock Advisor returns as of February 6, 2017
Anders Bylund has no position in any stocks mentioned. The Motley Fool recommends II-VI. The Motley Fool has a disclosure policy.