Why IDEXX Laboratories, Inc. Jumped Higher Today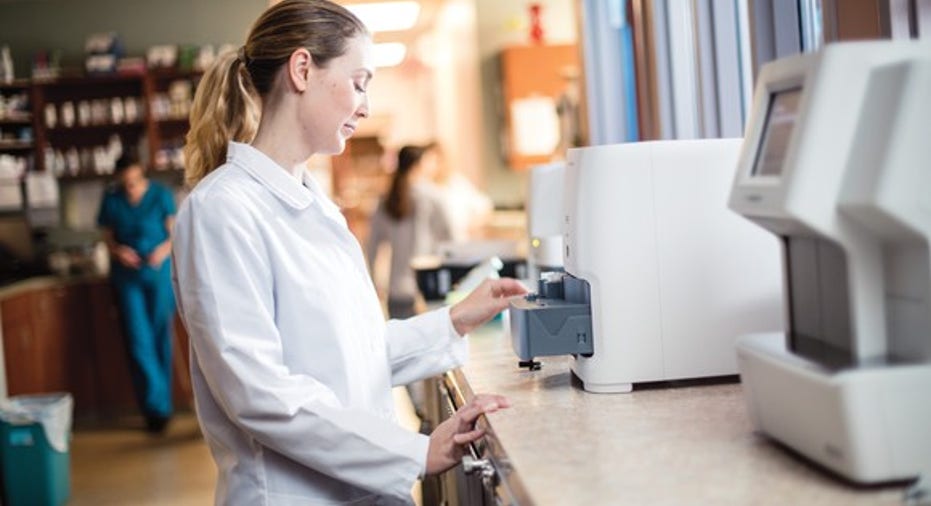 Image source: IDEXX Laboratories.
What happened
IDEXX Laboratories (NASDAQ: IDXX) was up almost 14% at 3:33 p.m. EST after announcing better-than-expected fourth-quarter earnings and raising its 2017 earnings guidance.
So what
Revenue during the quarter increased 11% year over year on the back of the company's tests for companion animals, which grew 13%. The number of instruments sold increased 15% year over year, while the growing installed base helped drive a 17% jump in sales of the consumables used in the instruments. Revenue from laboratory tests performed by IDEXX -- rather than in the veterinarian's office -- increased 12% year over year. The only downside to the segment was for IDEXX's rapid assay products, which only grew 6% year over year.
Tests for livestock, poultry, and dairy were down 1%, but fortunately this group makes up an ever-shrinking amount of IDEXX's revenue. The water-testing segment grew 1%, but it's even smaller.
The increased sales help IDEXX increase operating margins, allowing earnings to grow faster than revenue. In the fourth quarter, earnings per share increased 21% year over year to $0.58. For the year, that put earnings at $2.44 per share, substantially higher than the guidance of $2.35 to $2.39 per share announced at the end of the third quarter.
Now what
Management maintained its previously announced revenue guidance of $1.91 billion to $1.935 billion, but increased its guidance for earnings per share because of new accounting standards. The company is now looking for 2017 earnings per share in the $2.85 to $3.01 range, a 17% to 23% increase over last year's earnings.
10 stocks we like better than IDEXX Laboratories When investing geniuses David and Tom Gardner have a stock tip, it can pay to listen. After all, the newsletter they have run for over a decade, Motley Fool Stock Advisor, has tripled the market.*
David and Tom just revealed what they believe are the 10 best stocks for investors to buy right now... and Idexx Laboratories wasn't one of them! That's right -- they think these 10 stocks are even better buys.
Click here to learn about these picks!
*Stock Advisor returns as of January 4, 2017
Brian Orelli has no position in any stocks mentioned. The Motley Fool recommends Idexx Laboratories. The Motley Fool has a disclosure policy.