Why Iconix Brand Group, Inc. Lost Half Its Value in November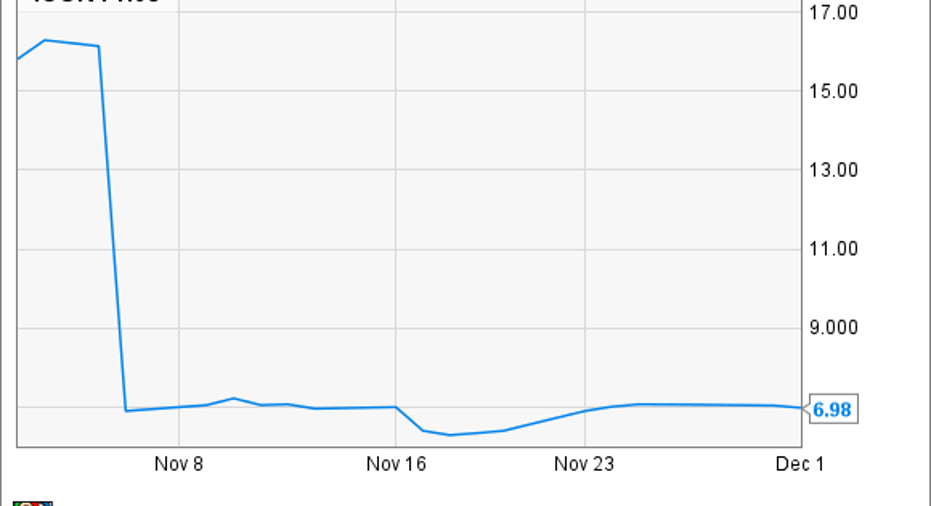 Shares ofIconix Brand Group plummeted early last month after the company announced on Nov. 5 that it intended to restate finances for more than the past two years.
The owner, marketer, and licensor of a number of consumer brands including Candie's, Bongo, Rampage, London Fog, Ocean Pacific, and more saw its stock drop by 54%, according toS&P Capital IQdata after that news was made public.
In addition, on Nov. 6, Rosen Law Firm, which focuses on global investor rights, announced its investigation of potential securities claims on behalf of investors in the company and its intention to file a class action lawsuit.
Data source: YCharts.com.
What:Call it bad news following bad news. After Iconix made its actions known, Rosen followed the next day by releasing the news that it will be investigating claims resulting from allegations that Iconix may have issued materially misleading business information to investors.
The company disclosed last month that it intends to restate its previously issued financial statements for a number of periods:
The fourth quarter and annual results of 2013;
The 2014 fiscal year and each quarterly period thereof; and
The first and second quarters of 2015
Iconixis making these changes to correct accounting errors and interim CEOPeter Cuneo,who has only been on the job for 90 days, addressed what is happening during the Nov. 9 earnings call:
The investigation was launched after the Securities and Exchange Commission announced it intended to look into the company's financial reporting. Since the problems occurred, Iconix has changed its CEO, CFO, and COO.
So what:The company announced the findings of a special committee of its board, along with its independent legal and accounting advisors. Problems were uncovered during the review and the company issued a statement to restate earnings for the period in question:
It's a pretty big whoops, butCuneo tried to allay investor fears during the call and in the earnings release by pointing out the Iconix's underlying business is solid. He also noted that the changes did not impact free cash flow.
Now what: Iconix and Cuneo have to pick up the pieces. The lawsuit is a wild card and the company did not comment on it during the call or in the earnings release. The interim CEO, however, did repeatedly express that he was confident about the future.
"We have gone through a difficult transition period, but Iconix continues to have significant business strengths including its diversified portfolio of consumer brands, profitable business model and strong free cash flow generation," he said.
That's a very positive spin, but it is an accurate read on the company's business. Iconix's short-term stock price will likely stay down until investors can regain faith in its reported numbers and perhaps until the lawsuit gets settled,
Ultimately, though, the company's value will be determined by whether it can grow its licensing business. If it can do that, the new executive team should eventually be forgiven for these past problems.
The article Why Iconix Brand Group, Inc. Lost Half Its Value in November originally appeared on Fool.com.
Daniel Kline has no position in any stocks mentioned. He wears licensed T-shirts most days, usually Star Wars. The Motley Fool has no position in any of the stocks mentioned. Try any of our Foolish newsletter services free for 30 days. We Fools may not all hold the same opinions, but we all believe that considering a diverse range of insights makes us better investors. The Motley Fool has a disclosure policy.
Copyright 1995 - 2015 The Motley Fool, LLC. All rights reserved. The Motley Fool has a disclosure policy.