Why I Quit Apple Music and Went Back to Google Play Music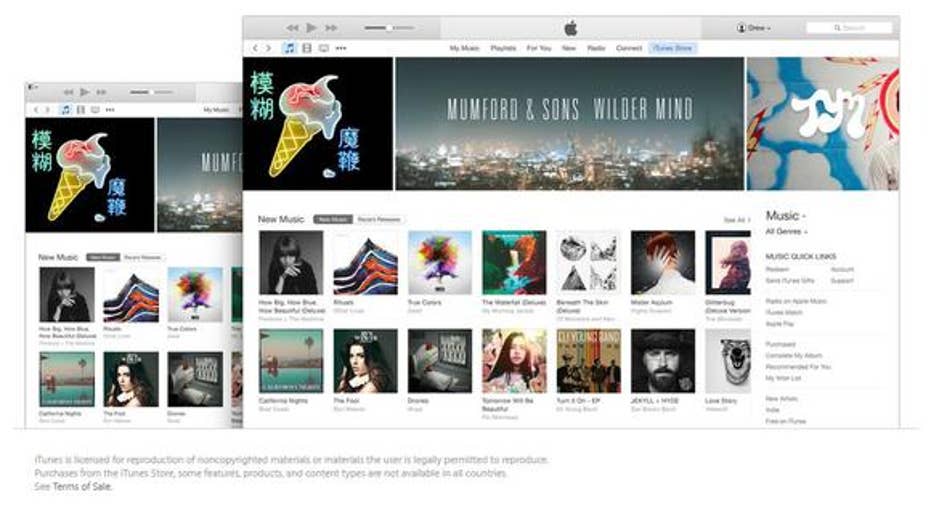 Apple Music on iTunes. Source: Apple
There's a lot I like about Apple Music, but when my free trial runs out at the end of the month, I won't be subscribing. Instead, I'll be switching back to Alphabet's streaming service, Google Play Music.
Apple Music offers a number of particularly compelling features, and excels over Play Music in some aspects. Still, there are too many shortcomings, and I believe Google is currently offering the better service.
Within the confines of the iPhone, Apple Music is fantasticIf your iPhone is the only device you use to access music, then I would recommend Apple Music wholeheartedly. Operating within Apple's walled garden, Apple Music offers most of the features you'd want out of a streaming music service, and a few its competitors can't match. Some have criticized Apple Music's interface, but as someone who has used a wide variety of alternatives -- including Rhapsody and Spotify -- I think it works well enough. Its five main tabs are fairly straightforward, giving users easy access to their own music, radio stations, and recommendations.
That last aspect is Apple Music's biggest advantage by far. Other streaming services offer recommendations, but none go as far as Apple Music. The "For You" tab offers a steady stream of personalized playlists based on your listening history. Some are fairly ordinary (a particular album from one of your favorite artists) while others are on the more exotic side (indie rock songs for working out, holiday hits from the 1970s). Apple Music was born out of the company's 2014 acquisition of Beats, including its streaming subscription service Beats Music. In an interview with Charlie Rose last September, CEO Tim Cook suggested that Apple acquired Beats based, in part, on its commitment to curation.
Apple Music's competitors do offer recommendations and playlists, but not to the same extent as Apple Music. Google'sacquisitionof Songza introduced mood and themed-based playlists ("Keeping Calm & Mellow", "Having Fun at Work"), but the rest of Play Music's suggestions are generally limited to bands similar to the ones you've listened to before.
Apple Music has deep integration with the iPhone. When I connect my Bluetooth headphones, or attach my iPhone to my car's stereo, music is automatically queued up to begin playing. I can ask Siri to play me a particular song or artist, or start a radio station. Paired with the "Hey, Siri" hands-free featured included in the iPhone 6s, this is an especiallycompelling feature, one that I make use of fairly frequently.
iTunes for Windows is bloated and sluggishSo why am I switching back to Play Music? Although I use my iPhone for accessing music most of the time, it isn't my sole or even my primary music player. I spend much of my time sitting at a Windows 10-powered PC, and while Apple Music is accessible, the experience is underwhelming.
There's no dedicated app for Apple Music; rather, Apple Music must be accessed through iTunes for Windows.Unfortunately, iTunes is a bloated,sluggish and buggy application, with a poor interface, so much so that it makes accessing Apple Music a pain. I'm not alone in my assessment --criticismof iTunesis fairly widespread. Noted iOS developer Marco Arment labeled it a "toxic hellstew," an opinion later echoed by The Atlantic's Robinson Meyer. Writing back in 2013, Lifehacker encouraged its readers to ditch iTunes for just about any other alternative. Two years later, little has changed.
In November, Apple launched an Apple Music app for Android, a somewhat unprecedented step. But it made sense -- part of the value of streaming music services is their ubiquity; they let subscribers access their music from a wide range of Internet-connected devices. If you have an iPhone, but also occasionally listen to music on an Android tablet, Apple Music has you covered.
But Apple Music doesn't work with every device. There's no dedicated web interface, which means that I can't use Apple Music on my Chromebook. If you're not a Sonos or Apple TV owner, the only way to send your music to your home theater setup or speaker system is to use Bluetooth.
Google Play Music is more accessible and offers more for the moneyGoogle's Play Music, in contrast, has a web interface, one that works well on any Windows PC or Chromebook, and subscribers can purchase a cheap Chromecast Audio dongle to send music to their speaker setup at a quality that's better than Bluetooth.
Play Music also includes YouTube Red (Google's new service that gives subscribers the ability to watch YouTube videos without ads) and YouTube Music, aseparatestreaming app. YouTube Music isn't a true alternative to Play Music, as the app offers fewer features, but subscribers can create playlists of YouTube music videos, then access them from nearly any device that has a YouTube app. I can't use Play Music or Apple Music on my Xbox One, but I can listen to my YouTube playlists through my Xbox One's YouTube app, for example.
Play Music also lets its users upload 50,000 songs of their own to the cloud, and stream them back using the Play Music app for free. This is useful as, despite offering tens of millions of tracks, Play Music doesn't have everything. Apple Music offers something similar in the form of iTunes Match, but it requires aseparate, $25 per year subscription to access.
Ultimately, Apple Music may be the better service for those who primarily make use of Apple products -- iTunes for Mac is better than iTunes for Windows, Apple Music integrates well with the new Apple TV -- but for users of multiple platforms, Play Music is currently offering the better experience.
The article Why I Quit Apple Music and Went Back to Google Play Music originally appeared on Fool.com.
Sam Mattera has no position in any stocks mentioned. The Motley Fool owns shares of and recommends Alphabet (A shares), Alphabet (C shares), and Apple. Try any of our Foolish newsletter services free for 30 days. We Fools may not all hold the same opinions, but we all believe that considering a diverse range of insights makes us better investors. The Motley Fool has a disclosure policy.
Copyright 1995 - 2015 The Motley Fool, LLC. All rights reserved. The Motley Fool has a disclosure policy.