Why I Just Bought Under Armour Stock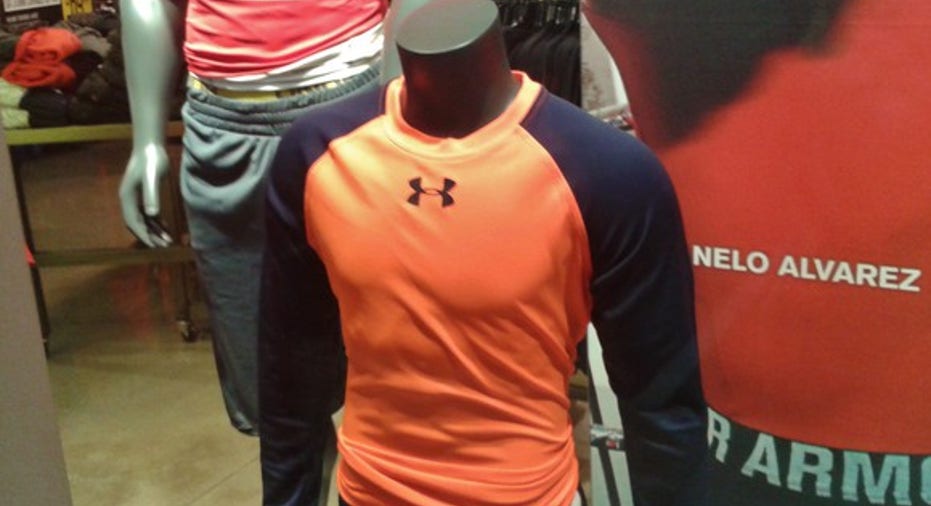 The U.S. stock market has rallied in November, but it's still been a great month to pick up high-quality growth stocks at bargain prices. Earlier this month, I added shares of coffee powerhouse Starbucks to my retirement account.
Last week, I loaded up on Under Armour (NYSE: UA) (NYSE: UA-C) stock. Both classes of Under Armour shares have lost more than a third of their value since the spring.
Under Armour 2016 Stock Performance, data by YCharts.
The declines in Under Armour stock can largely be attributed to a modest slowdown in revenue growth and a reduction in the company's near-term earnings expectations. Nevertheless, Under Armour looks like a great bargain for long-term investors because of its massive growth potential relative to key competitors such as Nike (NYSE: NKE).
Curb your expectations
For Q3, Under Armour's revenue rose 22.2% year over year, down from a 29% increase in the first half of 2016. This was its 26th consecutive quarter of 20%-plus revenue growth. The modest slowdown in growth last quarter was driven by The Sports Authority's bankruptcy, which resulted in the liquidation of its inventory during Q3.
Nevertheless, during the Q3 earnings call, Under Armour CEO Kevin Plank reiterated the company's target of reaching $7.5 billion in revenue by 2018. That would be more than 50% ahead of its projected 2016 sales.
On the other hand, Under Armour's management now expects gradual margin contraction for the next few years. As a result, Under Armour is backing away from its previous goal of generating $800 million of operating income in 2018.
Under Armour is facing some near-term margin headwinds. Image source: The Motley Fool.
Mix shifts are a key margin headwind for Under Armour right now. Today, Under Armour gets more than half of its revenue from selling apparel in North America. This happens to be one of the most lucrative parts of its business. However, a slowdown in North American apparel sales is pressuring Under Armour's growth rate in this market. By contrast, the faster-growing parts of Under Armour's business have lower margins.
Finding new sources of growth
Based on the sharp sell-off in Under Armour stock this year, investors appear to be lamenting the prospect of slower growth in the company's core North American apparel market.
Yet Under Armour has tons of room to grow here. Despite its rapid expansion in recent years, Under Armour is still a fraction of Nike's size. It has about half as many distribution points as Nike in the U.S., but it's gradually closing that gap. For example, Kohl's will add a wide range of Under Armour gear to its more than 1,000 stores next spring. This could add hundreds of millions of dollars of annual revenue for Under Armour within a few years.
Moreover, investors should be celebrating Under Armour's ability to offset the slowdown in the North American apparel market through growth in other parts of its business. Under Armour is particularly focused on growth in the footwear market and in international markets.
Under Armour has big growth plans for its footwear business. Image source: The Motley Fool.
In the short term, this growth will require heavy investment in numerous areas, including product design, IT, distribution, and endorsements. But these investments will unlock new multibillion-dollar markets for Under Armour, allowing it to (hopefully) maintain a double-digit revenue growth rate over the next decade.
Under Armour stock is cheap
Before rallying on Monday, Under Armour's C shares traded for 35 times forward earnings, while the main A shares traded for 44 times forward earnings. This makes Under Armour stock seem expensive relative to Nike stock, which trades for about 20 times its projected earnings over the same period. The comparison is not exact because of differences in the two companies' fiscal years.
However, Under Armour stock trades for less than 2.5 times its projected 2016 revenue. That's roughly in line with Nike's revenue multiple. The Under Armour C shares are even cheaper on that basis.
This makes no sense. Under Armour expects to maintain a revenue growth rate above 20% for at least two more years, if not longer. Meanwhile, Nike's revenue is growing at a high-single-digit rate. Given that Nike has about seven times more annual revenue than Under Armour, it's no surprise that the latter has more growth potential. That should justify a higher revenue multiple for Under Armour stock.
On the flip side, it's true that Under Armour is less profitable than Nike. But this can be traced to its smaller size and ongoing growth investments. As Under Armour scales up over the next decade, it has a clear opportunity to catch up to Nike on the margin front. In other words, the margin pressure it currently faces is probably temporary rather than permanent.
Under Armour stock could post huge returns over the next decade if the company can deliver on its growth potential while eventually equaling Nike's 14% operating margin. For investors (like me) with a long time horizon, it's a great time to invest in this strong brand with tons of upside.
Find out why Under Armour is one of the 10 best stocks to buy now
Motley Fool co-founders Tom and David Gardner have spent more than a decade beating the market. (In fact, the newsletter they run, Motley Fool Stock Advisor, has tripled the market!*)
Tom and David just revealed their ten top stock picks for investors to buy right now. Under Armour (A Shares) is on the list -- but there are nine others you may be overlooking.
Click here to get access to the full list!
*Stock Advisor returns as of November 7, 2016
Adam Levine-Weinberg owns shares of Starbucks and Under Armour (C Shares). The Motley Fool owns shares of and recommends Nike, Starbucks, Under Armour (A Shares), and Under Armour (C Shares). Try any of our Foolish newsletter services free for 30 days. We Fools may not all hold the same opinions, but we all believe that considering a diverse range of insights makes us better investors. The Motley Fool has a disclosure policy.