Why I Bought More LinkedIn Stock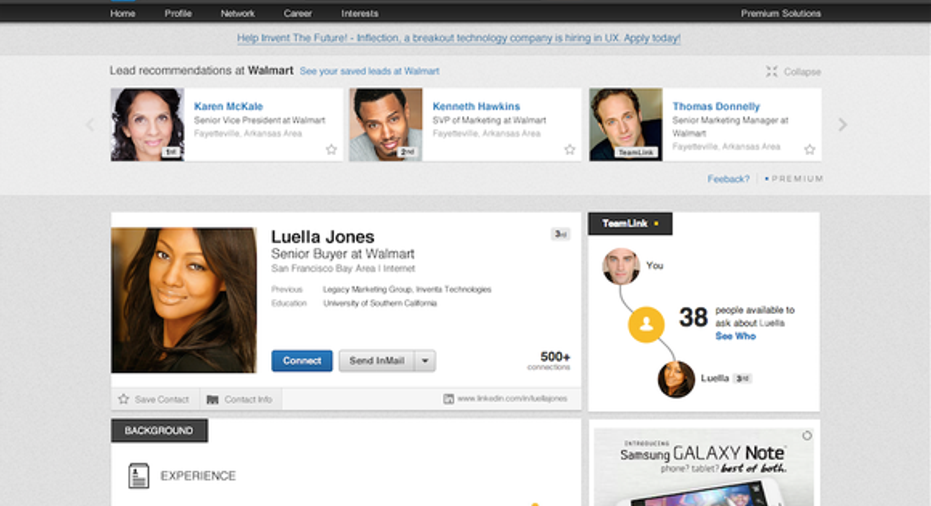 Image source: LinkedIn.
Investors reacted with pessimism, even with panic-driven selling, to the latest earnings report from LinkedIn . Shares of the professional network collapsed by nearly 60% after the report was released, and they are still trading at nearly 57% below their highs of the last year. Nevertheless, I still believe LinkedIn offers tremendous potential in the long term, so I capitalized on the opportunity to add some LinkedIn shares to my portfolio at a remarkably attractive purchase price.
Why LinkedIn stock crashedThe company reported rock-solid financial performance for the quarter ended in December 2015, both in terms of revenue and user growth, which are arguably the two most important variables to watch. Total revenue grew 34% year over year, reaching $862 million. As for users, LinkedIn ended the year 2015 with 414 million registered users, a strong annual increase of 19%.
Member page views grew 26% versus the fourth quarter in 2014. Since page views are growing at a faster rate than users, this indicates that engagement is moving in the right direction, because activity per user is on the rise. The company is also doing great in mobile: Activity in this crucial segment grew 3 times faster than overall member activity, and nearly 57% of all traffic to LinkedIn is now coming from mobile devices.
On the other hand, management announced that the company is expecting revenue during 2016 to be between $3.6 billion to $3.65 billion, representing an increase of 20% to 22% versus 2015 levels. For reference, total sales during the full year 2015 increased 35% from 2014 levels, so management is clearly anticipating a slowdown in growth over the coming quarters, and this was clearly the main reason for the negative market reaction to the report.
Foreign currency headwinds are significantly affecting the company, and management said in the earnings conference call that economic conditions in the EMEA (Europe, Middle East, and Africa) and Asia-Pacific regions have been remarkably challenging lately.
Besides, LinkedIn is being more selective in terms of growth projects. Management is putting quality over quantity when choosing the projects it's going to continue investing on. A more focused approach to innovation could be a positive factor for investors in LInkedIn over the long term, however, it will probably hurt revenue growth on a shorter time frame.
Why I bought more LinkedInEven if growth is slowing down, LinkedIn still looks like a remarkably promising business to me. Wall Street analysts and media outlets typically compare LinkedIn to other social networks likeFacebook and Twitter , but their business models are remarkably different.
Both Facebook and Twitter make most of their sales from online advertising. This is an exciting industry with considerable growth potential, however, Alphabet is the undisputed king in this business, and that's not going to change anytime soon.
Thanks to the enormous popularity of its Google business, Alphabet owns seven different platforms with over 1 billion monthly users as of the end of 2015: Google Search, YouTube, Android, Maps, Gmail, Chrome, and Google Play. This is a major difference versus 1.59 billion monthly active users for Facebook and only 320 monthly users for Twitter. In terms of revenue, Facebook is only 30% the size of Alphabet, while Twitter has a revenue base of approximately 3% of Alphabet's size.
Like Facebook and Twitter, LinkedIn comes well behind Alphabet in online advertising, but this business represents only 21% of total revenue for the company. LinkedIn's biggest business segment is talent solutions for corporations, which produced 62% of revenue last quarter. The remaining 17% of sales comes from premium subscriptions to users who want access to superior job searching capabilities and other advantages.
LinkedIn is about job opportunities and professional contacts, not so much online advertising. The company's mission is "To connect the world's professionals to make them more productive and successful," and LinkedIn is the global leader in this particular niche. According to the latest financial report from the company, nearly 42,987 corporations are relying on LinkedIn for their online human resources needs, a big increase of 29% year over year.
The company has the first-mover advantage in the business, and scale is a crucial source of competitive strength for LinkedIn. Both users and corporations want to go to the platform offering more opportunities for valuable contacts and productive interactions. The bigger the network, the more valuable the service, and this is creating a virtuous cycle of self-sustaining expansion for LinkedIn.
Growth may be slowing down, but that's not changing the fact that LinkedIn is still well on track to consolidating its market leadership in online human resources and professional contacts, a business which offers enormous potential over the years ahead. For this reason, I believe the recent collapse in LinkedIn stock is presenting a huge buying opportunity for investors, and I'm putting my money where my mouth is.
The article Why I Bought More LinkedIn Stock originally appeared on Fool.com.
Suzanne Frey, an executive at Alphabet, is a member of The Motley Fool's board of directors. Andrs Cardenal owns shares of Alphabet (A shares), Alphabet (C shares), and LinkedIn. The Motley Fool owns shares of and recommends Alphabet (A shares), Alphabet (C shares), Facebook, LinkedIn, and Twitter. Try any of our Foolish newsletter services free for 30 days. We Fools may not all hold the same opinions, but we all believe that considering a diverse range of insights makes us better investors. The Motley Fool has a disclosure policy.
Copyright 1995 - 2016 The Motley Fool, LLC. All rights reserved. The Motley Fool has a disclosure policy.