Why Horizon Pharma, NorthStar Realty Finance, and Allergan Jumped Today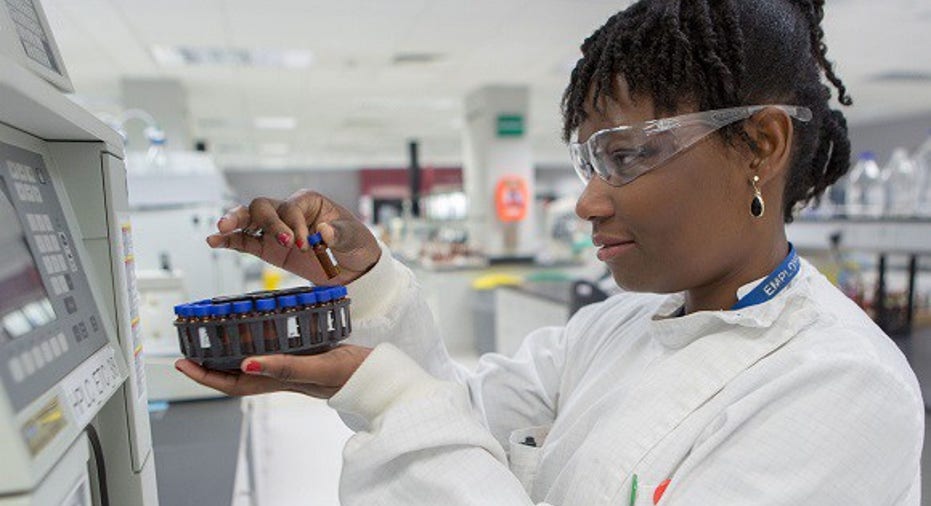 Image source: Allergan.
The stock market didn't move very much on Monday, although volatility in other markets played a role in the uncertainty among stock market investors. Several commodities markets lost ground on the day, with the oil market coming under particular pressure as concerns about the Middle East's willingness to let supply expand tended to offset concerns about the potential impact of wildfires in the Canadian oil sands region of northern Alberta on world markets. Gold and other precious and base metals also saw prices decline. Gains for the U.S. dollar also pointed to potential headwinds for corporate America, but that didn't stop some stocks from posting solid gains. Among the best performers for the day were Horizon Pharma , NorthStar Realty Finance , and Allergan .
Horizon Pharma rose 14% after the specialty pharmaceutical company released its first-quarter financial report Monday morning. Horizon saw its revenue soar 81%, yet it also said that it expected its sales to keep climbing throughout the year. The pharma company enjoyed successful results in each of its three key segments, including orphan drugs, rheumatology, and primary care. Particular strength in knee-osteoarthritis treatment Pennsaid and orphan-drug Ravicti for the treatment of certain urea cycle disorders helped Horizon's overall results, but more importantly, the pharma company had a balanced slate of several solid performers in its stable of approved treatments. Looking forward, Horizon is confident about its pipeline, and moves like a new 5 million share repurchase program could help bolster the stock even further in the future.
NorthStar Realty Finance climbed almost 10% in response to the company's confirmation after the market closed on Friday that it has been in talks with peers NorthStar Asset Management Group and Colony Capital to consider a business combination among the three entities. The stated intent of the parties is to "create a world-class diversified real estate and investment management equity REIT with significant scale, deep management talent, and the opportunity to generate substantial revenue and expense synergies." Rumors about potential talks had circulated last week, but the companies' release sent shares of all three entities higher Monday. Given that the eventual structure of any potential deal is uncertain, today's move reflects general optimism about a combination rather than the more typical situation in which the target company performs better than the acquiring entity.
Finally, Allergan gained 6%. The drug company released positive results early Monday morning about its Phase 3 trial for uterine fibroid treatment ulipristal acetate. The trial data showed that the treatment met primary and secondary endpoints, including improvements over a placebo with respect to the absence of uterine bleeding and the amount of time before patients achieved absence of uterine bleeding. The company was pleased with the results on efficacy and safety and has considerable confidence that the treatment will mark an important step forward for women's healthcare. Another related trial should be completed by the end of the year and produce results in the first half of 2017, with Allergan's goal being to submit a new drug application later next year.
The article Why Horizon Pharma, NorthStar Realty Finance, and Allergan Jumped Today originally appeared on Fool.com.
Dan Caplinger has no position in any stocks mentioned. The Motley Fool has no position in any of the stocks mentioned. Try any of our Foolish newsletter services free for 30 days. We Fools may not all hold the same opinions, but we all believe that considering a diverse range of insights makes us better investors. The Motley Fool has a disclosure policy.
Copyright 1995 - 2016 The Motley Fool, LLC. All rights reserved. The Motley Fool has a disclosure policy.