Why Hologic's Shares Are Stumbling Today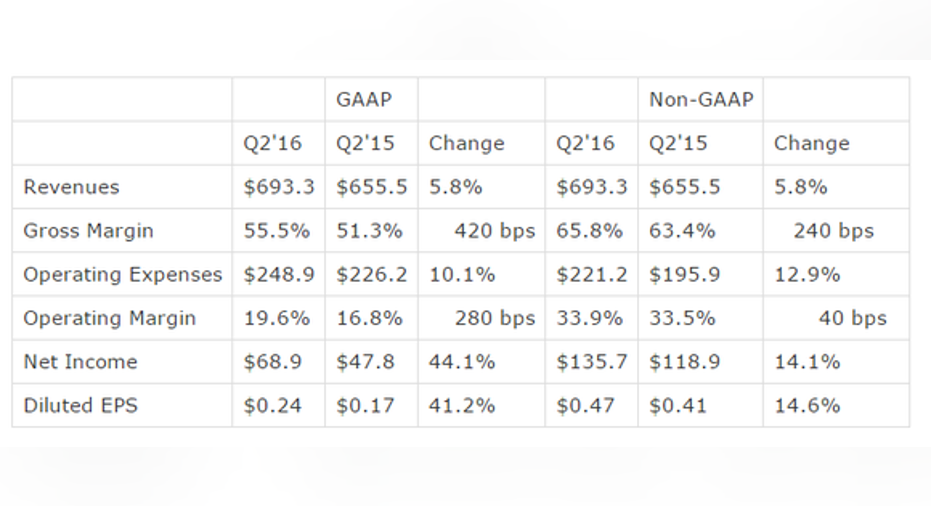 IMAGE SOURCE: HOLOGIC INC.
What:After reporting fiscal second-quarter results that were ahead of forecasts and updating its guidance for 2016, shares ofHologic fell 10% at 12:30 p.m. ET today.
So what: The maker of women's health products reported fiscal second-quarter sales and profit that appear solid. Revenue of $693.3 million grew 5.8% from a year ago and non-GAAP net income of $68.9 million increased by 14.1%.
Management noted that the fastest revenue growth came from the company's breast health and GYN surgical business segments. Thanks to a 11.2% bump up in U.S. sales tied to growing demand for its Genius 3D mammography system, breast health sales grew 8% to $275.8 million. Adoption of the MyoSure tissue removal system for theremoval of uterine fibroids and polypsled to GYN surgical sales improving 15.9% to $90.9 million.
Hologic's bottom line improved as operating margin ticked higher courtesy of geographic sales mix and a larger proportion of sales for higher-margin products.
The company also updated its 2016 financial guidance. It is modeling for sales to grow between 3.9% and 4.6% this year, on a reported basis. Also, it expects reported non-GAAP EPS of at least $1.89, which would be a year-over-year improvement of 13.2%.
In fiscal Q3, revenue will tick up by just 0.2% to 1.6% versus last year and non-GAAP EPS will increase by 9.3% to 11.6% when compared to a year ago.
Now what:The company's guidance is about in line with what industry watchers have been hoping for, but that's not all that impressive given that delivering on that forecast marks a deceleration in growth rates.
Still, the sell-off today does seem to be a bit of an overreaction and that could mean that Hologic's shares are becoming a better bargain. Investors think Hologic can grow EPS to $2.09 next year and that means shares are trading at a reasonable forward P/E ratio of 16.3.
Overall, this is a solid, low-growth company that could eventually be an attractive M&A target. However, there are probably other companies out there that are a better bet to own in a portfolio.
The article Why Hologic's Shares Are Stumbling Today originally appeared on Fool.com.
Todd Campbell has no position in any stocks mentioned. Todd owns E.B. Capital Markets, LLC. E.B. Capital's clients may have positions in the companies mentioned. The Motley Fool has no position in any of the stocks mentioned. Try any of our Foolish newsletter services free for 30 days. We Fools may not all hold the same opinions, but we all believe that considering a diverse range of insights makes us better investors. The Motley Fool has a disclosure policy.
Copyright 1995 - 2016 The Motley Fool, LLC. All rights reserved. The Motley Fool has a disclosure policy.