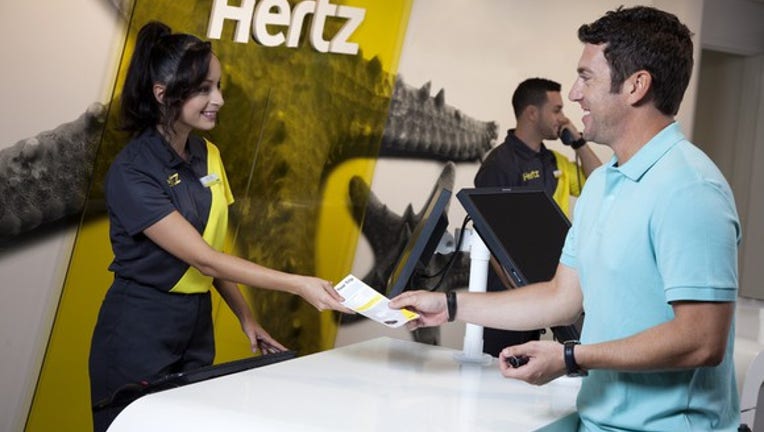 The stock market showed some signs of anxiety on Tuesday, and major market benchmarks declined from their recent high levels. In particular, the Dow Jones Industrials failed to make it 13 straight days higher, as investors appeared to seek a defensive posture in advance of President Trump's address to Congress tonight. Yet even though the market would like some clarity about potential policies coming out of Washington, some individual stocks nevertheless greeted positive news that sent their shares higher. Among the best performers on the day were Hertz Global Holdings (NYSE: HTZ), Silver Bay Realty Trust (NYSE: SBY), and Weight Watchers International (NYSE: WTW). Below, we'll look more closely at these stocks to tell you why they did so well.
Hertz climbs despite quarterly loss
Shares of Hertz Global Holdings were up 14% following the release of the company's fourth-quarter financial report. By all indications, the quarter was ugly for Hertz, featuring a net loss from continuing operations of $438 million that included more than a quarter billion dollars of impairment charges. Revenue also inched lower on weakness in the international market, and Hertz noted that issues with the company's vehicle fleet and service quality weighed on its 2016 performance throughout the year. Yet comments from CEO Kathryn Marinello included assurances that quality upgrades and the greater flexibility of the Hertz Ultimate Choice offering should help going forward. Investors appeared reassured by the idea that 2017 would improve, and despite not offering specific guidance for the coming year, Hertz's efforts to boost corporate and digital marketing and to invest more in technology got investors to show their optimism by pushing share prices higher.
Image source: Hertz Global Holdings.
Silver Bay gets an offer it can't refuse
Silver Bay Realty Trust stock soared 18% after the real estate investment trust received a buyout offer from Tricon Capital Group. The $1.4 billion deal will pay Silver Bay shareholders $21.50 per share in cash, and Tricon will also assume $600 million in Silver Bay debt. The boards of both companies have approved the deal, which Silver Bay anticipates closing in the second quarter of 2017. As Silver Bay CEO Thomas Brock noted, "Our well-crafted portfolio of single family properties and the recent strong performance across our platform will serve as a great complement to [Tricon's] business as the single family rental industry continues to evolve and consolidate." Solid fourth-quarter financial results for Silver Bay showed the wisdom of Tricon's move, but it might leave some investors regretting that they won't be able to participate in Silver Bay's growth going forward.
Weight Watchers bulks up its stock
Finally, shares of Weight Watchers International finished up 10%. The weight-loss specialist performed well in advance of its fourth-quarter financial report after the market close on Tuesday, riding the coattails of rival NutriSystem and its upbeat earnings guidance. Weight Watchers has done a good job of attracting attention because of the participation of Oprah Winfrey, who took a substantial stake in the company. Earlier this week, an industry report showed that Weight Watchers has been successful in bringing in new customers, and with the first part of each calendar year being a key time for weight-loss specialists, Weight Watchers will have to back up its performance in 2017 and beyond in order to justify the optimism that investors have shown lately.
Offer from The Motley Fool: The 10 best stocks to buy nowMotley Fool co-founders Tom and David Gardner have spent more than a decade beating the market. In fact, the newsletter they run, Motley Fool Stock Advisor, has tripled the S&P 500!*
Tom and David just revealed their ten top stock picks for investors to buy right now.
Click here to get access to the full list!
*Stock Advisor returns as of 1/30/2017
Dan Caplinger has no position in any stocks mentioned. The Motley Fool owns shares of Hertz Global Holdings. The Motley Fool has a disclosure policy.