Why Hatteras Financial Corp Stock Jumped Today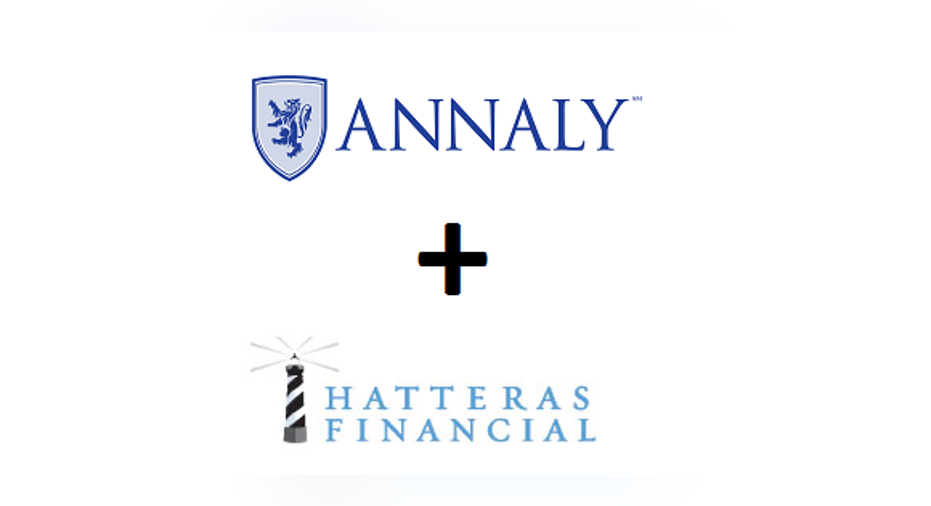 Image source: Author.
What: Shares of Hatteras Financial Corp jumped by 10% as of 12:30 p.m. ET as the company announced it would merge with rival mortgage REITAnnaly Capital Management .
So what: Shareholders of Hatteras Financial have seen its share price languish with most mortgage REITs, but today's offer from Annaly Capital is quite compelling, offering an easy exit at a price not seen since late 2015.
Under the terms of the merger agreement, Hatteras Financial Corp shareholders can elect to receive one of the following forms of compensation for their shares. (The market value of each offer option is in parentheses based on Annaly Capital's recent trading price.)
Option No. 1: $5.55 per share in cash plus 0.9894 shares of Annaly Capital ($15.73)
Option No. 2: $15.85 per share in cash ($15.85)
Option No. 3: 1.5226 shares of Annaly Capital ($15.67)
Consistent with most mergers, the terms are subject to proration so that 65% of the offer is paid in the form of Annaly Capital stock and 35% is paid in cash. Any dividends will be prorated based on the number of days that have passed from the record date prior to the completion of the offer.
Now what: The market seems to believe this deal should go off without a hitch, as Hatteras shares are now priced in line with the proposed merger price.
Though the merger hardly gives Hatteras full credit for the value of its assets -- Hatteras Financial last reported having a book value of $19.38 per share at the end of 2015 -- 30-month consulting agreements with Hatteras's top executives and a $45 million termination fee stand in the way of any competing offer. All it takes is a two-thirds majority vote by Hatteras' shareholders and this deal is done.
The article Why Hatteras Financial Corp Stock Jumped Today originally appeared on Fool.com.
Jordan Wathen has no position in any stocks mentioned. The Motley Fool has no position in any of the stocks mentioned. Try any of our Foolish newsletter services free for 30 days. We Fools may not all hold the same opinions, but we all believe that considering a diverse range of insights makes us better investors. The Motley Fool has a disclosure policy.
Copyright 1995 - 2016 The Motley Fool, LLC. All rights reserved. The Motley Fool has a disclosure policy.