Why Halozyme Therapeutics, Inc Is Rising Today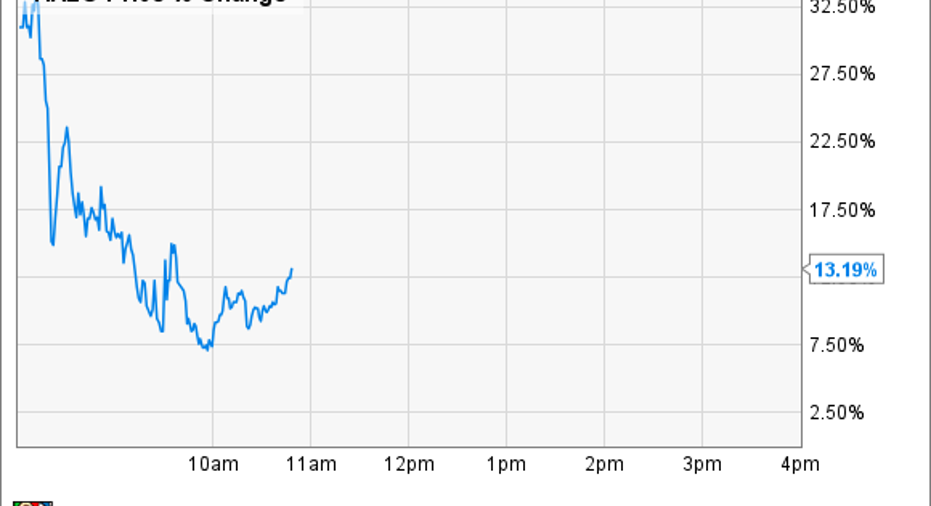 Image source: Getty Images.
What happened
Shares of Halozyme Therapeutics (NASDAQ: HALO), a commercial-stagebiotech focused on creating products thatenhance drug delivery, rose by as much as 30% inearly morning trading on Thursday before settling down. The huge stock swing was in response to the company reporting data from an important a Phase 2 clinical trial. As of 11:00 a.m. EST, shares were up by more than 12%.
HALO Price data by YCharts
So what
Halozyme released top-line data from its Phase 2 HALO 202 study. This trial was testing the company's lead investigational compounded -- called PEGPH20 -- in combination with Celgene's Abraxane and EliLilly's Gemzarin treating patients with stage IV pancreatic cancer.
The headline numbers from the press release were quite encouraging. The study achieved its primary endpoints, which were a statistically significant improvement in progression-free survival (PFS) in all evaluable patients and a reduction in Thromboembolic events.
Halozyme was especially proud of data that came from the subset of patients that displayed high levels of hyaluronan. In this cohort, the patients who used PEGPH20 in combination with Abraxane andGemzarshowed a median progression-free survival (PFS) of 8.6 months. That was a 91% improvement over the 4.5 months that was observed in the group of patients who displayed high levels of hyaluronan and only receivedAbraxane and Gemzaralone.
Dr. Helen Torley, Halozyme's CEO, was happy with the study's results, stating "These findings confirm our confidence in the development of PEGPH20 in this difficult-to-treat cancer." She also noted that the company's Phase 3 clinical trial -- called HALO 301 -- is currently under way at more than 160 sites worldwide.
Now what
While Halozyme's stock initially spiked in response to the press release, it has since given back a lot of the gains. That's likely becausesome market-watchers are pointing out that the strong PFS data was only achieved in the subset of patients who displayed high levels of hyaluronan. That was only a secondary endpoint of the study, which is a perfectly valid criticism.
However, it is worth noting that PEGPH20 is designed to break down thehyaluronan barrier, which is achain of natural sugars that accumulate around certain tumors and prevent drugs from reaching their target. Thus, it makes sense that patients who had higher levels of hyaluronan in their body would see more of a benefit from usingPEGPH20 in combination with the other drugs than patients who do not.
Regardless of Thursday's short-term price movement, Halozyme's Phase 3 HALO-301 remains the study to watch. This trial's primary endpoints are to measure the changes in progression-free survival and overall survival in patients who have high levels ofhyaluronan. Thus, the data readout from that study should give investors a much better idea of the drug's chances of winning regulatory approval and having success in the marketplace. However, data from HALO-301 isn't expected to be available until late 2018. That means that bulls and bears alike will have plenty of time to debate the merits of this Phase 2 data while we wait for the next readout.
10 stocks we like better than Halozyme Therapeutics When investing geniuses David and Tom Gardner have a stock tip, it can pay to listen. After all, the newsletter they have run for over a decade, Motley Fool Stock Advisor, has tripled the market.*
David and Tom just revealed what they believe are the 10 best stocks for investors to buy right now... and Halozyme Therapeutics wasn't one of them! That's right -- they think these 10 stocks are even better buys.
Click here to learn about these picks!
*Stock Advisor returns as of January 4, 2017
Brian Feroldi owns shares of Celgene.Like this article? Follow him onTwitter where he goes by the handle@BrianFeroldior connect with him on LinkedIn to see more articles like this.
The Motley Fool owns shares of and recommends Celgene. The Motley Fool has a disclosure policy.