Why Hain Celestial Group Inc Stock Dropped 11% in February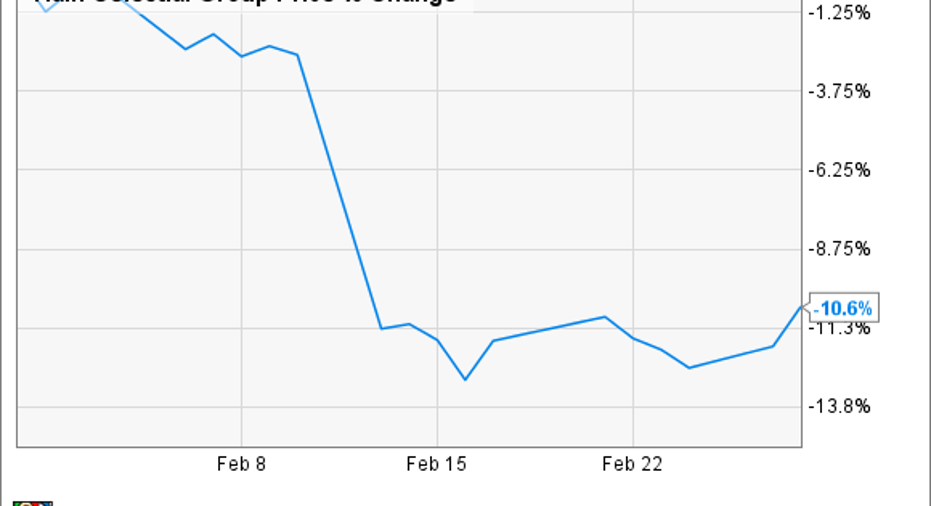 What happened
Shares ofHain Celestial Group(NASDAQ: HAIN) slid again last month after the company's accounting scandal widened. According to S&P Global Market Intelligence, the stock fell 10.6%, with the decline accompanying a delay in its financial filings and a subpoena from the Securities and Exchange Commission.
Data by YCharts.
So what
Shares of the parent of Celestial Seasonings teas and other healthy and natural products started skidding as the company announced its 10-K filing would be delayed due to previously disclosed accounting issues. As it turns out, the SEC had commenced its own investigation, opening up the possibility of fines or the restatement of financial statements.
Image source: The Motley Fool.
Hain had originally acknowledged in 2016 that there were problems with revenue being recognized in the proper period regarding concessions given to distributors. In November, the company said that an internal audit concluded that there was no intentional wrongdoing, offering some relief to the stock, though that reversed after the news last month.
Now what
While it seems more likely than not that any consequences from the SEC investigation will be minor, Hain was already struggling with slowing growth along with most of the natural food industry, includingWhole Foods MarketandUnited Natural Foods, which have also sold off recently.
With the SEC investigation still pending and general weakness across the sector, investors are best off avoiding Hain for the time being.
10 stocks we like better than Hain CelestialWhen investing geniuses David and Tom Gardner have a stock tip, it can pay to listen. After all, the newsletter they have run for over a decade, Motley Fool Stock Advisor, has tripled the market.*
David and Tom just revealed what they believe are the 10 best stocks for investors to buy right now... and Hain Celestial wasn't one of them! That's right -- they think these 10 stocks are even better buys.
Click here to learn about these picks!
*Stock Advisor returns as of February 6, 2017
John Mackey, CEO of Whole Foods Market, is a member of The Motley Fool's board of directors. Jeremy Bowman has no position in any stocks mentioned. The Motley Fool owns shares of and recommends Hain Celestial and Whole Foods Market. The Motley Fool has a disclosure policy.