Why Gunmakers Smith & Wesson and Sturm Ruger Rallied This Week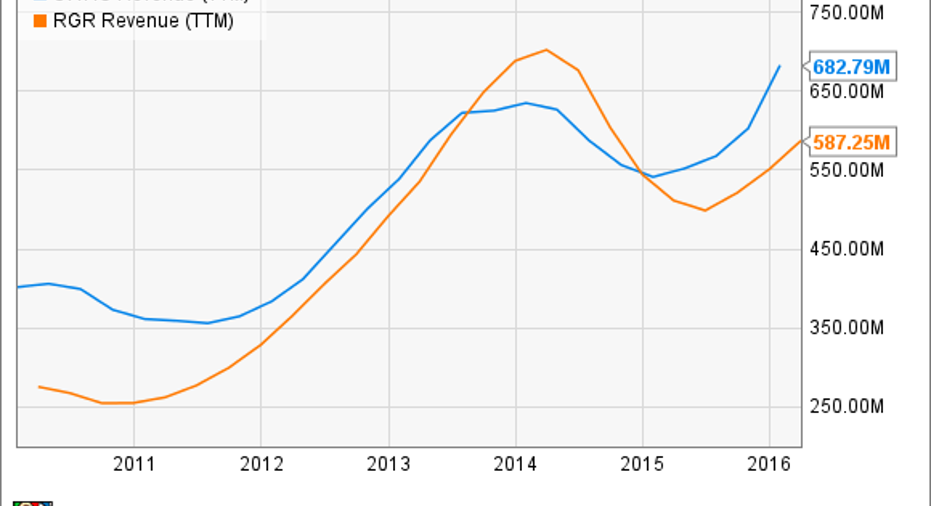 The recent rash of shootings in Orlando and Oakland have once again reignited the gun control debate across America. But those tragic events also caused shares of gunmakers Smith & Wesson and Sturm, Ruger & Company to rise, due to the belief that the threat of tighter gun regulations will drive Americans to stockpile more firearms.
This type of news-driven rally has happened many times in the past -- following President Obama's election, and after the mass shootings in Newtown, Washington, Charleston, San Bernardino, and elsewhere. But are these rallies logical and based on actual gun sales?
Image source: Getty Images
Background checks are soaring
To get to the heart of the issue, we should check the FBI's chart of NICS firearm background checks. That closely watched figure has risen year-over-year for 13 straight months. Total checks for the first five months of 2016 already stood at 11.7 million, which means that total checks for the year will likely surpass the record 23.1 million recorded in 2015.
To put that into perspective, there were only 8.5 million NICS background checks in 2000, 8.9 million in 2005, and 14.4 million in 2010. Two key factors caused annual background checks to jump over 170% between 2000 and 2016 -- the election of President Obama in 2008 and an increase in mass shootings over the past few years, which have often been followed by calls for gun control and a subsequent surge in demand among gun buyers.
| | | | | | | | |
| --- | --- | --- | --- | --- | --- | --- | --- |
| | 2010 | 2011 | 2012 | 2013 | 2014 | 2015 | 2016 |
| Killed | 8 | 18 | 67 | 31 | 17 | 46 | 58 |
| Wounded | 2 | 21 | 68 | 13 | 28 | 43 | 69 |
Victims of mass shootings in the U.S. by year. Source: Mother Jones
Here's a chart of Smith & Wesson and Sturm Ruger's trailing 12-month revenue growth during that same period.
Source:YCharts
A year of double-digit sales growth
Shares of Smith & Wesson and Sturm Ruger have respectively risen about 670% and 200% over the past five years, easily outperforming the S&P 500's 64% gain. But after those big rallies, are the stocks fundamentally cheap, or are the gains merely propped up by fears of increased regulation?
Smith & Wesson recently reported this weekthat its fourth quarter sales rose 22% annually to $221 million, beating estimates by $6.6 million. That also represents its fourth consecutive quarter of double-digit sales growth. For the current period, it expects sales to rise 29% to 35%, well above the consensus forecast of 9% growth. Moreover, Smith & Wesson notes that its guidance doesn't account for a potential spike in gun sales after the recent events. On the bottom line, Smith & Wesson's non-GAAP net income rose 50% to $37.4 million, or $0.66 per share, which beat estimates by 12 cents. GAAP earnings rose 57% to $0.63 per share.
Ruger saw sales rise 26% annually to $173.1 million last quarter, which beat expectations by $25.7 million. That represented its third consecutive quarter of year-over-year sales growth. Net income rose 50% to $23.2 million, or $1.21 per share, which beat estimates by $0.25. Ruger doesn't offer forward guidance, but its sales will likely follow a similar trajectory as Smith & Wesson's. Ruger also pays a forward dividend yield of 2.4%, while Smith & Wesson doesn't pay one at all.
Smith & Wesson and Ruger respectively trade at just 14 and 16 times forward earnings. That's substantially lower than their earnings growth rates over the past few quarters, and lower than the industry average of 18 for the defense products industry. This means that both stocks are still a good value relative to their growth potential.
But gun companies face unique headwinds
Smith & Wesson and Sturm Ruger might look cheap, but they face very unpredictable headwinds. Smith & Wesson sells more modern sporting rifles than Sturm Ruger, which offers moretraditional rifles. That makes the former more exposed to proposed "assault weapons" bans than the latter.
Meanwhile, boycotts could ensue if the gunmakers agree to work with the government. Back in 2000, Smith & Wesson signed a historic agreement with the Clinton Administration to enforce safety and design standards, restrictions on magazine sizes, and limits on the sales and distribution of firearms. The NRA responded by calling for a boycott of Smith & Wesson guns, causing its annual sales to plunge37% between 2000 and 2001.
The bottom line
Smith & Wesson and Sturm Ruger aren't ideal stocks for all investors. Some will question the ethics of investing in gunmakers, while others will find the news-driven volatility tough to stomach. That volatility won't end anytime soon with a tight election coming up and new gun control measures expected to come to a vote in the next few weeks, so risk-averse investors may want to stay on the sidelines for now.
The article Why Gunmakers Smith & Wesson and Sturm Ruger Rallied This Week originally appeared on Fool.com.
Leo Sun has no position in any stocks mentioned. The Motley Fool has no position in any of the stocks mentioned. Try any of our Foolish newsletter services free for 30 days. We Fools may not all hold the same opinions, but we all believe that considering a diverse range of insights makes us better investors. The Motley Fool has a disclosure policy.
Copyright 1995 - 2016 The Motley Fool, LLC. All rights reserved. The Motley Fool has a disclosure policy.