Why Guess?, Inc. Stock Plunged Today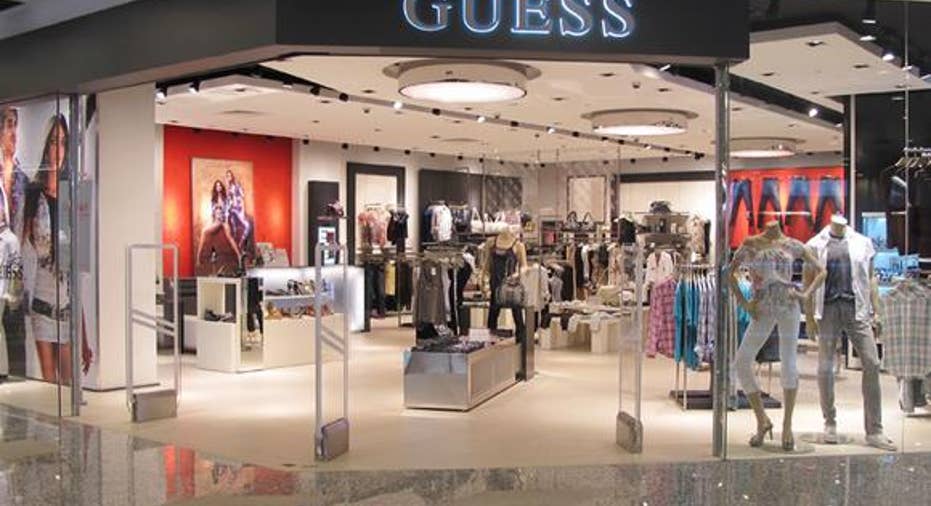 Image source: Guess?
What:Shares ofGuess?fell as much as 17% Wednesday after the clothing retailer released disappointing fiscal fourth-quarter 2016 results.
So what:Quarterly revenue fell 5.5% year over year, to $658 million, and translated to an 11.4% decline in net earnings attributable to the company of $47.8 million, or $0.57 per share. To Guess?'s credit,revenue would have increased 1% had it not been for the negative effects of foreign currency exchange, and earnings fell within its previous per-share guidance range of $0.53 to $0.62. But analysts, on average, were still anticipating higher earnings of $0.59 per share on revenue of $660.1 million.
Nonetheless, CEO Victor Herrero insisted he was "pleased" with their performance, especially as Guess?'s retail business in Europe "performed extremely well and delivered positive comp store sales in the high-single digits." But that performance was held back by a 1% decline in comps in the Americas (up 2% at constant currency) and an 18% decline in revenue from Asia (down 14% at constant currency).
"There is still more work to be done," Herrero elaborated, "but I am convinced that the initiatives we have started to implement in the last few months have contributed to these encouraging results."
Now what: As such, Guess? set a three-year target to achieve revenue of $3 billion, representing growth of 36% from $2.2 billion in fiscal 2015, and operating margin of 7.5%, up from 5.5% in fiscal 2016.
For the current quarter, however, Guess? anticipates revenue will decline between 1.5% and 0.5% at constant currency and between 3.5% and 2.5% on a reported basis. That should result in a loss per share of $0.20 to $0.17. By comparison, analysts' consensus estimates called for fiscal Q1 earnings of $0.04 per share and a more modest 2% drop in revenue.
Finally, for the full fiscal-year 2017, Guess? expects revenue to increase 7% to 9% at constant currency and 6% to 8% on a reported basis. Fiscal 2017 earnings per share should be $0.65 to $0.85. By comparison, Wall Street was actually expecting a slight decline in full-year revenue, to $2.19 billion, but significantly higher fiscal 2017 earnings of $1.06 per share. But it's worth noting the company also approved a global cost reduction plan to streamline operations and reduce expenses during the current quarter, and this guidance excludes the impact of any resulting restructuring charges. Consequently, it seems Guess?'s margins in the near term will take a significant hit.
In theory, this restructuring should position Guess? for stronger results over the long term, as evidenced by its encouraging three-year target. But for now, given its quarterly miss and weak earnings guidance for the coming year, it's no surprise to see the market bidding shares down today.
The article Why Guess?, Inc. Stock Plunged Today originally appeared on Fool.com.
Steve Symington has no position in any stocks mentioned. The Motley Fool recommends Guess?. Try any of our Foolish newsletter services free for 30 days. We Fools may not all hold the same opinions, but we all believe that considering a diverse range of insights makes us better investors. The Motley Fool has a disclosure policy.
Copyright 1995 - 2016 The Motley Fool, LLC. All rights reserved. The Motley Fool has a disclosure policy.