Why GoPro Inc. Stock Dropped 13% in December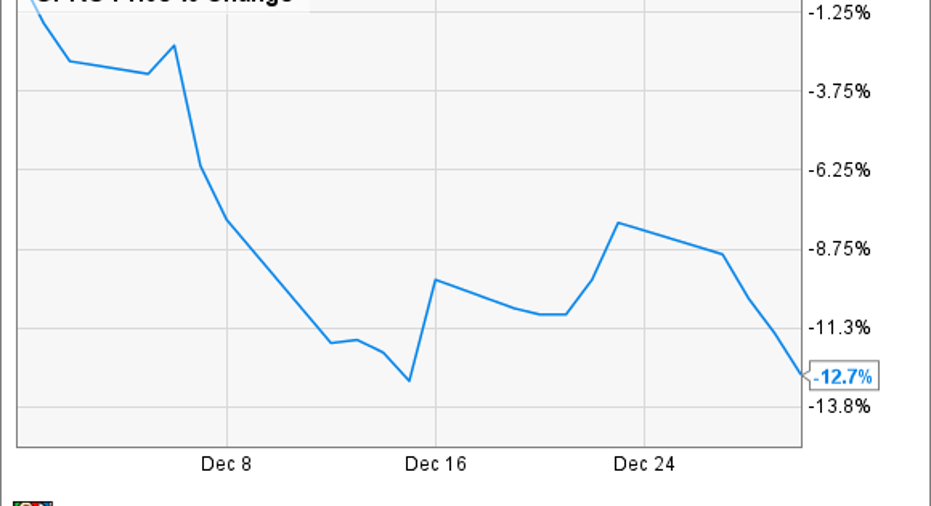 Image source: GoPro.
What happened
The tough times continued last month forGoPro (NASDAQ: GPRO), and shares of the action-camera maker fell 13%, according to data from S&P Global Market Intelligence. Though there was little specific news out on the company, investors reacted to fears that it was having a weak holiday season, the aftermath of layoffs announced at the end of November, and a slew of lawsuits against the company on behalf of investors.
So what
GoPro's stock slide last month should be seen in the context of its greater struggles: The device maker had an awful 2016 as both revenue and profits plunged, and the stock lost 52% of its value.
On Nov. 30, the company said it would lay off 15% of its workforce and close its entertainment division, a response to declining sales. Offering a bit of good news, it said that camera unit sales were up 33% over Thanksgiving weekend, but the company also had to recall all of its recently released Karma drones due to an issue that can cause them to lose power in mid-flight. In sum, a number of self-inflicted wounds have led to these share price woes.
As yet, there have been no specific reports on its holiday sales, but investors punished brick-and-mortar retailers such as department stores on reports of weak traffic and heavy discounting, while Amazon.comseemed to win the holiday season. In October, GoPro said it would stop selling its new Hero5 on Amazon, likely due to a pricing dispute.
Now what
Looking ahead to 2017, GoPro's holiday numbers will be crucial to determining its early direction; its gadgets are heavily gifted items, and the fourth quarter has traditionally been its strongest period. Those results could come out within the next week or two, and the company could desperately use the momentum of a healthy holiday season.
Elsewhere, solving its drone problems could unlock another valuable segment growth since even action cameras are becoming increasingly unnecessary as the iPhone and other smartphone cameras make significant improvements.
A buyout also remains an option for the company, given that, though its stock is floundering, its brand name is still strong.
10 stocks we like better than GoPro When investing geniuses David and Tom Gardner have a stock tip, it can pay to listen. After all, the newsletter they have run for over a decade, Motley Fool Stock Advisor, has tripled the market.*
David and Tom just revealed what they believe are the 10 best stocks for investors to buy right now... and GoPro wasn't one of them! That's right -- they think these 10 stocks are even better buys.
Click here to learn about these picks!
*Stock Advisor returns as of January 4, 2017
Jeremy Bowman has no position in any stocks mentioned. The Motley Fool owns shares of and recommends GoPro. The Motley Fool has the following options: short January 2019 $12 calls on GoPro and long January 2019 $12 puts on GoPro. The Motley Fool has a disclosure policy.